GET Stock

Quotes


Gigi Hadid Does A Melania Trump Impression At The 2016 AMAs
"This is my Melania Trump impression. I have to get the face right," Hadid told the audience at the AMA 2016.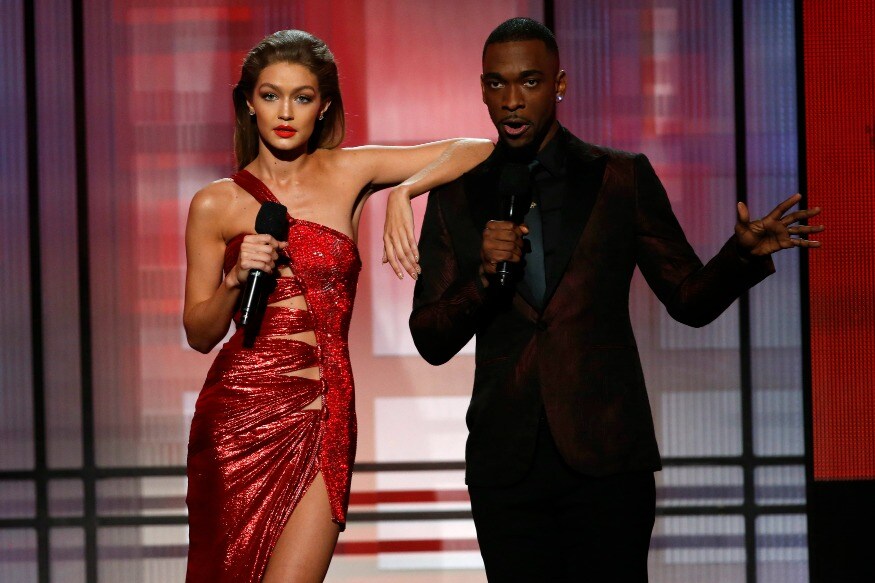 (Photo; Gigi Hadid)
The 2016 American Music Awards featured a number of pop stars. While a few were seen strumming the guitars, Drake made a rare awards show appearance, Selena Gomez gave an emotional speech and candid conversations led to several political moments about President-elect Donald Trump.
The show's hosts — former Saturday Night Live comic Jay Pharaoh and model Gigi Hadid — also mentioned the Trump family while sharing this joke: After Pharaoh impersonated Jay Z, Hadid acted like Melania Trump.
"This is my Melania Trump impression. I have to get the face right," Hadid told the audience and turned towards them with a duckface in place and smiling intensely at the camera.
"I love my husband, President Barack Obama, and our children, Sasha and Malia," she said, scrunching up her face.
Gigi Hadid doing an impression of Melania Trump while hosting the American Music Awards. #AMAs pic.twitter.com/kN1e5RbmQt

— Shady Music Facts (@TheFactsOfShade) November 21, 2016
Her impression of the First Lady was liked and disliked alike by netizens. While some praised her, others criticised her for making fun of someone's accent.
i don't know what makes me more uncomfortable Gigi Hadid's impression of Melania Trump or Melania Trump herself... #AMAs

— SΞAN (@Seanlofficial) November 21, 2016
Gigi hadid JUST ended Melania!

— soso (@soniasgivenchy) November 21, 2016
GIGI HADID JUST DESTROYED MELANIA TRUMP

— maddy (@maddyvanderlip) November 21, 2016
Hey @GiGiHadid u made fun of a woman's eastern european accent! hysterical! so - Africans and Mexicans tomorrow?

— GregGutfeld (@greggutfeld) November 21, 2016
Seriously lost all respect for @GiGiHadid for that rude reenactment of Melania Trump. So rude.

— Amanda Moran (@amandamoran98) November 21, 2016
Nonetheless, it was Lady Gaga who stole the show. Gaga beautifully performed her latest single, Million Reasons. She earned a rousing applause from the audience.
With inputs from AP.
Also Watch
Read full article