Going invisible, solo honeymoon: 20 things that happen in Hindi films that would be totally cool if it happened in real life
Ever felt how life would be amazing if it was more like a Bollywood movie? Do you want to do something like this?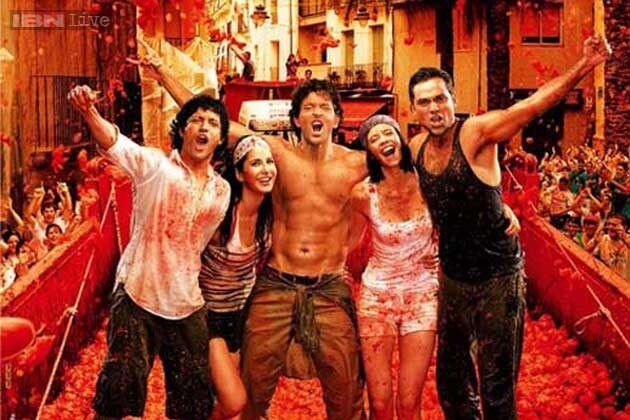 Ever felt how life would be amazing if it was more like a Bollywood movie? Do you want to do something like this?
Have you ever watched a movie and walked out of the theatre feeling you're still a part of it? Did you feel you were being chased by the goons after watching Shah Rukh Khan's 'Don'? It's very natural for movie buffs to get addicted to a good movie. Bollywood movies usually have larger than life movie sequences that have very little chances of happening in real life. But admit it, you have often put yourselves in an actor's or actress' shoes and imagined leading a life like theirs.Manali suddenly became the hottest travel destination in the country after we saw Ranbir Kapoor having the time of his life while travelling in 'Ye Jawani Hai Deewani', and the 'Zindagi Na Milegi Dobara' made us realise we really needed a long vacation with just our best friends for company. While Kangna Ranaut in 'Queen' inspired us to embark on a journey as a lone traveller, '3 Idiots' encouraged a lot of us to open schools for kids in rural areas.
Here are a few things that happen in Bollywood movies we'd love to experience in real life. You'll find more of them here.
####
Zindagi Na Milegi Dobara: After watching this amazing road trip movie, who wouldn't want to embark on a long holiday with the closest friends? Everyone wanted to attend the Tomato Festival in Spain after coming out of the theatres!
Queen: This movie really brought out the lone traveller in every viewer. You don't need a purpose to travel, and you don't need a partner either! Travel will always make you come back learning and evolving from the experience.
3 Idiots: Travel to remote parts of the country and teach students about science and technology; fire their curiosity and ignite their passion to achieve their dreams. A place where kids can learn without killing their curiosity and desire for discovering things on their own.
Yeh Jawaani Hai Deewani – 'Main udnaa chahta hun, daudna chahta hun, girna chahta hun, bas rukna nahi chahta.' (I want to fly, run and fall sometimes; but I don't want to stop) says Ranbir Kapoor in the movie. Trekking in the snow to Rohtang Pass, Dungri La Pass, Khardung La Pass, Lipulekh Pass, Rupin Pass, Sela Pass etc.! Sigh, who wouldn't want to live a life like that.
Kahaani: Having a seemingly mundane job and a boring lifestyle, but have an awesome and dangerous secret alternate life.
Mr. India: To find a watch that could make you invisible!
Jab We Met – Someday, when you're terribly sad/dejected/heartbroken/depressed, how cool would it be to leave on an impulse, disconnect from all possible worldly connections, and just hire a car and go into the mountains! To stay there as long as you want to, and then just come back to life again, as if nothing happened.
Rab Ne Bana Di Jodi: It's every engineer's dream to propose to a girl like that. Light up the town to tell her you love her!
Singham: Tightly slap the politicians who say that poverty is a state of mind, that women who have sex outside marriage should be hanged, that boys sometimes make a mistake when they rape a girl because, "you are safe! "
Break ke Baad: To make those sandwiches the way Imran Khan did. This was probably the only movie to show adorable food art.
Lunchbox- Writing letters; not just love letters but letters that we used to write in the good old days to our dear ones, telling them about our lives, wishing them good luck and sharing our aspirations with each other.
Mere Brother Ki Dulhan: This one is exclusively for the girls. To arrive on horseback at your own wedding, and dance with the 'baraat' just like Katrina does in this movie.
Kai Po Che: To jump off heights and travel on top of trains, but only when there are scenic views around.
A Wednesday: Be this common man. Lead a plain and simple life. Leave home one fine day to buy vegetables. Go against the system to kill 4 criminals. Return home with the vegetables and lead the same plain and simple life again. There isn't anything like going against the system for a good cause.
Hasee Toh Phasee: Sit at Marine Drive, Mumbai especially during rainy season, just watch the sea, and forget everything for a while.
Rock On!!: To give a splendid, award winning performance with your own music band on stage.
Wake Up Sid!: To be a millionaire yet be able to chase your dream and make a living out of it. Also, to give your first pay-cheque to your parents.
Jab Tak Hai Jaan: Pitch a tent near Pangong Lake in Ladakh, ponder over the past and future and write them all in a diary for eternity.
Kahaani: To be a secret undercover agent who can fool everyone from the police to the bad guys and achieve a dangerous mission in the process. Who doesn't love a little action?
Highway: To go and take up a simple job amidst nature in the grand Himalayas, which helps the local community in some way. To just lead a life of peace and contentment like Alia Bhatt did at the end of the movie.
Get the best of News18 delivered to your inbox - subscribe to News18 Daybreak. Follow News18.com on Twitter, Instagram, Facebook, Telegram, TikTok and on YouTube, and stay in the know with what's happening in the world around you – in real time.
Read full article