'Gold Digging' Dog Pretends to be Stray to Get Free Burgers from McDonald's
Smooth criminal.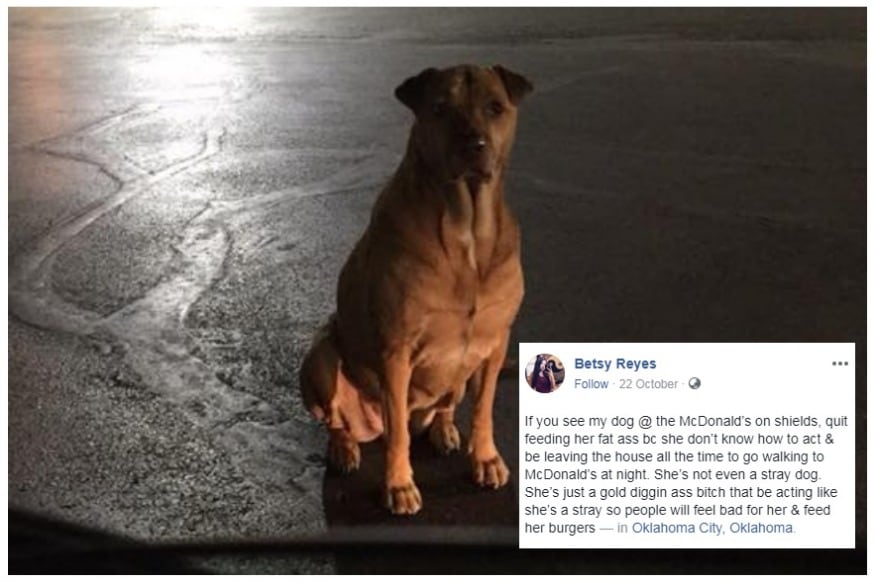 Smooth criminal.
We have all heard of gold digging spouses and friends. But now, the Internet, that greatest of all wonders, has thrown up something even more salacious and exciting - a gold digging dog.
Yes, this 'gold-digger' dog named Princess, belongs to an Oklahoma woman who goes by the name Betsy Reyes. A few days ago, Betsy posted an image of Princess on Facebook, accusing her of being a 'gold digger'.
According to Betsy, the dog had secretly been sneaking off to the local McDonald's outlet at night and posturing as a stray dog to get some free food. who was a well-fed pet. After she figured out Princess's deceptions, Betsy decided to catch the dog red-pawed (ahem). Betsy called out the impostor dog and asked people not to feed the 'gold digger'. Upon being caught, Princess recognised Betsy and walked right up to her without any hesitation!
Watch the criminal at work with your own eyes:
The initial image Princess itself got almost 290,000 reactions and soon spread to Twitter as well as Instagram. So much was the fan craze created around Princess that local media channels even featured her on the news.
Since then, the post has been generating some hilarious reactions on social media:
quit snitching https://t.co/IcU8ZdiNk1

— WeRateDogs™ (@dog_rates) October 24, 2018
Everyone shush, listen up. Here's the inside scoop. My name is Wilson, And all I want is a boop. pic.twitter.com/KKCRbdsEia — Dogs With Poems (@DogsWithPoems) October 24, 2018
At least this doggo was doing thier best to pay thier way.https://t.co/0UN5qpM08r

— Gregg "Cabe" Bond (@cabe_bedlam) October 24, 2018
pic.twitter.com/JSFohZS2HL — Klbh89 (@klbh89) October 24, 2018
the hamburglar we need and deserve

— amazingturtles (@erinisturtles) October 24, 2018
That's small time. My husband's dog, before we were married, knew when they threw garbage away everyday at the Arby's across the street and would show up just in time for some roast beef! — Vicky Boivin (@VickyBoivin1) October 24, 2018
Read full article
Countdown To
Elections Results
To Assembly Elections 2018 Results