Google CEO Sundar Pichai Addresses Congress, but Monopoly Man Steals the Show
'The Monopoly Man' also had a 'get out of jail free' card with him.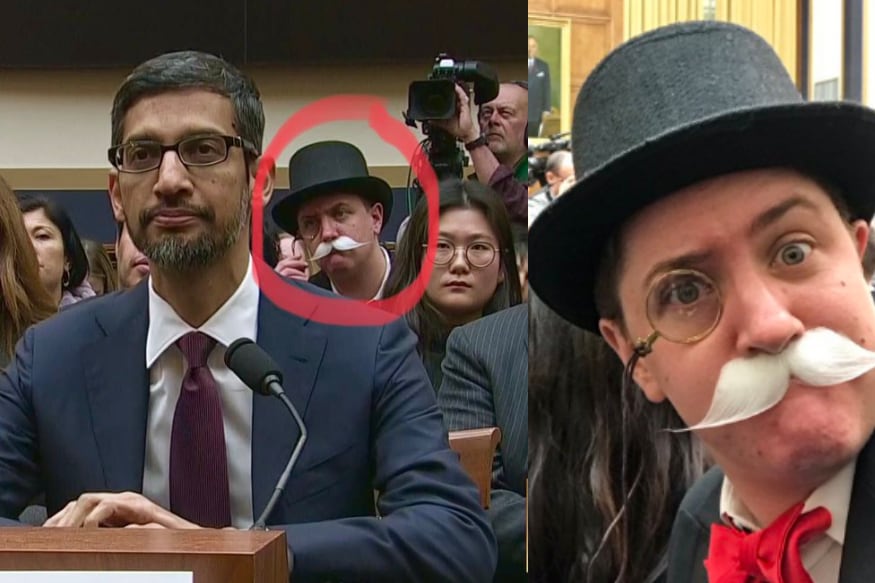 'The Monopoly Man' also had a 'get out of jail free' card with him.
The Congress hearing with Sundar Pichai is making all kinds of headlines, and one of the many reasons it is going viral is due to a mysterious person in the frame that focuses on Google CEO Sundar Pichai.
While the Congress hearing, titled "Transparency & Accountability: Examining Google and its Data Collection, Use, and Filtering Practices", had House Representatives grilling Pichai about Google's data practices, privacy, potential bias in filtering, transparency and the company's controversial and secretive censored search engine project in China called 'Dragonfly,' the show was stolen by someone caught in the same frame as Pichai - a mysterious muostachioed man.
A closer look at the frame would probably make you experience a sense of deja vu - the person is a real-life version of the Monopoly Man, or 'Rich Uncle Pennybags,' the character from and mascot of the classic Monopoly board game.
But who is this 'Monopoly Man'?
One could simply dimiss them as a cosplayer, or an 'offline troll', but this troll has a tale like few others.
Ian Madrigal is an activist with a knack for photobombing congressional hearings, which often involve a lot of prominent people from the corporate world. They first came into limelight during the 2017 Equifax breach hearing, which exposed the personal information of more than 143 million people.
The stunt was a protest againt tech companies' inability to self-regulate to protect consumers' personal data, and essentially have a 'monopoly' over the users of the Internet. Madrigal them-self put out a statement explaining why they was there. They also stated that they had a 'Get out of jail free' card with them, as part of their protest.
I'm baaaack! Monopoly Man returns to Congress to troll the CEO of the biggest Monopoly in the world: Google.WATCH LIVE HERE: https://t.co/yEbEzX8muM pic.twitter.com/VvvVr2csyN

— Ian Madrigal - The Monopoly Man (@wamandajd) December 11, 2018
Monopoly Man nodded appropriately and mimed other reactions depending on Pichai's statements.
Congress is a v serious place pic.twitter.com/Ro9ddGsU4Z

— Ian Madrigal - The Monopoly Man (@wamandajd) December 12, 2018
Google must not be tracking all our movements, because they certainly didn't see me coming! pic.twitter.com/W1281PFgmf

— Ian Madrigal - The Monopoly Man (@wamandajd) December 11, 2018
And the Internet just collectively lost their calm.
Is that ... the Monopoly Man sitting behind Google's @sundarpichai? #GoogleHearing pic.twitter.com/WX4TOYh7gW

— Geoffrey A. Fowler (@geoffreyfowler) December 11, 2018
Monopoly Man's mustache appears to have grown over the 2 hours of this hearing pic.twitter.com/y4C0ivULCU

— Geoffrey A. Fowler (@geoffreyfowler) December 11, 2018
SPOTTED: Monopoly Man at the #Google Hearing in D.C. pic.twitter.com/BABsJJvYRp

— Mike Pache (@MikePacheFox10) December 11, 2018
Ummm so what's up with #MonopolyMan at the #GoogleHearing? pic.twitter.com/6Vlfycm3No

— Christine Samra (@ChristineKPIX) December 11, 2018
Some color from inside the room. Monopoly man's mustache is now three times bigger than before. Also, one corner of this congressional hearing room is now pretty empty. pic.twitter.com/fHY9WR53nV

— Davey Alba (@daveyalba) December 11, 2018
Some even gave us some too real facts.
Speaking of the Monopoly Man, did you know Monopoly was invented by a leftist woman Lizzie Magie who was erased from its origin. BUT she called it the Landlord's game and its goal was to show us how much capitalism sucks? Might explain why every game ends with arguments.

— Rafael Shimunov (@rafaelshimunov) December 12, 2018
And while details from the Congressional hearing continues to make headlines, I think we can safetly say the show-stealer wasn't Pichai.
Get the best of News18 delivered to your inbox - subscribe to News18 Daybreak. Follow News18.com on Twitter, Instagram, Facebook, Telegram, TikTok and on YouTube, and stay in the know with what's happening in the world around you – in real time.
| Edited by: Shantanu David
Read full article