Gurmeet Ram Rahim Singh Insan Is A (God)Man Of Many Talents. Here's Proof
"The super human with many talents."
File photo of Dera Sacha Sauda chief Gurmeet Ram Rahim Singh. (Getty)
Gurmeet Ram Rahim Singh Insan, head of the Haryana-based socio-spiritual organisation Dera Sacha Sauda, is fighting a case of rape and sexual exploitation of two women who were then, back in 2002, members of his sect in the town of Sirsa in Haryana, about 260 kilometers from Chandigarh.
The case first came to light in 2002 when two female followers of Dera Sacha Sauda wrote an anonymous letter addressed to the then Prime Minister Atal Bihari Vajpayee, accusing the Dera chief of sexual abuse. Following this, the Punjab and Haryana High Court took up the matter and ordered a CBI probe into the incident on September 24, 2002.
But this isn't it. Several cases have also been filed in the past against him accusing Rahim of multiple murders and forced castration of his followers.
He was accused of murdering a Sirsa-based journalist Ram Chander Chatrapati who had been writing about the Dera's activities in a local paper named 'Poora Sach'. Chatrapati was shot on October 24, 2001, and died on November 21.
Ram Rahim was also an accused in the murder of the manager of Dera Sacha Sauda, Ranjit Singh in July 2002. Then last year Rahim manage to secure a stay on the pronouncement of the final order, by a CBI court, from the High Court.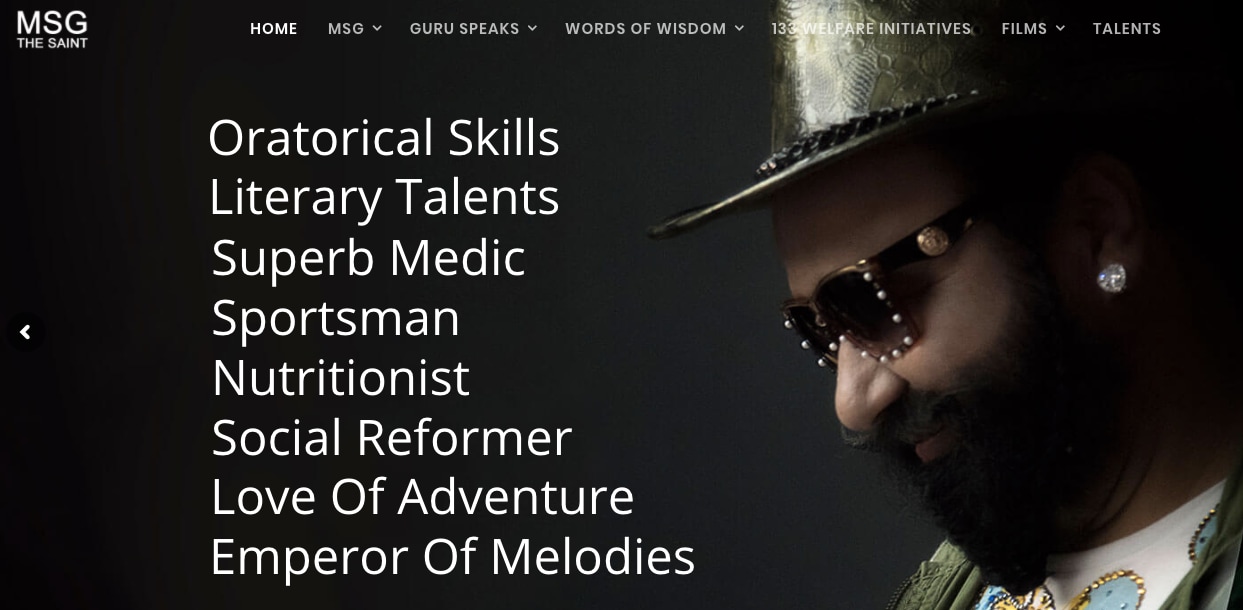 Back in 2007, Ram Rahim had mocked the 10th guru of Sikhs – Guru Gobind Singh by dressing up like him. This sparked violent clashes between Sikhs and Dera Sacha Sauda followers. Bathinda bore the brunt of the violence, in which three people were killed and hundreds of civilians and policemen were injured. For around 10 days districts of Punjab were placed under curfew.
In 2014, around 400 followers of his sect alleged Rahim to have castrated them. The case was handed over to CBI and its investigating team reportedly found substance in the allegations. A Dera Sacha Sauda follower and the only witness in the case Hans Raj Chauhan had told the court that Rahim Chauhan, in his petition, had alleged that he, along with 400 other followers, were lured by the Dera chief to get their testicles removed on the pretext of getting 'an opportunity to meet god directly.'
The same year reports also emerged of arms training being imparted to the followers of Ram Rahim at the sect headquarters in Sirsa.
A year later, in 2015, Rahim again courted controversy when the then censor board chief Leela Samson alleged that the government was forcing her to pass a movie made by Rahim.
As you read this, lakhs of followers of Ram Rahim are assembling outside a Panchkula court, which is to pronounce a verdict in a 15-year-old rape case against Rahim on Friday.
Supporters of Gurmeet Ram Rahim Singh rest as they gather near a stadium in Panchkula in Haryana, August 24, 2017. REUTERS/Ajay Verma[/caption]
A man surrounded by so many controversies enjoys support from millions of Indians. You wonder why? Well, the controversial godman is a multifaceted personality.
Here's a list of "talents" only Ram Rahim can possess:
1) Actor.
The Messenger of God has not one but five films to his credit.
MSG: Messenger of God (2015)
His website describes the movie as, "MSG The Messenger, this one is a revolutionary film that's packed with action, high drama, suspense, and stunts performed by a real-life spiritual master – Saint Gurmeet Ram Rahim Singh Ji Insan.
The film promises exotic locales, larger than life sets and traffic stopping dresses. In a nutshell, the film is a mind-blowing total entertainer with a life transforming message – Life Rocks, Just Live it right!"
>
> MSG-2: The Messenger (2015)
"Film portraying the most neglected part of our society. The movie aims at transforming life of savages people with compassion, perseverance & belief in human life. MSG succeeds in turning them around filling in the optimism in their life, changing their destinies forever," his website says.
MSG The Warrior- Lion Heart (2016)
According to his website, "It is a story of a Rajput Warrior from Rajasthan, who existed 300 years ago, and while princes fight for land or for riches, this Warrior fought for the honor of Women and his motherland.
The story travels centuries apart as he emerges in a role as a Lion Heart who is a top secret agent. The aliens from outer space pose a danger for the Planet and womenfolk and they are hundreds of years ahead in technology."
Hind Ka NaPak Ko Jawab (2017)
The second installment to MSG Lionheart, hit the screens in February this year. It features Rahim in the role of an Indian spy named -- "Sher-e-hind", who launches surgical strikes on NaPak (Pakistan) as an act of revenge.
Jattu Engineer (2017)
This time, MSG tries his hand at a comic role as Shakti Singh Sisodia, a teacher on a mission to reform his village, the residents of which are addicted to drugs.
If these were not enough, Papaji is preparing to release his sixth film - MSG Online Gurukul.
Your wait is over!🎁

Introducing the first look of #MSGOnlineGurukul, a movie that will introduce the world to the vedic superscience!🌅 pic.twitter.com/AVr9EqXlNz

— Dr.GURMEET RAM RAHIM (@Gurmeetramrahim) August 15, 2017
2) Writer/Director/Producer.
All the movies mentioned above have been written, directed, and produced by Papaji.
3) Singer/Rockstar. The man of many talents can also "sing". No biggie.
4) Lyricist.
Now while he is at singing, why not write the lyrics as well?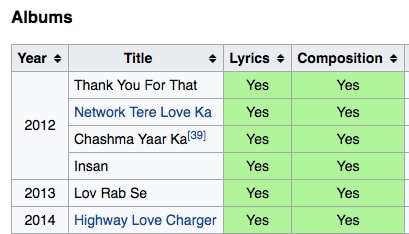 5) Virat Kohli's coach.
How do you think Virat Kohli is the top batsman in the world? Papaji's tips helped him become the greatest of all time. Lol.
6) Award collector(?).
Move over Kaho Na Pyaar Hai, Ram Rahim has more awards than anyone else in the industry. He received an honorary doctorate degree from the UK-based World Records University.
As reported by TOI, "Ram Rahim has 55 world records in various categories, out of which 17 are Guinness records, 27 are Asia Book records, 7 India Book records and 2 are Limca records. Basically, Babaji's personality is an all-round one, which we considered. In the five years of India operations, the university has awarded around 100 Indians so far," the university had said in a statement.
7) Sportsman.
Rahim has played over 32 nationally recognised sports. The games include volley ball, net ball, throw ball, kabaddi, lawn tennis, cricket, football, billiards, table tennis, snooker, shooting ball, yoga, basketball, water polo, and much more.
8) Social Media Influencer.
Tweeting from @Gurmeetramrahim, he enjoys nearly 4m followers on the microblogging site. Oh, and did I tell you each tweet posted by the godman explodes? Yes. 20,000 retweets? Meh. Easy peasy.
On #WorldHumanitarianDay grand salute to volunteers of @derasachasauda for their incredible spirit of welfare services. Blessings! pic.twitter.com/NBejMMD18P

— Dr.GURMEET RAM RAHIM (@Gurmeetramrahim) August 19, 2017
Thanx a lot to all,for pouring ur immense love & warm Birthday wishes. #50YearsOfHumanity r wid d grace of Shah Satnam-Shah Mastan Blessings pic.twitter.com/tFzLl2RyHL

— Dr.GURMEET RAM RAHIM (@Gurmeetramrahim) August 15, 2017
Many Greetings on Independence Day🇮🇳! #MSGsalutes the Nation & the brave Heroes who fought courageously for our freedom! Jai Hind🇮🇳 pic.twitter.com/EiSma80c2c

— Dr.GURMEET RAM RAHIM (@Gurmeetramrahim) August 15, 2017
Inaugurated #MSG9बर9Carnival (मेला) at Dera Sacha Sauda, Sirsa.Indulge in the Indian culture by being a part of the popular fair! 🎊🎉 pic.twitter.com/gHY5jVJvky

— Dr.GURMEET RAM RAHIM (@Gurmeetramrahim) August 10, 2017
I am sure, I've missed many, many other "talents" that the godman possesses. His website came to our rescue. Just a few other things Papaji can do.
Sportsman par Excellence
Superb Medic
Literary Talents and Oratorical Skills
Multilingual Orator
Automotive Engineering
Love of Adventure
Emperor of Melodies
Universal Designer
Expert Agriculturist
Wasteland development
Excellent Chef
Nutritionist
True Spiritual Master
Social Reformer
Unique Leader for Disaster Relief and Preparedness
Water and Sanitation Expert
Cost Effective Technology Developer
Campaign Against Quackery, Superstition, and Charlatanism
Feminist
Anti- Female Feticide and Anti- Dowry Campaigner
Animal Rights Leader
Motivation and Leadership
Mobile Hospital
Karmyogi and Gyanyogi
Anti-Corruption Crusader
Global Warming Mitigator
Low-Cost Housing Expert
De-Addiction Specialist
Anti-Population Crusader
Exemplary Administrator
Educationist
Anti-Discrimination Leader
Culture Icon
Versatile Artist
TL;DR, Gurmeet Ram Rahim Singh Insan summed up in a tweet.
HR: Tell me something about your qualification. pic.twitter.com/aIjFRjAM3J

— Godman Chikna (@Madan_Chikna) August 23, 2016
Get the best of News18 delivered to your inbox - subscribe to News18 Daybreak. Follow News18.com on Twitter, Instagram, Facebook, TikTok and on YouTube, and stay in the know with what's happening in the world around you – in real time.
Subscribe to Moneycontrol Pro and gain access to curated markets data, trading recommendations, equity analysis, investment ideas, insights from market gurus and much more. Get Moneycontrol PRO for 1 year at price of 3 months. Use code FREEDOM.
Read full article