Noida or Shimla? Twitter Flooded With 'Snow Pictures' As Hailstorm Hits Delhi-NCR
Is Noida the new hill station of North?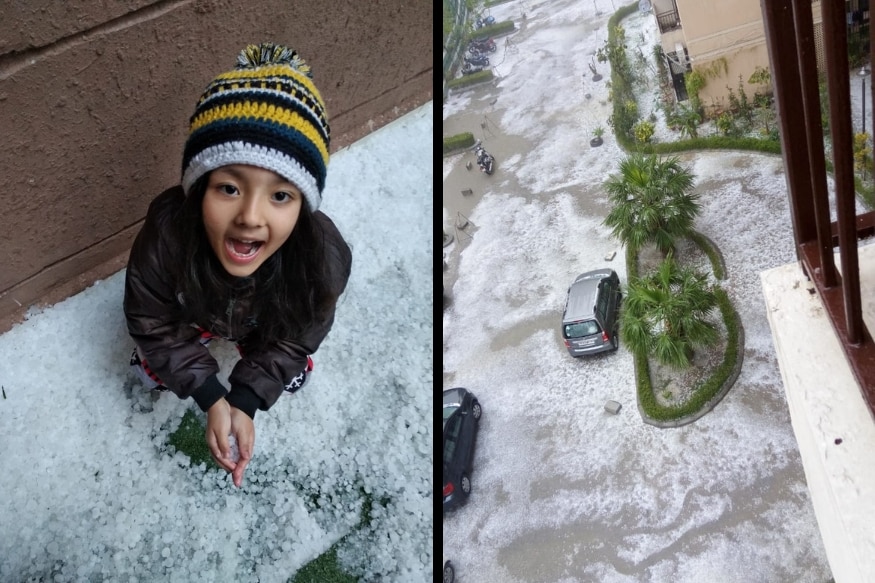 Is Noida the new hill station of North?
WARNING: The pictures/videos in the copy might confuse you if it is Noida or Kashmir.
Heavy rains and hailstorm hit several parts of Delhi-NCR on Thursday evening, bringing the temperature down to around 16 degrees Celsius.
Hailstorms were reported from several parts of Noida, Gurugram and Faridabad.
The
weather forecast department
had predicted a hailstorm and heavy rain in Jammu and Kashmir, Himachal Pradesh, Uttar Pradesh, Delhi, and Uttarakhand.
"Is this snow in Noida?"
"This is not Shimla, this is Noida."
"Noida me aaj OLA nahi OLE chal rahe the."
The excited residents of Noida soon took to social media to share their excitement.
Worst hailstorm that I have witnessed so far in noida. Thankfully no traffic jams!! #hailstorm #Noida #Delhi #Instavideo #india #winterrains #rains pic.twitter.com/6w9U14bFko

— Ritesh Prakash (@riteshprakash) February 7, 2019
A bit of Kashmir in Noida expressway...
Hailstorm... Unbelievable

Even the guy who shot this can't believe his eyes. pic.twitter.com/fnnaEPU1Ps

— kamaljit sandhu (@kamaljitsandhu) February 7, 2019
Somewhere in Noida. #Hailstorm #Noida pic.twitter.com/HWpoJoqnCl

— Gabruu Singh (@GabruuSingh) February 7, 2019
#Snow in #Noida, #hailstorm has blanketed roads in #Sector137Noida with ice. #Shimla ka maaza Noida me :) pic.twitter.com/jOMrd6llq8

— Joydeep Sen (@Joydeep_js) February 7, 2019
The hailstorm hit the Delhi-NCR region under the impact of western disturbances. According to Skymet Weather, the weather condition originated in the southwest of Delhi and is moving towards western Uttar Pradesh. Temperature in Delhi-NCR is likely to drop further during the night. Heavy rain intensity that was covered Delhi-NCR this evening is likely to return in the next two days.
#Noida is the new hill station of North? #Twitter floods with images and videos.#snowfall #hailstorm #ice #India
Read: https://t.co/3rBh6y2JiD pic.twitter.com/anb8M9mJoY

— Trisha Sengupta (@trissengupta) February 7, 2019
scenes at #Noida #hailstorm #Rain #DelhiRains
crazy!! pic.twitter.com/3Yv4HuTHes

— Akash mahi (@akash_jungleboy) February 7, 2019
#Noida #hailstorm Expressway after the hailstorm pic.twitter.com/sjnAQQDnMw

— Ashish Mishra (@Mishra_Ashish18) February 7, 2019
"Heavy hailstorm hits Noida after a rainy day" #Noida #DelhiHailStorm https://t.co/UMGppYbmuH

— Saurabh Singh (@Saurabh123lko) February 7, 2019
And of course, there were Game of Thrones memes too.
Noida and Delhi right now / winter is coming #hailstorm pic.twitter.com/834ia0mKNC

— Shashi Mahich (@shashi_mahich) February 7, 2019
Read full article
Countdown To
Elections Results
To Assembly Elections 2018 Results