GET Stock

Quotes


Have food, will share: Robin Hood Army, a group of young samaratians spreads happiness this winter by donating warm meals, blankets to the homeless
Robin Hood Army is active in cities like Delhi, Bangalore and Mumbai and feed more 1,000 homeless people every night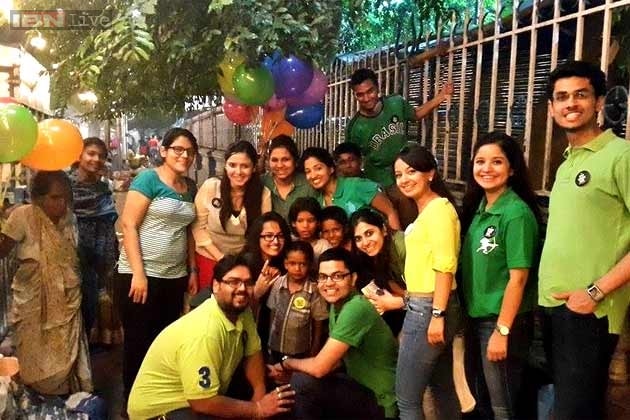 Robin Hood Army is active in cities like Delhi, Bangalore and Mumbai and feed more 1,000 homeless people every night
Delhi: While we are busy covering ourselves in layers of warm clothes in this harsh winter in Delhi, there is a group of young Samaritans called the Robin Hood Army who are out on the streets every night ensuring that the homeless get warm food and blankets to survive.
Started by Neel Ghose, 26, and Anand Sinha, 27, Robin Hood Army is active in cities like Delhi, Bangalore, Hyderabad, Mumbai and Kolkata and feed more 1,000 homeless people every night across cities.
How did the idea come about? "I have to admit it was not an original idea at all. My work at Zomato involved me travelling to different countries to set up offices. During my stint in Portugal, I got introduced to this program called 'Re-Food' which basically fed the needy every night. I observed their practice, volunteered for them and when I came back to India, along with my friend Anand started this initiative called Robin Hood Army."
Being part of an online restaurant discovery guide perhaps helped Ghose rope in restaurants like Sanjha Chulha and Midnight Munchies, among others, to provide food for the needy. "We had expected them to give us the excess food that they had, but they happily cooked fresh food for us to provide the homeless," explains Ghose. On the first night in August 2014, the group of six set out and provided food to about 100 homeless people. The movement grew in the following weeks as more young professionals volunteered across cities. "The impact initially was less but we decided to have a Facebook page and that helped in creating awareness around."
In the last few months, the community has also tied up with catering services to provide food. "We all know how much food is wasted at a wedding. So, many of the catering services have agreed to provide the excess food to us. In fact, recently in Hyderabad 980 people were fed with the food provide by one of the catering companies."
With Christmas round the corner, the community has started a new initiative where they are urging people outside the community to be Santa for the needy. Aptly titled Be Robin This Christmas, the movement urges people to go out and donate warm clothes, blankets and food to the homeless, click a picture and post it on the RHA Facebook page.
How can one volunteer
"We have received overwhelming response from people over these past months. A lot of them want to volunteer as well. But we have started a screening process of sort wherein, whoever is interested to volunteer has to fill up a form and gives us names of at least two restaurants in their vicinity who they can bring in to contribute food to our movement," explains Ghose. "Because we don't want to have more volunteers than the number of people we tend to."
The road ahead
The government and the police have been very cooperative with the RHA, explains Ghose. "In fact, MP Shashi Tharoor tweeted about us and Meenakshi Lekhi called us over for a meeting to figure out how it can have a wider reach. So no complaints there." The community aims to de-centralise their operations completely. Ghose also admits that time is a major factor. "Most of us are young professionals with regular 9-5 jobs. We can only donate maximum time during the weekends. We intend to involve students from Delhi University as they are more driven and have time on their hands."
The group also states that it is important to do their homework and scout for the areas where there are clusters of such people. 'We find most of them under the flyovers. Even outside hospitals we find lot of people in need for help. In Bangalore, there aren't too many homeless so our group also visits orphanages. Since the winters are harsh in Delhi, we also intend to provide blankets to them."
What makes the whole movement unique is the fact it is absolutely community driven and no money is involved. "The restaurants have been more than kind and provide fresh food to us. No one has ever charged us anything."
Ghose signs off by saying, "I think RHA has provided a platform to lot of Indians. Many always intend to be a part of such a movement, but they are not sure how to go forward. RHA has given them the means to their bit for the society."
(function(d, s, id) { var js, fjs = d.getElementsByTagName(s)[0]; if (d.getElementById(id)) return; js = d.createElement(s); js.id = id; js.src = "//connect.facebook.net/en_US/all.js#xfbml=1"; fjs.parentNode.insertBefore(js, fjs); }(document, 'script', 'facebook-jssdk'));
Read full article