Have You Seen The Ancient Pen Drive Yet? #InternetMahabharata Takes Over Twitter
Tripura Chief Minister Biplab Deb was mocked for saying ancient India invented the Internet.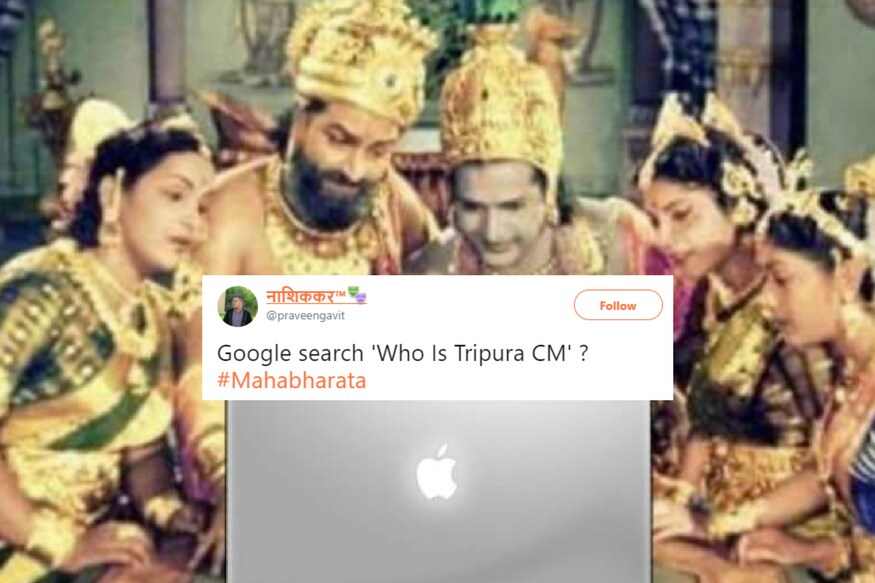 Photo credits: @praveengavit / Twitter
Time and again our ministers have come under the scanner for their bizarre theories on ancient India.
For instance, did you know Brahmagupta-II discovered "law of gravity" before Sir Isaac Newton did? Or that Darwin's Theory of Evolution of Humans was scientifically wrong?
Latest to join the club is Tripura Chief Minister Biplab Deb who recently said that the Internet is nothing new to India and that it existed even in the days of Mahabharata.
Speaking at a public event in Agartala, Deb said that the blind king Dhritarashtra would get regular updates about the battles of Kurukshetra through Sanjay, who was also nowhere near the battlefield like him and this was possible only through "technology and satellite communication".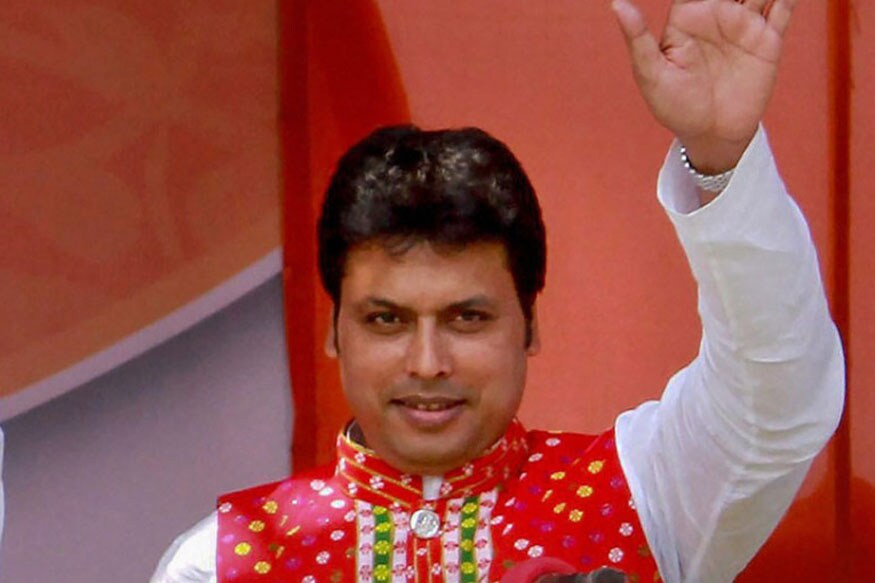 File photo of Tripura CM Biplab Kumar Deb. (PTI/File photo)
Of course, Internet went berserk over CM's comment and Twitter users imagined Internet in the Mahabharata era.
If internet existed during the time of Mahabharata, then why did the Pandavas play a game of dice and not Texas Hold 'em Poker?

— Sapan Verma (@sapanv) April 18, 2018
The Internet existed during the Mahabharata. The biggest issue happened when Yudhistra refused to make Duryodhana group admin in the family WhatsApp group. Now it can be told.

— Naomi Datta (@nowme_datta) April 18, 2018
Discussion over slow speed of the Internet pic.twitter.com/XrKtsPiRIR

— Amit Kumar (@born2rulz) April 18, 2018
More technology in Mahabharata:

1. Arjun met Draupadi on a Facebook page called 'Fish Eye vs Arrow Jokes'.

2. The thorn-bed Bhishma Pitamaha slept on was funded on Kickstarter.

3. Men disrobing Draupadi to punish her for laughing publicly was Twitter.

— Aisi Taisi Democracy (@AisiTaisiDemo) April 18, 2018
Sri Krishna showcasing the "fidget spinner" he bought from Flipkart's Big Billion Days Sale! #InternetMahabharata pic.twitter.com/07PbijfCwN

— Rofl Republic (@i_theindian) April 18, 2018
This one is one of the most advanced shape shifting weaponry system... Very rare footage prooves the existence of video cameras as well :D pic.twitter.com/wik5E6c1aT

— Amit Kumar (@born2rulz) April 18, 2018
#InternetMahabharata ancient pen drive used mahabartha pic.twitter.com/rEG1soTkT4

— Srinivas (@Srinivas8147) April 18, 2018
The Mahabharata was originally told in a tweet thread. It was Vyasa who put the whole thing on Storify, with the help of Ganesha because, well, we've all been there with helping grandpa with the internet. #InternetMahabharata #Mahabharata

— Audrey Truschke (@AudreyTruschke) April 18, 2018
When your friend's 4G runs out so you give him your hotspot password #InternetMahabharata pic.twitter.com/0SxJcyZQxG

— Arré (@ArreTweets) April 18, 2018
BJP minister was not wrong when he said that internet was there since Mahabharata, there was wifi too, what bigger proof do you want? #InternetMahabharata pic.twitter.com/YfkTWcAM43

— Daniyal ❦ (@8dabr) April 18, 2018
Pandavas checking thier twitter notifications.

Yudhishthira is angry with the low 4G range in Indraprasta.#InternetMahabharata pic.twitter.com/0it8FnOTPO

— Advaid (@Advaidism) April 18, 2018
Facebook notification:

Draupadi is feeling loved with 5 others#InternetMahabharata

— The Bad Doctor (@DOCTORATLARGE) April 18, 2018
During Mahabharata period people checking mail#InternetMahabharata #shameful pic.twitter.com/0Y86DhFwpL

— Rajeev (@rajeevkvp) April 18, 2018
Abhimanyu: Twitter is a chakravyuah. You know how to get in. You don't know how to get out. #InternetMahabharata

— Songbird (@oxymoronic_me) April 18, 2018
I only wish that they'd had the internet in the times of the Ramayana. Then Hanuman could've saved a lot of trouble carrying that whole mountain by just searching "sanjivani herb" on google images. #InternetMahabharata #Mahabharata

— Audrey Truschke (@AudreyTruschke) April 18, 2018
Google search 'Who Is Tripura CM' ?#Mahabharata pic.twitter.com/2YzI9PZygp

— नाशिककर™🎭 (@praveengavit) April 18, 2018
In closing, we'd like to quote Breaking Bad's Jesse Pinkman. Yeah science, b*tch!
Get the best of News18 delivered to your inbox - subscribe to News18 Daybreak. Follow News18.com on Twitter, Instagram, Facebook, TikTok and on YouTube, and stay in the know with what's happening in the world around you – in real time.
Subscribe to Moneycontrol Pro and gain access to curated markets data, trading recommendations, equity analysis, investment ideas, insights from market gurus and much more. Get Moneycontrol PRO for 1 year at price of 3 months. Use code FREEDOM.
Read full article