YearEnder2018: Here are 18 Best Stories by News18 This Year
As the year winds up, we bring to you 18 of the best in-depth pieces in 2018 by News18.com.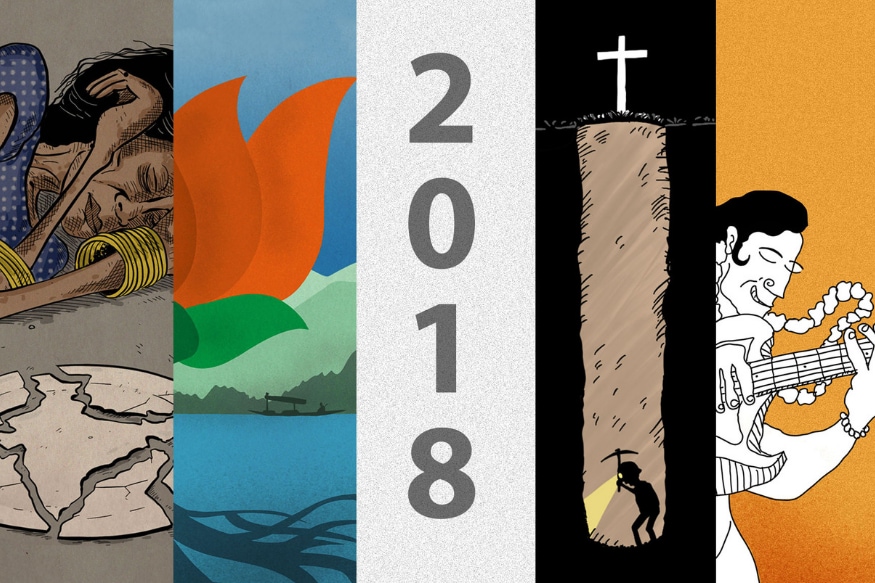 Art by Mir Suhail / News18
Lynchings, elections, same-sex relationships, 2018 has been a socio-political potboiler of a year.
As the year winds up, we bring to you 18 of the best in-depth pieces in 2018 by News18.com.
BY THE TIME YOU READ THIS, WE COULD ALL BE DEAD
The miners stuck in an illegal coal mine in Meghalaya may never see the light of day
Broken eggshells, dirty old slippers, empty plastic bottles and a layer of black coal are the only reminders of the trapped Meghalaya miners who may never see the light of the day. Just three hours from capital city Shillong, on the picturesque road that leads to Lumthari village where the coal miners are trapped since December 13, labourers are scooping heaps of coal and filling the trucks. The 2014 National Green Tribunal (NGT) order banning rat-hole mining in Meghalaya was a farce and it is evident even four years later. The 'rat hole' that the labourers entered lies 400km from Rajabala, Garo Hills. The state sent its rescue forces, the National Disaster Response Force (NDRF) came in with 71 men, and the media rushed in too. And yet, none of the miners has yet been found. Read the News18 Immersive on the horrible tragedy that is yet to have an outcome.
A DASH Of SPICE AND A HINT OF DATA
How Masala Packets Help Win Elections by Mining Data of Villagers With No Internet
The discounted packets of spices seemed like a lip-smacking offer. But the villagers of Baramba had no idea what was actually cooking. In exchange for the goodies, they were giving out personal data that could be used as an ingredient to frizzle up an election win. Find outore about how masala packets may end up swaying the 2019 election results in Orissa.
HINDUTVA POP
When music moves mountains and builds temples in Pakistan
They want to set up 'Baba ka mandir' in Pakistan, they want you to use muscle power to remove Babar's name from history, they want you to know that if you live in India, you have to say 'Vande Mataram' and when you are visiting a temple, they want you to dance 'kamar hilake….' A quick search on YouTube reveals that various songs about Hindu Gods and kings have found a new flavour with 'DJ music'. News18 took a deep dive into this new world of Hindutva pop.
MOTHER, THEY ARE NOT COUNTING THE SMALLEST COFFINS
In January, Uttar Pradesh's chief minister Yogi Adityanath announced his intention to "eradicate" AES and Japanese Encephalitis (JE), responsible for the death of 25,000 children since 1978. The Action Plan 2018 was rolled out and in August the government claimed that deaths had dipped. But when News18.com visited Gorakhpur, doctors, patients, experts, and grieving families painted a different picture. Despite the government's claims, children continue to die at Gorakhpur.
WHO CLEANS YOUR SHIT?
"They want us to clean their shit, but won't respect us."
News18 spent a day with a manual scavenger who wades through a cesspit of human excreta & decomposed garbage to make a living. This year, several deaths of manual scavengers in the capital brought the ongoing travesty to national attention. Find out what the life of a manual scavenger is like.
GANGA, BETWEEN FAITH & FILTH
The clock to clean Ganga is ticking fast. Can we save the holy river?
After a year in power, in May 2015, the BJP-led NDA government launched the Namami Gange programme, allocating Rs 20,000 crore to accomplish the twin objectives of effective abatement of pollution, conservation, and rejuvenation of Ganga and its tributaries by December 31, 2020. The scheme involved developing river fronts, setting up sewage treatment plants and construction of ghats and crematoria, among others. Although Rs 19,630 crore was approved for funding 192 projects, only Rs 3,639.89 crore has been spent until May 31, 2018. This means that the Union government has been able to utilise only 18 percent of the fund in three years—it will have to spend another 82 percent in another 18 months to meet its target. Can the Modi government live up to its promise of a clean Ganga?
HOW BJP BROKE THE KASHMIR JINX
From being an untouchable to forming a government, the party has come a long way in the valley.
It was strangely during periods of severe crisis that the BJP seemed to make the deepest inroads into the tumultuous valley. News18 traces the party's foundational attempts way back in 1992 and follows it through the various turns and controversies that have led to the current position of power enjoyed by BJP in Jammu and Kashmir.
SONS OF THE SEAS
How fishermen became an intrinsic part of food rescue operations in Kerala
As Kerala grappled with the worst flood it had faced in almost a century, the fishermen of Kerala tapped their full potential in different flood-affected areas for rescue efforts. About 3,000-odd fishermen from across the coastal belt of Kerala wasted no time in leaving their homes and reached the worst-affected areas of Pathanamthitta, Alappuzha, Kottayam, Thrissur, Ernakulam, Malappuram and Kozhikode. The tehsildaar wanted them to wait for the government to officially contact them, but according to the fishermen of Alapad, they didn't want to wait. "We could not have," was the consensus. Read the riveting tale of strife and hope during a time of natural calamity.
STARVING JHARKHAND BATTLING A SERIAL KILLER: HUNGER
Stories of deaths due to hunger and starvation may seem unreal in the 21st century. Not in Jharkhand, where people even resort to eating rats to make sure they don't sleep with an empty stomach.
A special four-part series by News18.com on the starvation deaths in Jharkhand.
A FOOT PILGRIMAGE
10 Days Through Mountains with Bakarwals
After the horrific rape-murder of an 8-year-old girl in a village in Kashmir's Kathua district catapulted the Bakharwals, a traditional shepherding community, into national TV screens and debates. As News18.com trekked 160 km on foot with the Bakharwals, trying to understand the lives they live, there were also some questions that only this nomadic tribe had answers to, the most important among them all: have their lives changed after the heinous gang rape and murder of an eight-year-old Bakarwal girl in Kathua this year? Read the News18.com Immersive to read the full story.
DEATH BY WHATSAPP
How one WhatsApp message killed 24 people in the country
The fatal messages were both in text and in audio. They were in Telugu, Kannada, Tamil, Hindi, Assamese and Gujarati among others. The content of the messages was usually the same, asking people to beware of certain child snatchers or kidnappers. No one had any idea where the messages originated from or who was the original sender. But when it comes to the safety of one's children, these questions become irrelevant. These messages led to the lynching of at least 24 persons in 2018. News18.com found out in detail about these WhatsApp messages.
TRUTH OF BIHAR
Manufactured Riots, Fractured Community
Outsiders were involved in planning and executing communal riots in Bihar in March, the state police and intelligence departments have found in their investigations. Read News18.com's exhaustive four-part report on unabated communal violence that engulfed one-third of Bihar for a fortnight.
PATHHARGARHI
Inside India's Adivasistan
News18 takes you inside the Adivasi-led exclusionist movement spread across hundreds of tribal villages in several states, including Jharkhand, Odisha, and Madhya Pradesh.
THE WORLD DID NOT LET US LIVE
What Led To The Suicide of the same-sex couple in 'Homophobic' Gujarat
In the reported suicide notes that two women left behind, first came a disclaimer —"We did not have any men with us". Perhaps this was their way of 'protecting their families' honor' by letting the world know that they had not run away with men. Both the women and a child had drowned after jumping from a bridge in June. In the note, they further went on to describe the plight they had faced, apparently as a same-sex couple. News18.com tried to find out more about the kind of lives these women left behind, and about the acceptance of same-sex relationships in Gujarat.
A MURDER THAT EVERY INDIAN SAW
Meet Shambulal Regar, New Face of Hindu Far Right in Poll-Bound Rajasthan
A Muslim man was brutally murdered in broad daylight in Rajasthan. His killer recorded the act on his smartphone. The video went viral. News18.com introduces you to the man, Shambulal Regar, who was behind the killing.
ONE ASSAULT AT A TIME
Documenting Violence Against Dalits
After the killing of a person during the violence on the 200th-anniversary celebrations of the battle of Bhima-Koregaon, violence against Dalits in India is again under the spotlight. In the first part of #BeingADalit – a series on recurring attacks on India's Dalits – News18.com maps the atrocities that took place over the last one year.
ON ITS LAST PAGES
A deep dive into the dying world of Hindi pulp fiction.
Potboilers may be thriving in politics & films, but in literature, they are dying. As mass-market books take their last breath, we revisit their glory days. Take a look at the lurid, colorful world of Hindi pulp fiction.
THE COST OF SLEEP IN DELHI
How Delhi's migrants keep a thriving slumber market awake
Delhi is a melting pot for people coming from across the country, especially the Hindi heartland. The perennial struggle for money means many of these migrants often have to choose between a good night's sleep or their savings. Find out how these migrants manage a shut eye, and at what cost, in Delhi.
Get the best of News18 delivered to your inbox - subscribe to News18 Daybreak. Follow News18.com on Twitter, Instagram, Facebook, Telegram, TikTok and on YouTube, and stay in the know with what's happening in the world around you – in real time.
Read full article