Here's A Lesson For The Kerala Professor Who Said Transgenders Are Born to Women Who Wear Jeans
Mind doing some research, sir?
Mind doing some research, sir?
In the recent times, we have come across several statements that Indian men have said about women. Apparently, "eating chowmein leads to rape," "rape by two men is not gangrape", "boys will be boys… they commit mistakes"-- the list is long. Latest to be added to the list of stupid and senseless statements, is from a professor from Kerala who reportedly said that
women who wear jeans and act like men give birth to transgenders
.
Please take a moment to let the weirdest statement of our times sink in.
During a counseling session held in Kasargod, this apparent "educated" professor Rajith Kumar, who has been conducting "health awareness" classes for several years now, said: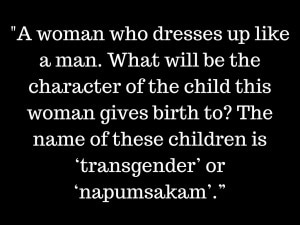 Well, the man did not stop giving "gyaan" on the "un"scientific reason for the birth of trans but went a step ahead to teach about how autistic kids are born.
This might come as a shock to Mr. Kumar, but it is our duty to let him know that "acting like men" or "wearing jeans" has nothing to do with the reproduction system of a woman. The child, whether a girl, boy or a transgender is born irrespective of the "dressing choice" of the mother.
Though science has still not come clear on why people are born transgenders but
such people are those who do not identify with the gender assigned to them at birth
. For instance, a person who is assigned 'male' at birth by doctors, but grows up to identify as a girl/woman, is a transgender woman, or a trans woman.
As far as autism goes, Scientists suspect that a faulty gene or genes might make a person more likely to develop autism while there are also other factors present, such as a chemical imbalance, viruses or chemicals, or a lack of oxygen at birth. There's no mention being a 'rebel' that cause autism.
Raising concern over such irresponsible remarks, Kerala minister of health and social justice KK Shailaja released a press note stating that Professor Kumar has been barred from participating in government programmes. "
We are mulling legal action against him
for making such derogatory comments," Deccan Chronicle quoted the minister saying.
In his defense, professor Kumar shared a video on his Facebook page saying his only intention was to "save children from leading life in wrong ways."
Kerala, considered as the most educated state in India, has been experiencing backlash over the rising instances of sexism against women. Recently, another Kerala professor said "women in his college were not wearing the hijab properly and
deliberately exposing their chests like "sliced watermelon
."
Read full article
Countdown To
Elections Results
To Assembly Elections 2018 Results