GET Stock

Quotes


Here's How A Restaurant In Raipur Is Doing Its Bit For The Indian Army
A small yet a powerful gesture for our brave men at the border.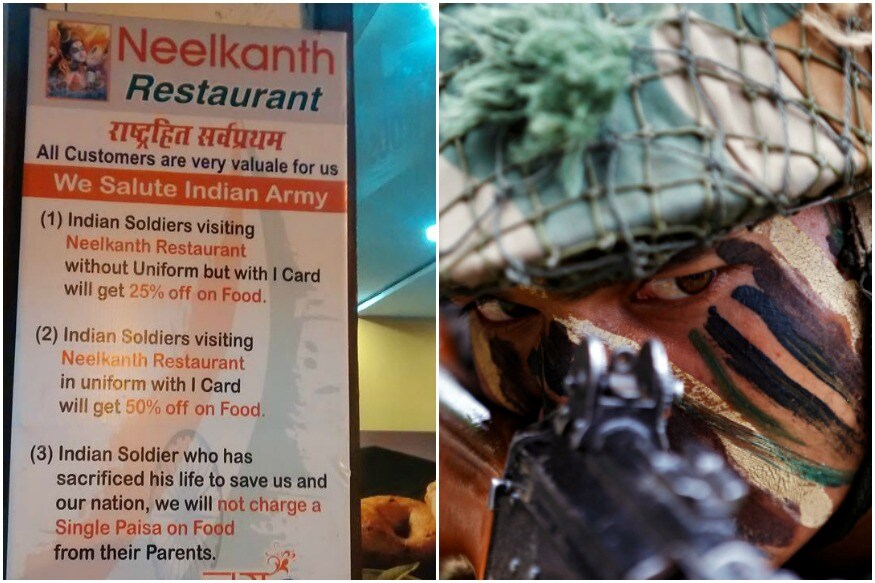 (Photo: Imgur/Reuters)
The social media saw an outpouring of grief when 18 soldiers were martyred during a terror attack at an army camp in Uri town of Kashmir. Some have even gone beyond armchair activism to show their appreciation for the country's jawans.
A special discount for soldiers and families of martyrs at the Neelkanth Restaurant in Raipur is one such initiative that has gone viral. The establishment, situated at the railway station road in the Chhattisgarh capital, is offering 25% discount to soldiers who walk in with identity cards and 50% for those wearing their uniforms and carrying an ID card. Parents of soldiers who sacrificed their lives for the nation will not be charged anything.
A poster put up by the restaurant has been doing social media rounds for the last few days and says 'rashtrahit sarvapratham' (national interest is foremost) at the top.
Instead of war-cries, we need more voices like this. (Seen at Raipur railway station road)
Neelkanth Restaurant, however, is not the first. Several other eateries, too, have been offering such discounts to soldiers and their families. The Gopal Hotel and Restaurant, which seems to have inspired the Raipur establishment, has been offering such discounts as early as July this year.
#Salute #Indian #Army #Soldiers #Gopal #Hotel #Restaurant #Appreciable #Inspiring #JaiHind @hotelgopal #Dharamshala pic.twitter.com/QAwF18p4P9

— Jaswant Choudhary (@jaswant001) July 17, 2016
It is a small yet a powerful gesture for our brave men at the border.
Also Watch
Read full article