Rahul Gandhi's Awkward Hug to Modi Has Left Twitter Stunned
'Jaadoo ki jhappi.'
'Jaadoo ki jhappi.'
Congress President Rahul Gandhi slammed the BJP and Prime Minister Narendra Modi in his speech during the no-confidence motion in Lok Sabha on Friday.
"The PM is a bhagidaar, not a chowkidaar," he said. Gandhi also raised questions about the Rafale aircraft deal and claimed that French President Emmanuel Macron told him that France had no pact with India regarding prices of the jets.
Claiming that India was a victim of 'jumla strikes', he said the PM had lost touch with the wishes of the common people. "Who are victims of the jumla strike? Dalits, tribals, women, youth," Rahul said. He also targeted the Modi government over rising unemployment in the country.
After the fiery speech, Gandhi showed his lighter side. "You all must think that I have a lot of hatred in my heart against the Prime Minister, but actually that is not the case. In fact, Modi Ji, the BJP, and the RSS taught me the meaning of being a member of the Congress party. They have taught me the meaning of being Indian. They have taught me the meaning of being a Hindu and a devotee of Lord Shiva. Being an Indian and being a Congressman means no matter what falsehood someone speaks against you, you do not harbour ill-will against them. For this, I thank you," Gandhi said.
He further said several BJP members had congratulated him on his speech during the adjournment of the Lok Sabha. "Opposition leaders congratulated me. Even members from the BJP congratulated me. This is your voice also. The member from the Akali Dal was smiling at me earlier. Together, we will all defeat the PM in the next election."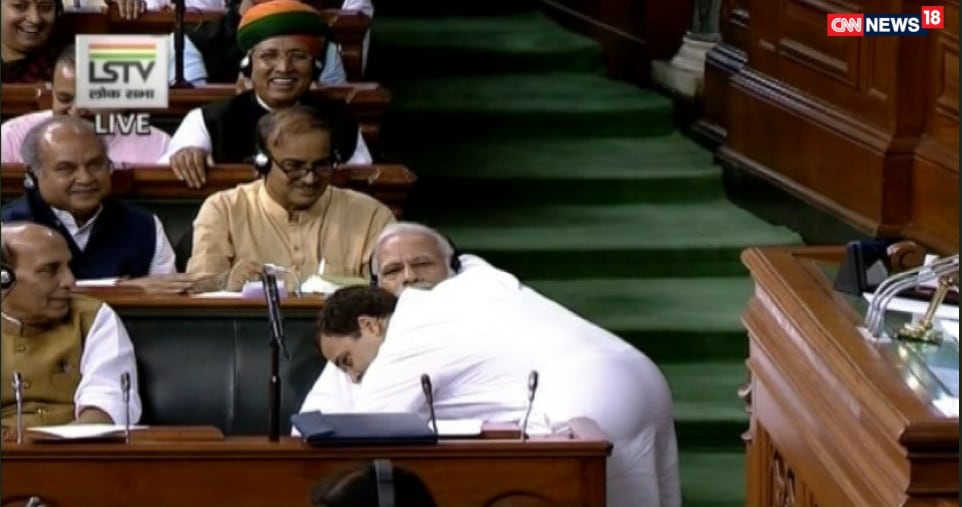 While concluding his speech, Gandhi walked up to Narendra Modi and hugged him. The PM, confused at first, accepted Gandhi's speech. Gandhi's gesture was met with applause from the opposition benches.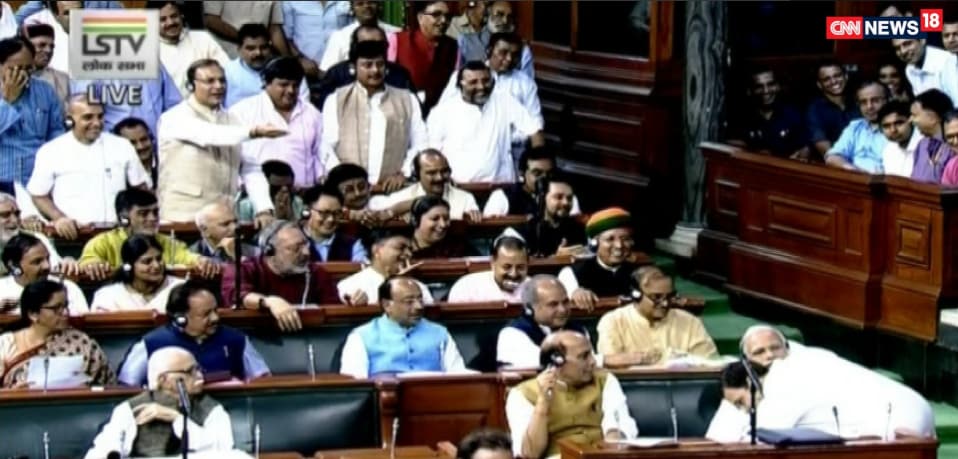 Twitter was literally shook.
Wow just wow! @RahulGandhi that hug. What an amazing day today. #NoConfidenceMotion

— Sanjukta Basu (@sanjukta) July 20, 2018
New Wild Stone ad pic.twitter.com/C2OqVguGGL

— Ojas. (@Ojasism) July 20, 2018
*he's just not that into you* pic.twitter.com/uUFjwaO6KP

— Sreenivasan Jain (@SreenivasanJain) July 20, 2018
What an astonishing performance by @RahulGandhi. It was a game-changing speech, tearing apart the Govt 's claims & ending with that unscripted hug that has literally taken the BJP's breath away #BhukampAaGaya

— Shashi Tharoor (@ShashiTharoor) July 20, 2018
Baap kaDada kaBhai kaSab ka badla lega re tera Rahul 😂😂😂 #NoConfidenceMotion pic.twitter.com/VdYo98gLCg

— . (@0__1) July 20, 2018
This is great strategy. Well done @RahulGandhi. Exposed BJP's failures in his speech & then by giving a hug to Modi, he has shown Indians why he & the Congress are different from Modi & the BJP. Love & brotherhood are the way forward. Not hate. pic.twitter.com/uQILlOlO9n

— Srivatsa (@srivatsayb) July 20, 2018
GIF of the year! pic.twitter.com/ZUiV64Opg1

— Soumyadip Choudhury (@soumyadip) July 20, 2018
Let's just grab one drink.Me, four drinks and three tequila shots later: pic.twitter.com/tgVxAWK8AE

— Andre Borges (@borges) July 20, 2018
Starkids to Karan Johar. #NoConfidenceMotion pic.twitter.com/dqDb25E14v

— Bollywood Gandu (@BollywoodGandu) July 20, 2018
Pictures of the day That how dare u hug me expression... #NoConfidenceMotion #Rafael pic.twitter.com/sDTt7pFjYU

— Sakshi Joshi (@sakshijoshii) July 20, 2018
Agla election me mujhe please jeete do. #NoConfidenceMotion pic.twitter.com/bMSCDNakZ9

— Akshay (@AkshayKatariyaa) July 20, 2018
Awkward! The PM who needed a hug was Dr Manmohan Singh pic.twitter.com/7AfRYjZdyu

— Advaita Kala (@AdvaitaKala) July 20, 2018
Rahul Gandhi walked up to the Prime Minister and gave him the most awkward hug in the universe!WHAT IN THE WORLD JUST HAPPENED!So. Bloody. Awkward.#SansadWatch

— 🌈 Meghnad 🏳️‍🌈 (@Memeghnad) July 20, 2018
Even more awkward hug #Hugplomacy pic.twitter.com/UYFCxZCPFF

— Ankur Singh (@iAnkurSingh) July 20, 2018
Defining moment in Indian Parliament - RG responds to pappu jibe then walks up to Modi and hugs him ..Entire BJP rattled .. what a day !

— Sid (@sidmtweets) July 20, 2018
Rahul Gandhi walks across and hugs the PM. Everyone taken aback

— Padmaja joshi (@PadmajaJoshi) July 20, 2018
Gandhi didn't stop there. His wink in the parliament became a top of discussion on Twitter.
😂😂😂😂😂😂😂😂😂 pic.twitter.com/ygeToOK5zf

— Ankur Singh (@iAnkurSingh) July 20, 2018
This is what happens when you play a script. Emotions, Nationalism, Hinduism, Secularism & Liberalism everything is a mere script for the Congress party & Gandhi Family. pic.twitter.com/HG3HzHks5S

— Bhaiyyaji (@bhaiyyajispeaks) July 20, 2018
The wink after the hug. A debater pleased with his stunt. pic.twitter.com/VZUxrpVf7c

— Rahul Kanwal (@rahulkanwal) July 20, 2018
Get the best of News18 delivered to your inbox - subscribe to News18 Daybreak. Follow News18.com on Twitter, Instagram, Facebook, Telegram, TikTok and on YouTube, and stay in the know with what's happening in the world around you – in real time.
Read full article