Hey Virat Kohli, I Don't Even Like Cricket, But I am Not Leaving India
Why is a fanatical appreciation of one of the most boring games in the world required to prove that one is an Indian?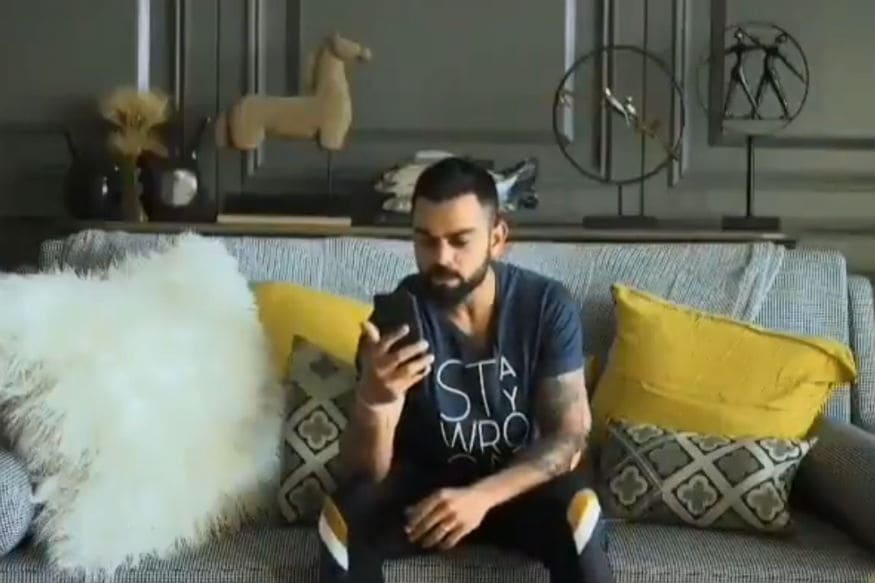 (Twitter Screengrab)
My long and illustrious career in cricket reached its highlight in Class VI, when I was the second substitute player in an inter-section series; I didn't get to play (thank whichever magical sky daddy), but I was entrusted with the polythene packet filled with 30-odd Center Fresh chewing gum for the team. Sitting on the sidelines that balmy afternoon, while addressing my 10th piece of gum, I realized two things: firstly, Center Fresh is a tres ordinaire product; and secondly, cricket is dumb.
While you limber up your fingers to type out a barrage of abuse in the comments section below this piece, let me get in a few points. I'm not particularly fond of any sports, except for chess, and yes I suck at all of them, except for chess. And chess IS a sport, while cricket is merely a game (sports are an activity you play by yourself, and games, aka what children play, are activities played in teams).
And while I think playing games as an adult is redundant unless as a team-building exercise at a corporate retreat (if you want exercise, go and run, cycle, swim, or climb something; you don't need to chase around a piece of rubber or leather in the world's most pointless game of fetch), I get the appeal of some games: like the furious action on football fields, where jacked young men sprint, twist and cavort their bodies into the most fantastical shapes in order to get a goal while crowds roar and hiss and groan at every miscalculated kick and every accurate flick. Or when a bunch of heavily built men hold their breath and play a mix of tag and wrestling a la kabbadi; I can appreciate the use of brute strength as well as physical agility and awesome lung capacity. Or even when a bunch of really tall dudes (mercifully only five a team) try and wrest a big orange ball from each other and throw it through elevated hoops.
I get it. It's intensely physical, elicits a visceral reaction from the people watching, and is an arresting spectacle.
I'm sorry, but cricket is none of those things.
And yet we continue to worship players of the game, hanging on to their every word and action. Granted that they're also the target of equally imbecilic hate and fury when they perform badly, but the good far outweighs the bad. And it is perhaps this false sense of entitlement that allows them to issue ridiculous statements like one should only like the players of one's own national team and no others. If someone professes a true love for a game, isn't it natural to admire and follow players that excel at it, regardless of their nationality? Even if it is a dreary game like cricket.
A game of cricket, to me and to any non-partisan observer, is basically four guys on a rectangular patch of dirt on which one guy throws a small ball at an opposing team member who swats it away with a piece of wood, as the two others wait for it to either fly past the batsman and be caught, or be hit after which two guys run up and down the length of dirt. Meanwhile, there are nine other poor souls spread out over a gigantic pitch contemplating who knows what, only to be sporadically interrupted from their thoughts when the ball comes near them. And people used to spend five days doing and watching this. I get there was no Netflix or even broadcast TV then, but now there's no excuse for these shenanigans to continue.
From shortening the game to 20 overs to donning flashy uniforms to throwing in unfortunate cheerleaders into the mix to promoting partisan-building inter-city matches, cricket is doing all it can to survive. And I get all the spiel that it's the sport that unites us all, blah blah blah, what I'm trying to ask is, why? Why is some colonial game so essential to our national spirit? Why is a fanatical appreciation of one of the most boring games in the world required to prove that one is an Indian? Why do 11 guys -- who make more money from flogging toothpaste and super-sugary, super-unhealthy carbonated beverages than they do from playing the actual game that made them famous – deserve a semi-deified status? Why, oh why, Mr Kohli, do you even get a say in who gets to stay in India, and who doesn't? The nation wants to know.
Get the best of News18 delivered to your inbox - subscribe to News18 Daybreak. Follow News18.com on Twitter, Instagram, Facebook, Telegram, TikTok and on YouTube, and stay in the know with what's happening in the world around you – in real time.
Read full article