Hima Das is Finally Going Back Home and Guwahati Airport Has Laid Out a Carpet for Her
A very unique welcome for a very deserving Hima Das.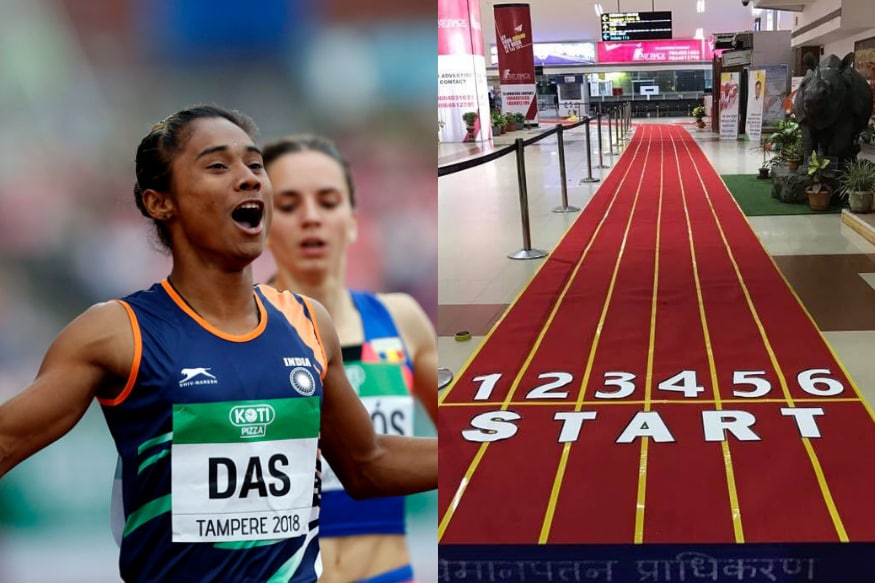 (Image: PTI and Twitter)
The carpet has been set at the Guwahati airport, rather literally, for the triple-medal winner at the 18th Asian Games, Hima Das. She will reach the city on Friday.
Assitant Commissioner of Police Ponjit Dowarah posted a photo on social media showing the grand carpet with track markings that has been laid out for the athlete at the Guwahati airport.



A grand welcome is waiting for #HimaDas at Guwahati Airport pic.twitter.com/4fUZFTV3wJ


— Ponjit Dowarah (@ponjitdowarah) September 7, 2018

Installed to welcome @HimaDas8 at #Guwahati airport. pic.twitter.com/4jQCal3dOZ

— NAYAN MANI KUMAR (@satyanusaran) September 6, 2018

According to some reports, Assam Chief Minister Sarbananda Sonowal will welcome Hima at the airport. Post which she will head to Sarusujai Stadium and have a stop at the Dr Bhupen Hazarika Samadhi Kshetra Memorial. On Friday evening, Hima will be felicitated at the Srimanta Sankaradev Kalakshetra.
Hima, too, seemed excited to return to Guwahati and took to social media to express the same.



Really excited to fly back home with my coaches Nipon Das and Nabajit Malakar ✈✈ pic.twitter.com/7l7hyLra3I


— Hima Das (@HimaDas8) September 7, 2018
Arriving in Delhi on Tuesday, she met Prime Minister Narendra Modi and Sports Minister Rajyavardhan Singh Rathore on Wednesday.

It has been a privilege to meet our honourable Prime Minister Shri Narendra Modi sir. Thank you sir for the encouragement and motivation during this meeting today. pic.twitter.com/OdETvS7mjq

— Hima Das (@HimaDas8) September 5, 2018




Had a great interaction with Indian athletes who made us proud in the #AsianGames2018. pic.twitter.com/4ZrvjEdMsG


— Narendra Modi (@narendramodi) September 5, 2018
The internet of course was all praises for the unique welcome of Hima.

This is great encouragement for Athletes.. Usually, cricketers get much hype in India..Things are changing. Good for other sports.👌👌👌@India_AllSports @g_rajaraman @Ra_THORe @rahuldpawar

— DS Raajj (@draju_tarun) September 6, 2018




She Deserves it completely
Our Indian athletic superstar


— Peter (@1p1pp) September 6, 2018

What a wonderful gesture and encouragement

— NandiniRCP (@nandinircp) September 7, 2018




That's a great way to welcome your sportsstar


— mahesh shukla (@apkamahesh) September 7, 2018
Read full article
Countdown To
Elections Results
To Assembly Elections 2018 Results