House of Cards Fails Robin Wright, but Shows How Women are Made Jokers of the Pack
Claire's greatest challenge is that everyone wants to impeach her.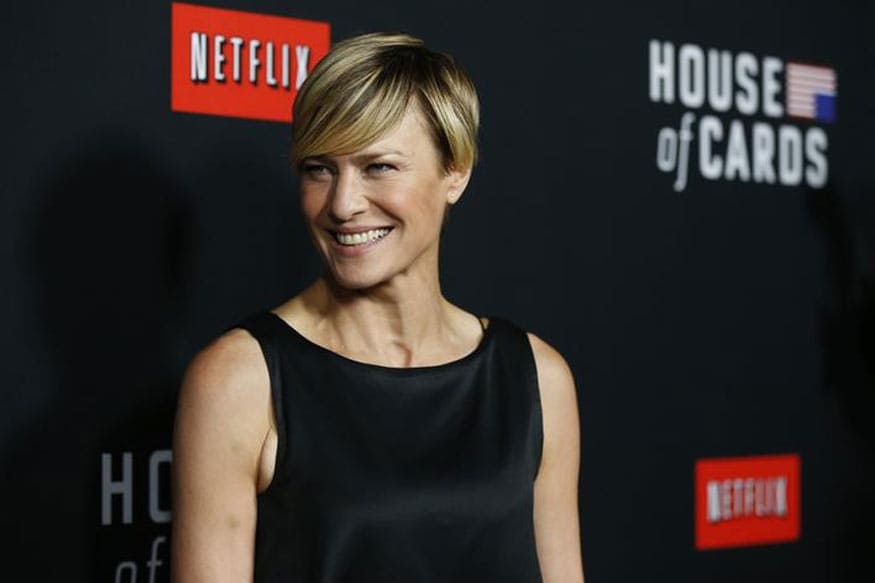 A file photo of Robin Wright.
So here's the thing. I had so so many opening lines for this article, that I was literally spoiled for choice. And if that sounds entitled and opinionated, that's because it is. Because, as a man, society allows me to be the former and expects me to be the latter. But more on that later.
It's strange how polarising the reactions to this last season of Netflix's marquee series have been, with reviews and analyses either praising or excoriating it; there is no middle ground, and it's all because of the middle-aged elephant no longer in the room. Kevin Spacey loomed large over the show with his flamboyant, and yes brilliant, Frank Underwood, the political maven who so ruthlessly and entertainingly games his way to the White House.
After the allegations of sexual assault (and worse) came out against him, Spacey was quickly grandfathered out of the show, with Netflix announcing that he would no longer feature in it, and Robin Wright, who plays Frank's wife, will take over as the main character and frequent breaker of fourth walls.
Robin Wright. Where does one even begin? Over the first five seasons, her Claire Underwood was an ice queen, chilling as well as remote, the polar opposite to a volcanic Frank. Having to take over the lead in season 6, Claire reminds you of that oft forgotten fact: ice burns. And, despite the ridiculous pantomime the show devolves into over its 8 episodes, Claire remains a class act, truly unimpeachable.
This is pretty ironic because as a woman president, who has the option of going nuclear but who also has periods (a fact often noted by various characters), Claire's greatest challenge is that everyone wants to impeach her. Or have her quit and disappear silently in to the night. Fear not, for she stays on and fights, but boy, it's hard to be a girl. Despite being leader of the free world, Claire is spoken down to and even berated by every male character, from the head of her security detail to her Vice President, as well as most of the female ones. She perseveres, but only because she is (and has to be) twice as ruthless and pitiless as her opponents. Without giving away any spoilers, let's just say Hell hath no fury like a woman thwarted.
The show itself is a poorly constructed and frenetic mess. Comprising eight episodes instead of the usual 13, its makers apparently decided to fill the void left by Spacey with a rushed jumble of any and every genre as well as trope to distract the viewers from the fact that a woman is the lead character. And that's a shame, because the first six episodes are a searing indictment on how women are forced to inhabit a man-made world even if they're supposed to be the most powerful person in it. The less said about the last two episodes the better, because it is here that the show apparently remembers its supposed to be a series and so hastily staples together all the loose ends instead of taking time to tie them and check the (k)nots, ending up with a mess and a wholly unsatisfactory ending.
Maybe they should have let a woman handle it. Heaven knows they have the patience.
Get the best of News18 delivered to your inbox - subscribe to News18 Daybreak. Follow News18.com on Twitter, Instagram, Facebook, Telegram, TikTok and on YouTube, and stay in the know with what's happening in the world around you – in real time.
Read full article