How Actors are Getting Their Fans to Contribute to the Kerala CM's Flood Relief Fund
While the continuous rains keep worsening the situation, prominent celebrities and politicians try to help better it.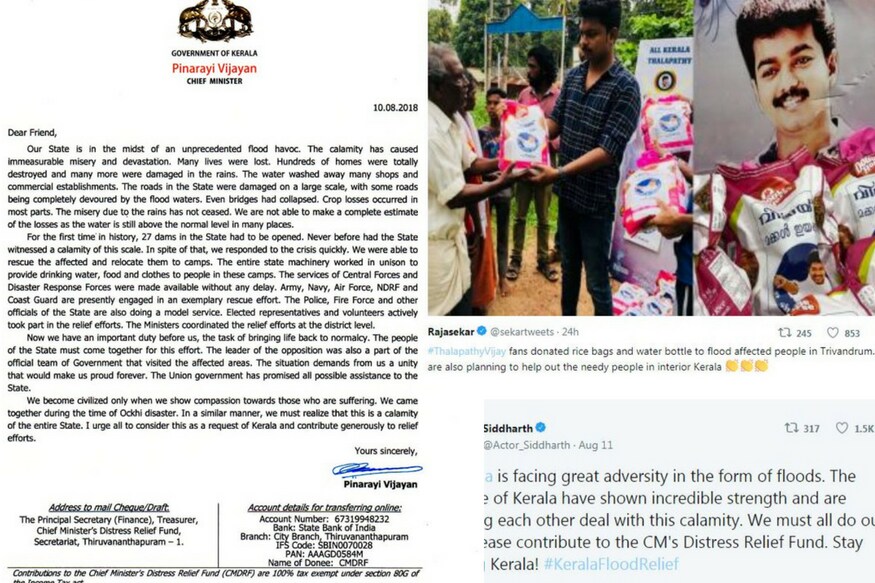 While the continuous rains keep worsening the situation, prominent celebrities and politicians try to help better it.
The flooding in Kerala has seen a lot of people come together to provide relief and temporary aid to the people affected.
After a brief lull, rains started lashing several parts of Kerala since Sunday morning, posing problems to relief work by multiple agencies in flood and landslide-hit regions.
As heavy floods continue to devastate Kerala, celebrities and politicians are urging people to do what they can to help those affected by the rain.
The Cheif Minister of Kerala, Pinarayi Vijayan, put out a tweet on Saturday with a distress relief fund asking people to contribute generously - to help better the situation.
Saving their lives was our priority. Now it is our duty to help them rebuild it. Contribute generously to the Chief Minister's Distress Relief Fund. #KeralaFloods #KeralaFloodRelief pic.twitter.com/eNHjyENt8d

— CMO Kerala (@CMOKerala) August 11, 2018
Following this, several prominent celebrities took to Twitter and asked people to help contribute to the fund.
#Kerala is facing great adversity in the form of floods. The people of Kerala have shown incredible strength and are helping each other deal with this calamity. We must all do our bit. Please contribute to the CM's Distress Relief Fund. Stay strong Kerala! #KeralaFloodRelief https://t.co/oSau5fWW1K — Siddharth (@Actor_Siddharth) August 11, 2018
And now I hear Kerala is reeling under floods and situation is quite bad!

Kerala was my first holiday destination and has given me a lot of love for my work, I've met a lot of people from there who are some of the nicest people I know, I don't know how to reach out personally pic.twitter.com/pA2W3eRx3t

— Vijay Deverakonda (@TheDeverakonda) August 12, 2018
The little what I could for #KeralaFloodRelief pic.twitter.com/pWR2ew1wXw — Anupama Parameswaran (@anupamahere) August 12, 2018
The Association of Malayalam Movie Artists (AMMA) has donated Rs 10 lakh and Kamal Haasan donated Rs 25 lakh. Surya and Karthi have contributed a total of Rs 25 lakh.
This also saw fans, of some prominent actors following their suit and reaching out to help.
#ThalapathyVijay fans donated rice bags and water bottle to flood affected people in Trivandrum. They are also planning to help out the needy people in interior Kerala 👏👏👏 pic.twitter.com/PPK8lnOIrQ

— Rajasekar (@sekartweets) August 12, 2018
Vishnu had initially planned to sell the stock which he bought from Haryana, but donated fifty blankets after seeing the devastation caused by the flood. #KeralaFloodReliefhttps://t.co/z5nosVbyRE

— The Quint (@TheQuint) August 12, 2018
It also saw politicians visit Kerala to assess and help the situation.
HM has reached Kochi in Kerala. He is on a day long visit to the state to review the flood situation. pic.twitter.com/a5YJePGQtD — HMO India (@HMOIndia) August 12, 2018
Union Home Minister Rajnath Singh, who made an aerial survey of the flood-ravaged Kerala, said the Centre would stand by the state government and provide an immediate relief of Rs 100 crore to the state that has estimated its damages at Rs 8,316 crore.
Heading to Kerala to take stock of the flood situation in the state. Shall conduct a survey of the flood affected areas and also visit the relief camp sites.

— Rajnath Singh (@rajnathsingh) August 12, 2018
Get the best of News18 delivered to your inbox - subscribe to News18 Daybreak. Follow News18.com on Twitter, Instagram, Facebook, Telegram, TikTok and on YouTube, and stay in the know with what's happening in the world around you – in real time.
Read full article