GET Stock

Quotes


How Mumbaikars Came To Each Other's Rescue During The Time Of Crisis
Mumbai stood together to exhibit enormous levels of generosity towards its fellow distressed citizens, offering help wherever it was required when even the BMC looked absolutely clueless. (Photo credits: @CPMumbaiPolice/@kritika_rai/@SinghLions/)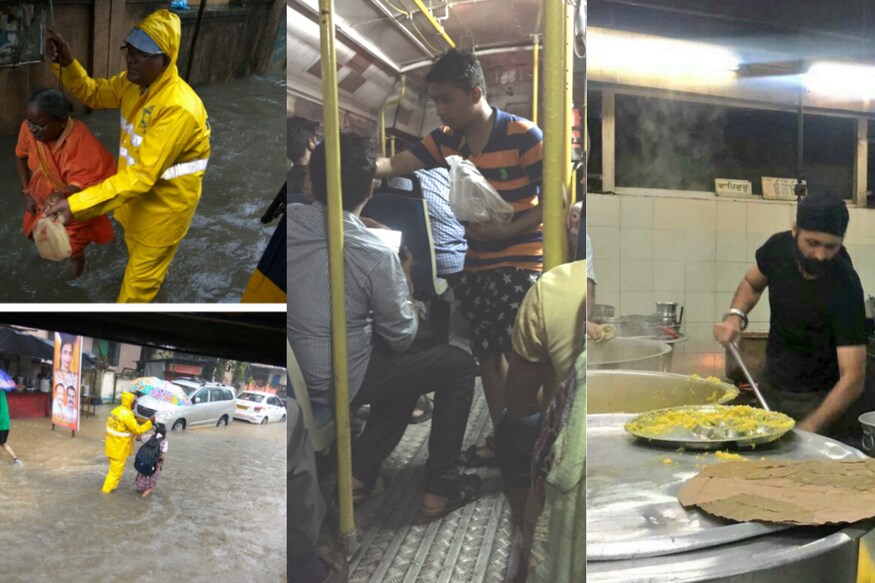 Mumbai stood together to exhibit enormous levels of generosity towards its fellow distressed citizens, offering help wherever it was required when even the BMC looked absolutely clueless. (Photo credits: @CPMumbaiPolice/@kritika_rai/@SinghLions/)
Mumbaikars woke up to heavy rains on Tuesday, facing one of the heaviest rainfall in the year.
The continuous rainfall had brought the city to a standstill. People were stuck wherever they were; road traffic had come to a halt, trains, and flights were also disrupted.
According to reports, the city witnessed its highest rainfall since 2005.



#MumbaiRains Mumbai to receive heavy rainfall in the next 48 hours; High tide likely at 4:35 PM. Zero visibility on Bandra Worli Sea Link pic.twitter.com/73MKUYZQeU


— News18 (@CNNnews18) August 29, 2017
THE CAR IS FLOODED AND MY FEET ARE UNDERWATER #MumbaiRains pic.twitter.com/hzhwK3XkWo

— Harish Iyengaar (@scaryhairyman) August 29, 2017
It wasn't just water that was fast filling the streets of Mumbai. Help poured in from all sides, making sure Mumbaikars don't succumb to the adversity.
Mumbai stood together to exhibit enormous levels of generosity towards its fellow distressed citizens, offering help wherever it was required when even the BMC looked absolutely clueless.
Incompetence + defensiveness + arrogance = The @bmcmumbai way pic.twitter.com/SW0Iehnlwn

— Suprateek Chatterjee (@SupraMario) August 30, 2017
Here is a list of crucial factors that helped Mumbai come back to its feet.


1.
#RainHosts
.
In an online hashtag campaign #RainHosts, residents in Mumbai offered support with open arms. Hundreds of people, took to social media to rally support, offering safe and dry places to fellow citizens stuck on the roads and in the trains of Mumbai. The aim was to reach out for help through Twitter and offer shelter to the stranded.
Anybody who is stuck in South Bombay, having trouble reaching home, happy to host u at Nepeansea Rd. Chai, wifi, couch. Do DM #MumbaiHosts — Ankur Pathak (@aktalkies) August 29, 2017



Mumbai, do you need a place to spend the night in Lower parel ( Kamala Mills). We will find room for you in our office. #MumbaiRains


— Faye DSouza (@fayedsouza) August 29, 2017
#RainHosts Anyone stuck on WE Highway (Malad/Kandivali/Borivali), will be happy to host in Thakur Complex. Ping me here. #MumbaiRains

— वरुण (@varungrover) August 29, 2017
Anyone stuck in Sher-e-Punjab, Andheri East is welcome to come over. Tweet to me if required. #MumbaiRains #rainhosts

— Stargaryen (@PWNeha) August 29, 2017
anyone stranded in powai is welcome to crash at my place, DMs open #rainhosts #mumbairains

— amrtsh (@floydimus) August 29, 2017



If anyone is stuck in or around Malad West, they can come over to my place. DMs open #rainhosts #mumbairains


— dorku (@Dorkstar) August 29, 2017
Help was being crowdsourced through tweets, many of which have been compiled on to a Google spreadsheet.
If you're offering your space for people stuck in #MumbaiRains please tweet with the #RainHosts tag. Doc autoupdates https://t.co/wEnh1O4xVA — Prolificd (@prolificd) August 29, 2017
https://t.co/MAWRiLkdUz is live with host and help information, and an emergency contact section. Please RT!

— Sandhya Ramesh (@sandygrains) August 29, 2017



Not all heroes wear capes. @mehulved the city thanks you. #MumbaiRains #MumbaiHosts pic.twitter.com/TL7yvbOBir


— Advait (@advaitn) August 30, 2017
2. Mumbai Police.
From traffic updates to timely advice, the Mumbai police worked tirelessly on online and offline to assist its citizens during the worst rainfall Mumbai has seen in 20 years.
Police Officers and men are present on road and will be there throughout. Ask them for any assistance you need. — Mumbai Police (@MumbaiPolice) August 29, 2017



If your car is out of fuel/ stranded #Diall100 or 8454999999 or tweet us for free towing till the nearest fuel pump or garage #mumbairains


— Mumbai Police (@MumbaiPolice) August 30, 2017
Necessary Traffic updates.
Vakola water logging is clear now. Traffic on Western Express Highway is clear both on south and north bound. — Mumbai Police (@MumbaiPolice) August 29, 2017



Traffic moving South Mumbai towards Navi Mumbai, through Eastern Freeway is clear.


— Mumbai Police (@MumbaiPolice) August 29, 2017
Alerting Mumbaikars against rumours.
Pls don't believe in rumours. 'Cyclone Phyan' details are of 2009 & the coordinates are of 2009 too. pic.twitter.com/MTgGvngODx — Mumbai Police (@MumbaiPolice) August 29, 2017
Helping families unite.




We are circulating the picture in concerned police stations for them to try and reunite him with his family soon https://t.co/pckec72ACo


— Mumbai Police (@MumbaiPolice) August 29, 2017
The hardwork that paid off!
Proud to lead a force of dedicated officers & men, who delivered to the best of their abilities & lend Mumbaikars an assuring hand pic.twitter.com/J4S9bN3DaG — CP Mumbai Police (@CPMumbaiPolice) August 30, 2017



Together, we can overcome any ordeal. Thank you all for showing what humanity is in the face of adversity! #SaluteMumbai #MumbaiRains pic.twitter.com/8pU6Sl5Nv1


— Mumbai Police (@MumbaiPolice) August 30, 2017
3. Diversity.
Churches, Mosques, Gurdwaras, and Temples in the city opened their doors to stranded people of all faiths.The only motive was to help fellow humans. Mumbai did exactly that.

Floods wreak havoc in the city but Mumbaikars keep it afloat by arranging food & water. #MumbaiFlooded #MumbaiRains https://t.co/P2c9qRZuO1 pic.twitter.com/RUt0OoD3sS

— The Dawoodi Bohras (@Dawoodi_Bohras) August 30, 2017

Please tell anyone who needs shelter tonight to come over to St Peters Church Bandra
- Fr. Frazer sj

— Mini Mathur (@minimathur) August 29, 2017


#GSB Ganesh Mandal makes arrangements for food for ppl stuck in rains. #MumbaiRains#MumbaiDeluge #SpiritofMumbai #MumbaiFlooded pic.twitter.com/DR4YIxfdw9

— Ravish Sharma (@ravishjourno) August 29, 2017

Gurudwaras in Mumbai are open to serve FREE food/shelter to ANYONE stuck in #MumbaiRains #Dadar #Andheri #Mumbaikars #Matunga #Sikhs #Sikh pic.twitter.com/spNoWPur3r

— Harjinder S Kukreja (@SinghLions) August 29, 2017


Dadar Sikh Gurudwara served food & provided shelter all night to Mumbaikars. Sikhs also sent food to Dadar Stn. & Tata Hospital #MumbaiRains pic.twitter.com/OWGR0UkWoM

— Harjinder S Kukreja (@SinghLions) August 30, 2017

French family which took shelter in Sikh Gurudwara, Dadar left behind a note which says 'our worst experience turned into best' #MumbaiRains pic.twitter.com/cHYvi653F7

— Harjinder S Kukreja (@SinghLions) August 30, 2017
4. Brands.
With no other motive than helping the stranded hungry citizens, brands came together and won the hearts on the Internet.


If anyone stuck in Lower Parel can make it to @bombaycanteen, our doors are open for some garam chai, working WiFi & warm hospitality. pic.twitter.com/lOZEULpmqN

— The Bombay Canteen (@bombaycanteen) August 29, 2017

#Help for ppl stranded in #MumbaiRains
Call redBus Hotels on 08030970888, we'll arrange free stay in the nearest hotel. RT to spread word.

— redBus (@redBus_in) August 29, 2017


Free #OlaShuttle rides available at Bhayender and Powai in #Mumbai. Look out for the Ola crew on ground to help you. Stay safe #Mumbairains

— Ola (@Olacabs) August 29, 2017

@Mirchimumbai is opening doors to anyone in the Lower Parel area, we have tea, maggi and love waiting for those in need. #RainHosts pic.twitter.com/bbtruOinXU

— Mirchi Mumbai (@Mirchimumbai) August 29, 2017


If you or your loved ones are stuck in/around Andheri, please take shelter at Innov8 with hot beverages and internet.#mumbairains #rainhost pic.twitter.com/geR88B9Oc2

— Innov8 Coworking™ (@innov8cowork) August 29, 2017

5. Foot soldiers.
The heroes that went ahead and did something out of the ordinary.
As I was coming by bus, this guy stepped in and distributed biscuits "Eat this, don't worry!" #mumbaiRains #humanity #mumbaifloods pic.twitter.com/y1h519F2MH

— Kritika Rai (@kritika_rai) August 29, 2017



Rescued this kitty #MumbaiRains plz Guyz look around and help strays plzzzzzzzz ppl can find d place but animals can't plzz pic.twitter.com/QSILPlcOWe


— Anupma singh (@anupmasingh2015) August 29, 2017



Thier Jackets may not be waterproof but thier spirit is. @MumbaiPolice @CPMumbaiPolice @mtptraffic #spiritofMumbai #MumbaiRains #Mumbaikars pic.twitter.com/jwQkC5vxLQ


— Akshay Shah (@Sarcasticakshay) August 29, 2017
Just got these two orphan kitten home. They can't survive the storm on their own. I urge everyone to help out people and animals in need. pic.twitter.com/rif9CmxHwr — महिमा (@AGirlOfHerWords) August 29, 2017



#MumbaiRains Food counters opened at various locations in Mumbai for the stranded commuters @SpokespersonMoD @Dev_Fadnavis pic.twitter.com/wkYJSuE6oz


— SpokespersonNavy (@indiannavy) August 30, 2017
Local trains too operated through the night to ensure stranded passengers reached their homes.

One Suburban train from Matunga to Dombivali starts at 0046 hrs on Dn slow line @RailMinIndia @RidlrMUM

— Central Railway (@Central_Railway) August 29, 2017

Also Watch
Read full article