How Pussy Riots Stole the Show at the FIFA World Cup Finals
The game must go on - as must the protests against Putin.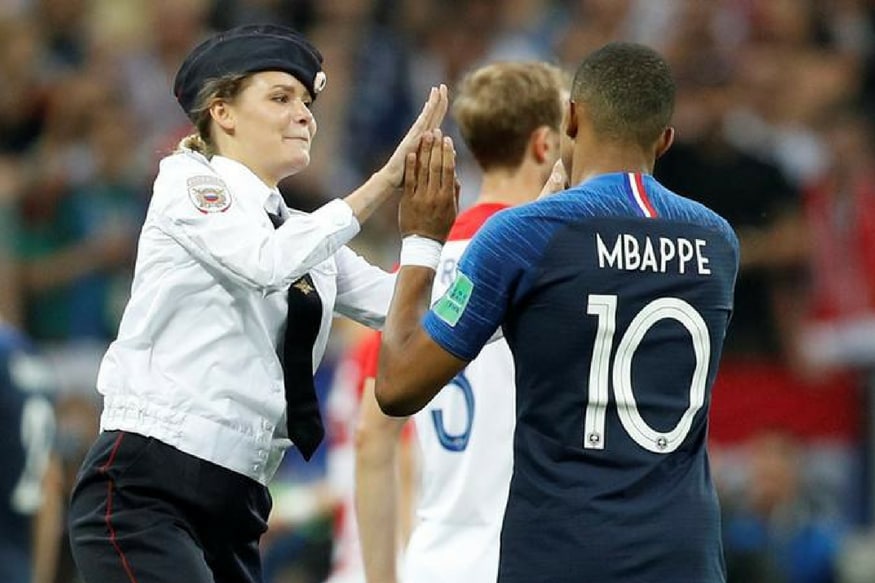 The game must go on - as must the protests against Putin.
Amid the high drama that unfolded during the FIFA World Cup final on Sunday, a curious gang of pitch invaders managed to steal international attention away from the coveted ball, even if momentarily.
Pitch invaders.... pic.twitter.com/wHri3D5CLH

— Jacqui Oatley (@JacquiOatley) July 15, 2018
After they broke into the pitch, one of them even got close to France's ace player, Kylian Mbappe and shared a double high five with him.
The most iconic image of the World Cup - France's Kylian Mbappé high fiving a member of Pussy Riot after she broke onto the pitch to protest political oppression in Russia pic.twitter.com/cMJM0C1eCc

— Liam Kirkaldy (@HolyroodLiam) July 15, 2018
But who were these four women who invaded the pitch dressed in identical white shirts, black pants and black ties (which is reportedly the police uniform)?
The invaders were soon caught by stadium security.
PITCH INVASION?! What other drama can this final possibly throw up...#FRACRO pic.twitter.com/EvznavA1Rj — FOX SPORTS Football (@FOXFootballLive) July 15, 2018
Turns out the uniformed streakers were in fact protesters participating in a demonstration. Feminist activist group 'Pussy Riot' has claimed accountability for the pitch invasion, via their social media accounts.
pic.twitter.com/jRMHhgJlkw — Sneaker Smuggling Nick Watson (@loscinquos) July 15, 2018
They posted a long message demanding a list of six things that they wanted and also cited the Russian poet, artist, and performer Dmitri Aleksandrovich Prigov.
NEWS FLASH! Just a few minutes ago four Pussy Riot members performed in the FIFA World Cup final match — "Policeman enters the Game"https://t.co/3jUi5rC8hh pic.twitter.com/W8Up9TTKMA — (@pussyrrriot) July 15, 2018
Established in 2011, Pussy Riot rose to global prominence as a protest-art group in 2012 after five of its members covered in balaclavas sang a song denouncing Putin in Moscow's main cathedral. Two of them were even jailed for the protest. Members are known for wearing brightly colored balaclavas, though those who protested Sunday did so with their faces uncovered. The group is notorious for its guerilla-style public performances and their topics cover a range of contentious issues such as femism, LGBT rights and opposition against Putin and his policies.
another 6 years of putin at @EauxClairesWI i can't believe me made it pic pam.alama pic.twitter.com/OTuGlwiGX3 — (@pussyrrriot) July 8, 2018
A social media video of one of the detained protesters has also surfaced, leading to much criticism of the harsh interrogation.
So much for the tolerant World Cup atmosphere. From the video of @gruppa_voina's police interrogation after @pussyrrriot's final protest, a cop says: "You shit all over Russia, yes?! It's a shame it's not 1937 anymore!"pic.twitter.com/YhhKiuZLkk

— max seddon (@maxseddon) July 15, 2018
Read full article