Even though the dreary and dense Delhi heat continues to clench the city in its tight unforgiving grip, on Saturday, the Jawaharlal Nehru Stadium was enveloped in a special atmosphere of electrifying excitement as the JD Institute of Fashion held its annual Fashion Awards.
When the transgender activist and model Rudrani Chettri walked the ramp with her team, there was sheer joy.  Chettri and her team carried the much anticipated outfit for the ramp curled under their arms. It was evident that the rainbow coloured flag featuring multiple showcased outfits was more than just mere aesthetics.
Transgender activist Rudrani Chettri who spearheads Mitr Trust in Delhi opened the first Indian transgender modelling agency called Bold in 2015.
In a conversation with News18.com, Rudrani explained how the idea behind opening up a model agency is deeply rooted in her personal experience of stigmatization and the feeling of 'frustration' which she and other transgenders had to face. "For some reason, it is understood that people like me cannot participate in any so- called 'normal' activity", she said.
Chettri shared a particular episode of her life that stirred her deeply. "This one time, I wasn't allowed entry to a mall. When I asked the man who stopped me on what basis is he doing so, he replied, '
Aap jaison ke liye yahan kuch nahi hai
. (There is nothing available here for people like you)'."
Chettri said she kept thinking about it. "The kind of food we eat, the makeup we apply and the air we breathe-- isn't it the same?"
After being haunted by the incident incessantly, Chettri decided to set up a modelling agency called 'Bold' for her community with the motto "you're beautiful irrespective of your gender." Chettri has done several calendar shoots and fashion shows in the past at the Mitr Trust, the first-ever community-based organisation to address issues of transgenders, which she founded. But all that was within the community.
Chettri has come a long way. On one Saturday afternoon, she walked the ramp as the showstopper for a fashion show hosted by an educational institute.
"The biggest problem is that people often say that the audience will not like our presence in the fashion industry. Which I don't think is true. The world loves to see new things, different things. Especially the younger generations, they demand to see what is real, and well we are real. For how long can the society ignore that we exist?"
Amidst the myriad of cutting-edge ensembles of fashion styles, Chettri is perched on her chair in the backstage, with her team. "I'm not too fond of make-up", she exclaims and laughs as she prepares herself before her act. The basso continuo of music from the stage thumps beneath the floor neither rising nor falling, but filled with excitement.
Jyoti, a 19-year-old student of JD institute and a member of the organizing team explained that the theme for this year's fashion show was 'change'. "It seemed strange to us to talk about change and not talk about the rights of LGBTQUIA community. It's high time people understood that the community deserves an equal place in the society. The whole idea of doing a whole fashion collection revolving around them was to highlight their presence in the fashion industry," she said.
While this is a positive step towards the process of normalising the presence of the LGBTQ community in professional spaces, the Indian society continues to carry an intolerant attitude towards transgender people to this day.
The nature of discrimination ranges from impediments in accessing education, employment and healthcare, to extortion, harassment, arbitrary arrests and sexual violence. The ostracism forces many to drop out of schools and universities and pushes some to seek a livelihood through begging or sex work.
"I think, the biggest obstacle we face is the mindset of the society. The stigma of fear that is attached to our identity is quite troublesome, you know that ye
toh bacha chura ke lejayegi
", said Chettri.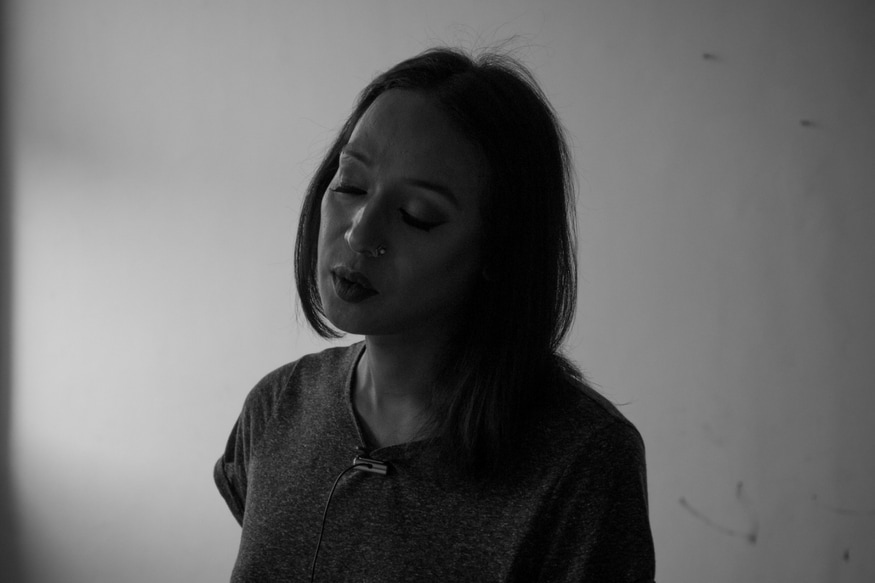 Picture credits: Ali Monis Naqvi
Education is considered to be the most critical agent to bring about change in the mindset of people on one hand, and for the improvement of the conditions of transgenders on the other. However, the real picture reflects glaring problems on both ends of the spectrum.
"Academic education is important but what is the use of it when you are not welcoming people like us for jobs?" Chettri asked.
While many trans people have been successful in breaking the prejudice surrounding them, in several parts of India, people still believe in stereotypes and refuse to give jobs to trans people. Many trans people drop out of school/college because they suffer bullying and harassment.
"I know several people like me who somehow managed to survive the scathing mindset of the society and even managed to educate themselves but now what? How many companies, including media houses have HR policies pertaining to our community? There has been so much media coverage recently, but there is still blatant discrimination when it comes to providing us job opportunities. The general community seems to be literate but uneducated", she mused. "Does it not baffle you as much as it baffles me?"
On a familial level, the problem only worsens. "You can't really blame everyone. In India the dominant ideology is patriarchy and has always been. So, when they see a boy behaving like a girl in any sense, some families do things that makes us run away from homes. Or they simply disown us," Chettri explained.
It is estimated that a whopping 74 percent of the transgender persons had to leave their homes and families because of their identity and having faced violence and abuse.
However, Chettri considers herself to be fortunate as her family has been completely acceptable of her identity. She said she didn't want to shock them so she "transitioned slowly in front of them till they finally got used to it". "Even though my mother is illiterate, she's clearly educated. And that's the beauty of it," she said.
On the ramp, Chettri saunters gracefully in a flared black outfit with black angelic wings attached to it, with a big rainbow Pride flag trailing behind her. She lifts up her hood and strikes a pose for the audience. Friends and fans from her community burst into cheers and applause.
"This is a special moment for us, Rudrani is a symbol of inclusivity in this society," said a transwoman in the audience.
Chettri recently did an advertisement campaign in association with Dentsu Aegis Network India titled, #whydontyou.on the stigma associated with transgender and blood donation. The campaign questions why transgenders are prevented from donating blood.
"The protocol and procedure one has to go through for blood donation is equal for everyone. So, on what basis is this discrimination meted out? This is absolute violation of human rights," said Chettri who has actively led HIV- awareness campaigns for Trans people at Mitr Trust for many years now.
In February 2014, the Supreme Court passed the landmark NALSA judgement, paving the way for enshrining the rights of transgenders in law. It ruled that the fundamental rights granted by the Constitution are equally applicable to transgenders who constitute the 'third gender'.
The first effort at framing legislation for the same was made in December 2014 by Tiruchi Siva, a Dravida Munnetra Kazhagam (DMK) Rajya Sabha MP which included several progressive clauses including the creation of institutions like the national and State commissions for transgenders, as well as transgender rights courts.
However, the final version of the legislation had considerable revisions and identifies transgenders as being "partly female or male; or a combination of female and male; or neither female nor male". This definition is a departure from the intention of the original Bill.
"The Indian government should amend the transgender rights bill to ensure that transgender people can self-identify their legal gender without unwanted intervention from committees or experts, be they medical, psychological, or anyone else," said Chettri.
"They need to realise that we are citizens of the country and oh we also have Adhaar," Chettri said, added with a laughter.
Beaming, she remembered her dogs Tempo and Pogo and said, "My dogs never discriminate, why must you? You're intelligent beings."