How 'Cute Baby' Taimur Ali Khan Turned Into Internet's Favourite Meme
Here's how 14-month-old Taimur Ali Khan became Internet's obsession.
Photo credits: Yogen Shah
It's no secret that our media (including us) is obsessed with Kareena Kapoor Khan and Saif Ali Khan's kid Taimur Ali Khan.
Taimur's perfect airport look, Taimur getting a gym membership, Taimur posing for the paparazzi, cute baby Taimur enjoying Christmas, chubby-cheeked Taimur spending quality time with parents-- In short, the kid is all over the Internet doing a LOT of things.
To be honest, I know more about Taimur than I know about the kids in my family.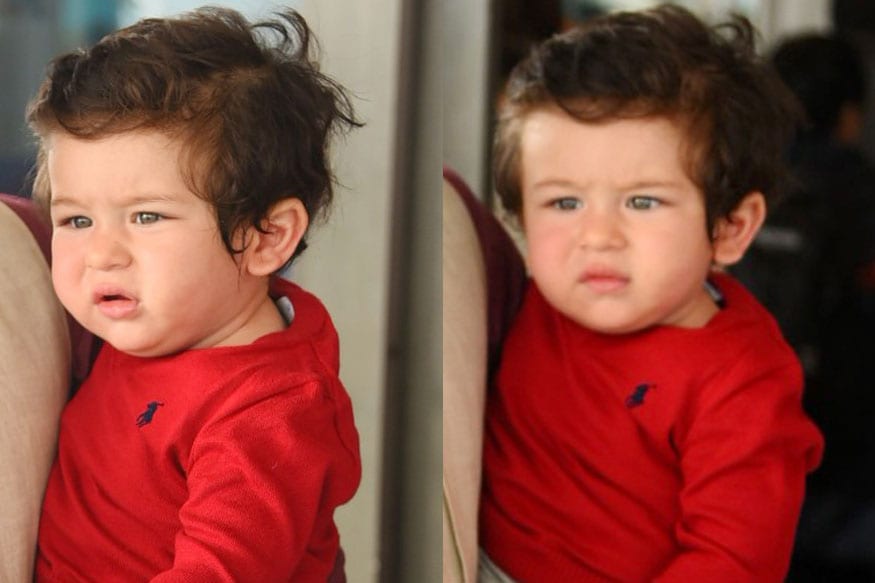 The kid was only a few days old and his name stirred up a controversy on Twitter.
Words Of #Taimur From His Book 'Tuzk-e-Taimuri', Describes How He Orderd The Massacre Of 1,00,000 Hindus In Delhi #TaimurAliKhan @TarekFatah pic.twitter.com/Ok8QpyFE2w

— Amit (@dr_amitpandey) December 21, 2016
U r either illiterate or arrogant @KareenaOnline. By naming yr son #Taimur u hv ensured he'll be equated to a mass murderer of Indians 4ever https://t.co/j98m5ekk1Q

— Tarek Fatah (@TarekFatah) December 20, 2016
While the not outraged ones did what they had to do.
He is so Pink. Instead of #Taimur they could have named him Jaipur. pic.twitter.com/8BjvQTHeAw

— SAGAR (@sagarcasm) December 20, 2016
The obsession reached its peak when Taimur became the hot topic during Arun Jaitley's Budget 2018.
What's Taimur's take on the Budget?

— Trendulkar (@Trendulkar) February 1, 2018
Can't wait for Taimur's post budget reactions

— Ria (@tweetria) February 1, 2018
And now Taimur, a little over a year old, has become social media's obsession. Taimur is beyond media's favourite kid. He is the newest Internet meme. And for Twitter users, they are busy mocking Indian media who are projecting the famous kid's daily routine activities as if it were a nuclear launch.
*Taimur PEES*

Media: pic.twitter.com/S3gNiaPwpd

— Delhi se hu bhench*d (@delhichatter) January 31, 2018
Same.
I want someone who looks at me the same way media looks at Taimur 😍

— himanshu khodke (@HimanshuKhodke) January 31, 2018
Lucky boi.
Foreign news channels - We are experiencing Super Blue Blood Moon for the first time in 150 years

Indian news channels - This is Taimur's first Super blue blood moon.

— Bollywood Gandu (@BollywoodGandu) January 31, 2018
Media outside India : Watch #SuperBlueBloodMoon live on our channel !

Indian Media : Watch how Taimur smiled and cutely farted when he saw the Super Blue Blood Moon on TV ! OMG 😍

— The-Lying-Lama (@KyaUkhaadLega) January 31, 2018
Like this one, amirite.
When taimur was born,the doctor said "Mubarakh ho article hua hai".

— डि.के. (@itsdhruvism) January 29, 2018
Taimur is important.
We can discuss Rajput pride later. First tell me what did cutie Taimur have for breakfast today?

— Trendulkar (@Trendulkar) January 25, 2018
Ouch.
Interviewer : Where do you see yourself in 5 years?Candidate : Outside Taimur's school, clicking picturesInterviewer : You are hired. Welcome to MissMalini

— Bollywood Gandu (@BollywoodGandu) December 28, 2017
Kabhi aao khusboo laga kar.
*Taimur farts*Media : aaiye sunghte hai taimur ki body se nikli hui ye khubsoorat khushboo

— Devanshu 💯 (@FameFucking) January 19, 2018
Only things that matter!
It's shameful that Indian media is hiding important information from us. Like, has Taimur Ali Khan started walking? What was his first word? How many teeth does he have? Honest journalism is dead!

— Ankita (@lady_gabbar) January 19, 2018
Can vouch.
taimur paida nahi release hua tha.

— capt. (@thephukdi) January 29, 2018
Along with Taimur, TV journalism also needs some potty training 💩 pic.twitter.com/dWbzYgd9uu

— Akash Banerjee (@akashbanerjee) January 7, 2018
Taimur is in Saif hands.
Horrible. Which parent does that? pic.twitter.com/3zSr6uO5Pi

— Trendulkar (@Trendulkar) January 19, 2018
Where's the potty tonight?
Taimur Ali Khan *takes a dump*

News outlets : pic.twitter.com/hOGfuYtupI

— Pakchikpak Raja Babu (@HaramiParindey) January 29, 2018
*Taimur is going to do potty*News Portals: pic.twitter.com/3EelJbyymt

— LolmLol (@LOLiyapa) January 18, 2018
That's right.
Kareena: Taimur ko cold hogaya hai

Indian Media: How Taimur's cold is every baby's cold goals

— Akshay Jain (@AkshayKatariyaa) January 19, 2018
Accuracy is essential.
*15 Years later*People: "Taimur 15 saal ka ho gaya na?"NDTV: pic.twitter.com/IqUsfHDwfB

— Tiilooo 2.0 (@KasamCinemaaki) January 19, 2018
Quite possible, to be honest.
*Year 2031*

Salman Khan to launch Taimur Ali Khan.

— Akshay Jain (@AkshayKatariyaa) December 20, 2016
India, 2040:
wtf taimur and aaradhya have moved in together?

— 🐿 (@prtxt) January 29, 2018
Back to breaking news.
*After Earthquake*

Media: Some latest pics of Tremor.

*after a small ad break*

Media: Some latest pics of Taimur.

— Kaju Katli (@MonkNxtDoor) January 31, 2018
Beware!
I have a joke on taimur but wo news ban jayega

— Chota Don (@choga_don) January 30, 2018
TL;DR Cute baby Taimur ne khaana khaaya?
Read full article
Countdown To
Elections Results
To Assembly Elections 2018 Results