OPINION | I am a Woman from Kerala. Here's Why I am Against the Sabarimala Verdict
Today, after the Sabarimala verdict, I am appalled. So are the men in my family. And I don't blame them.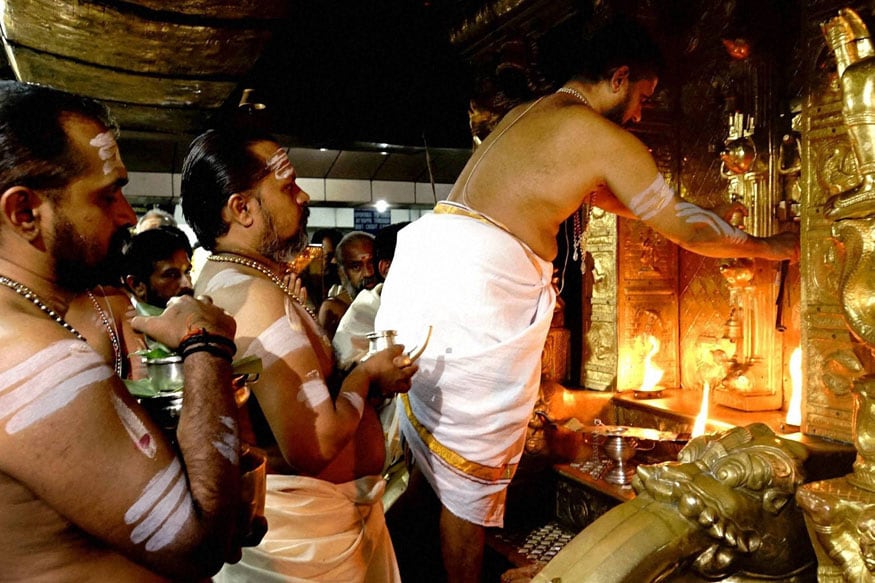 File photo of Sabarimala temple. (Image: Reuters)
I'm a Keralite. I'm a woman. I'm also a Hindu with a strong belief in Gods, especially Lord Ayyappa. And like most of the people in Kerala, Sabarimala is a sacred place of worship for me.
My father, husband, brothers and my uncles visit Sabarimala every year. This has been a ritual at my house for the last many decades.
Preparations start 41 days prior to the scheduled yatra to Lord Ayyappa. This is known as 'Mandala vratham'. 'Mala Dharanam' and 'Vratham' are the main rituals, of the 36, to be followed by the menfolk undertaking the yatra. The devotee wears black or blue clothes. They fill the 'Irumudi', without which they cannot climb the 18 steps or 'Pathinettam Padi'.
As a child, I accompanied them. Visiting Bhagavan Ayyappan was something I was fond of. The long weary treks through the forests, the highly charged atmosphere with the devotees chanting the name of Lord Ayyappa, the 'appam' (sweet ball) and 'aravana prasadams' (jaggery desert) which were the hallmark of the temple, are some of my fond memories of my visits to Sabarimala.
Once I attained menarche, my yearly visits stopped. And till today, I haven't felt like accompanying them or breaking the age-old tradition of women entering the temple.
Today, I am appalled. So are the men in my family. And I don't blame them.
The highest court in India cannot or should not interfere with the religious sentiments of people. Religious traditions are greatly respected and are meant to be upheld. And I am sure that not even one true female Ayyappa devotee will enter the temple despite the verdict. For us Keralites, this temple is not a tourist place. It's a place where customs and traditions have been upheld by the devotees and followed for centuries. What would one gain by breaking age-old traditions?
I, as a woman, have never felt it was discriminatory to be barred from entering Sabarimala. The respect I have for the temple and its customs are much more than the need for gender equality. Today, I do feel that gender equality can be attained at so many levels in life, rather than bringing the religious angle to it.
For example, gender equality at the workplace would make matters so much smoother for women. Why don't people pay importance to that?
When the law of the land takes religious matters into its hand, things get a little dangerous. Maintaining religious harmony is tricky. Breaking age-old traditions is not progressing. This tradition does not break anyone's dignity. The sanctity and individuality of Lord Ayyappa should be maintained for generations to come.
The triple talaq ruling by the Supreme Court was a historic, clear and laudable victory for women. Because it did not interfere with religious beliefs. But today, the highest court is India did not make a landmark judgment nor was it a victory for women or mankind.
When I can walk back to my house, at night, feeling safe, without any lecherous stares or catcalls from men, that is victory. The day men stop objectifying women, is the victory. That is progress.
Entering a sacred 12th-century old temple, which restricts women devotees from the age of 10-51, through the bombshell verdict of the court, is not my fundamental right.
(Author is a practising gynaecologist in Trivandrum with an interest in photography and travelling. Views are personal.)
Get the best of News18 delivered to your inbox - subscribe to News18 Daybreak. Follow News18.com on Twitter, Instagram, Facebook, TikTok and on YouTube, and stay in the know with what's happening in the world around you – in real time.
Subscribe to Moneycontrol Pro and gain access to curated markets data, trading recommendations, equity analysis, investment ideas, insights from market gurus and much more. Get Moneycontrol PRO for 1 year at price of 3 months. Use code FREEDOM.
Read full article