Ku Klux Klan Member Coaching His Kid 'White Power' is Drawing the Internet's Ire
Hate is taught, not born.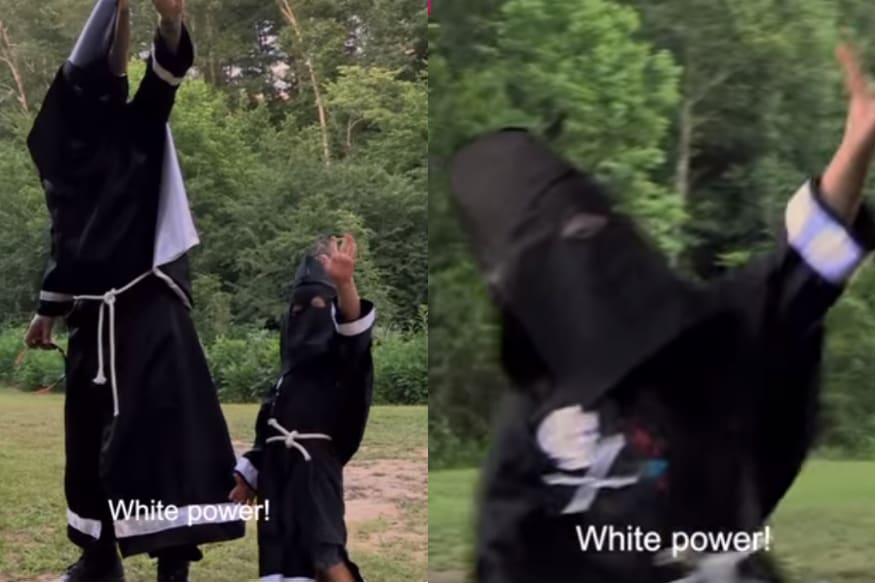 Hate is taught, not born.
Hate is taught, not born. As kids, bigotry is taught to children - they imitate the actions they see their parents, peer and society at large do and emulate it.
A video from BBC, shows just that - a parent who is part of the Ku Klux Klan is teaching his kid the ideology of the White supremacist group. The video features a dad and a young song both dressed in the KKK's signature robes, screaming, "White power."
The video also shows how the father answers the question "Why did you dress your kid up in Klan clothes?" with "I just want him to be proud of his heritage. If being proud of his heritage makes him racist, then I'll teach him to be racist, you know?"
On being asked if he is a 'white supremacist', he adds, "yeah, I believe that the whites are supreme. I believe that we are God's chosen people."
The original video was posted by BBC One on Facebook in end-August and has over 5 million views.
A tweet which had a segment of the video has been drawing the Internet's wrath afresh.
"No one is born hating another person because of the color of his skin or his background or his religion..."

This is devastating. I hope the right people come into this little boy's life and teach him out of this.

RETWEET! pic.twitter.com/HcuVBNgNIi

— StanceGrounded (@_SJPeace_) October 22, 2018
These are the parents that should be stripped of their kids. Don't @ me.

— StanceGrounded (@_SJPeace_) October 22, 2018
It makes me sick to my stomach how they teach hate. Why? Because my skin is different? I'm a good person and friend. they are missing out on good ppl!We are human, drs, lawyers, judges, firemen, police etc. May have to save your/ kids life 1 day.

— Lisa the travel queen (@nubiandymondz) October 22, 2018
The saddest thing I've seen. The destruction of a child's mind and soul and for what? To hate another human being for being not like you? As we have taught our daughter, treat someone else the way you would want to be treated. SMH

— VET Irwin (@irwin_vet) October 22, 2018
He is perfect example for Racism isn't born, its taught..

— Kavi (@kavitweetzzz) October 22, 2018
I consider this child abuse. pic.twitter.com/1AQSR6Nh9n

— Peggy Klaver (@Pegerella) October 22, 2018
I wondered that. I genuinely don't think he has a clue. Where's God with a thunderbolt/biblical flood when you need him, eh?

— Davina (@yogicteadrinker) October 22, 2018
It also showed how race is taught, not born with a person.
This is sick. We are not born with hatred. My kids don't even see color. When my daughter was 3, she went to play with a kid at a play place. The kid looked at her funny and said, "but I'm black." she replied "Hi, Black, I'm Jax!"

— Sean Collom (@SeanofGallifrey) October 22, 2018
Since we never taught her to hate. Never taught her that people are anything other than people based on their skin. Never taught her to look at skin first, teaching her to love everyone as people and nothing more or less, she thought the girl was saying her name.

— Sean Collom (@SeanofGallifrey) October 22, 2018
And she didn't even judge the name as being different or strange. She just wanted to play. I'm saddened that the world is such that the other girl was confused by a white girl wanting to play with her. I hope one day we can make it better.

— Sean Collom (@SeanofGallifrey) October 22, 2018
@denisleary said it best so I will just show his tweet. pic.twitter.com/2NScYFyPMX

— Matt Sparkington (@sparkiethedork) October 22, 2018
Read full article
Countdown To
Elections Results
To Assembly Elections 2018 Results