Impressed by the Shiny Diamond-Studded Emirates Plane? We Have Some Bad News For You
'Presenting the Emirates 'Bling' 777,' the caption on the official Emirates Twitter account read.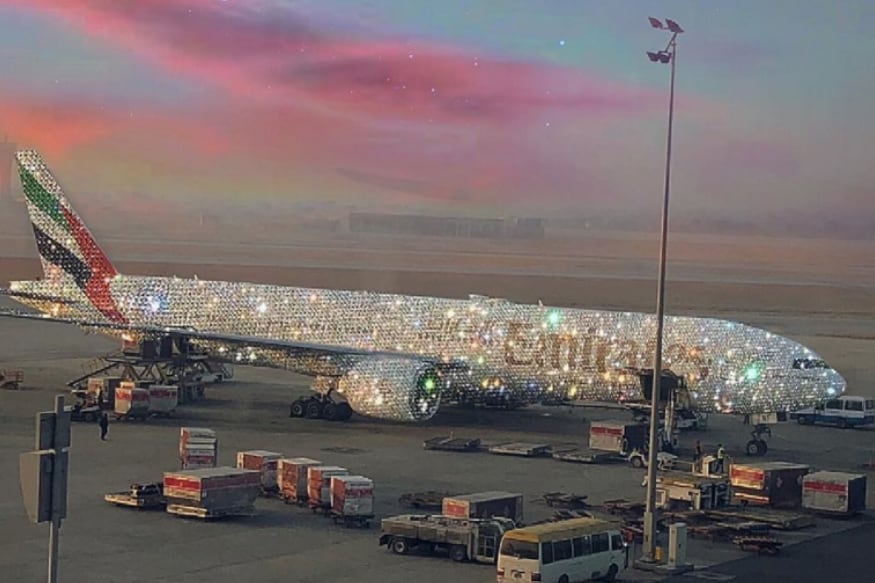 Image credits: @emirates / Twitter
Home to the tallest skyscraper in the world, Burj Khalifa, Dubai is known for its outrageous marvels of architecture and engineering across the globe. The lavish and quirky lifestyles of the sheikhs in Dubai also often make headlines.
So, when the Dubai-based Emirates shared a blingy aircraft, studded with nothing but glittery diamonds, netizens weren't surprised. Many stopped by to gaze at the beautiful, completely plausible, sight.
"Presenting the Emirates 'Bling' 777," the caption on the official Emirates Twitter account read.
Presenting the Emirates 'Bling' 777. Image created by Sara Shakeel 💎💎💎 pic.twitter.com/zDYnUZtIOS

— Emirates Airline (@emirates) December 4, 2018
Since being posted on Tuesday, the photo of the gorgeous aircraft has been retweeted more than 4000 times. In fact, the allegedly diamond encrusted aircraft was an instant favourite on Twitter.
Us right now. pic.twitter.com/SLCE4ju4Tx — Dulles Airport (IAD) (@Dulles_Airport) December 4, 2018
Emirates you truly represent Dubai in every perspective . Keep blinging ❤️ ✨ 💎 ✨

— Janet Henderson (@spotjane78) December 6, 2018
It's bloody gorgeous ❤️🙌🏽😱 — Pranav G (@pranavgzn) December 5, 2018
Beautiful. ..awesome

— #SK (@kauserseema) December 6, 2018
Shine like like a diamond 💎 — Siddhant Mishra (@siddhantadv) December 6, 2018
However, as curiosity over the blingy aircraft grew, some users finally put on their critical lenses to question the origin of the aircraft they had their eyes glued to. Was it even real? Turns out, it wasn't.
Is this real?

— Rajashree B Mustafi (@Rajashreebm) December 4, 2018
Thankfully, the truth was soon revealed. 
It's actually an art created by Crystal Artist Sara Shakeel of an Emirates aircraft, which has been called the Emirates 'Bling' 777 has gone viral. The photograph has been shared by the Emirates Airline's official Twitter account. — 🇮🇳سدھتا سنگھ چاندیل (@ItsSiddharthaa) December 6, 2018
"We just posted an art piece made by crystal artist Sara Shakeel. I can confirm it's not [real]," told an Emirates spokesperson to Gulf News.
The origin of the photo? The shiny altered artwork was created by Shakeel, a Pakistani dentist-turned-artist, who turns daily mundane objects and peppers them with crystals and diamonds.
The artwork first surfaced on Shakeel's Instagram account but soon made a landing on Twitter.
Get the best of News18 delivered to your inbox - subscribe to News18 Daybreak. Follow News18.com on Twitter, Instagram, Facebook, Telegram, TikTok and on YouTube, and stay in the know with what's happening in the world around you – in real time.
Read full article