Imran Khan Tuned in to 1992 World Cup Song in His Car on Pakistan Election Day
The 1992 World Cup was the only one Pakistan has ever won. Imran Khan was the captain to lead the team to victory.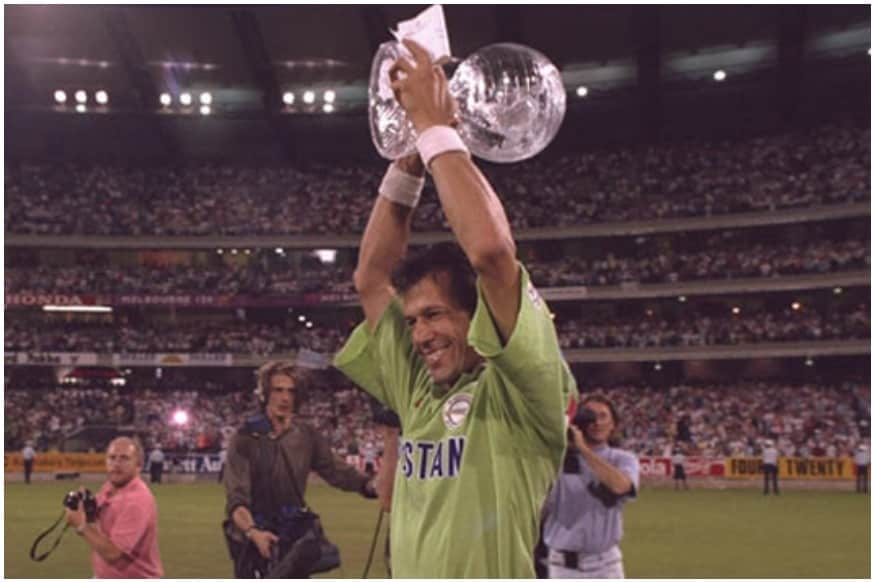 Credit: Getty Images
Singing the tune of victory – that seems to be cricketer-turned politician Imran Khan's mantra.
As the world watched Pakistan go to polls on Wednesday with its two major parties PTI and PMN-L battling it out for the top spot, Imran Khan wowed social media with his swagger.
Even as voting was underway in Pakistan after a prolonged and muddy campaign session that has left the country deeply polarized, a video of Imran Khan in his car blasting the theme song of the 1992 ICC World Cup 'The World is Coming Down' went viral on social media.
The video was reportedly shot while the Pakistan Tehreek-e-Insaf chief, who is in the race for becoming the new Pak Prime Minister, was on his way back after casting his vote in the NA-53 constituency in Islamabad.
In a mindset to win; Imran Khan in a psyched up mood 1992 style as he listens to the World Cup win song in his car after casting his vote this morning. It's a once in a lifetime chance Pakistan. Don't let it go. Step out to vote!#BallayPeThappa pic.twitter.com/GrShhlkEjv

— Tehreek-e-Insaf (@InsafPK) July 25, 2018
In it, the former cricketer is seen blasting the theme song from the 1992 World Cup which incidentally Pakistan won. Imran had been the captain of the winning Pakistani cricket team. Many of his supporters are claiming that the song was symbolic of Imran's confidence and imminent success.
Haha imran Khan roaming around the city while listening to the world cup 1992 theme song is the cutest thing I have seen since morning. #AbSirfImranKhan #ElectionPakistan2018 #BallayPeThappa

— Aiman Shahid (@AimanSyed83) July 25, 2018
Many of the cricketer's fans hailed the video as a warm reminder of the 1992 victory, the only World Cup victory in Pakistan's kitty so far.
I have no affiliation with any political party, Yes I am Fan of Imran Khan @ImranKhanPTI The Victorious Captian 1992, Just received this video from a friend, Batkaila Malakand, looks like revolution. #PTI @PTIofficial pic.twitter.com/nEhZukWPgq

— جاوید شیخ (@javaidShaikh) July 21, 2018
Incidentally, the date of the 1992 World Cup was March 25 while the elections were being held on July 25, a similarity that hopeful fans were quick to spot.
Date was 25th: Imran Khan won us the 1992 World Cup❤Today's date 25th: If you know what I mean😉

— Usman Utmanzai KHAN🇵🇰 (@ManiiUtman) July 25, 2018
Wednesday's election is being seen as crucial one in Pakistan. Imran's main rival isPML-N, founded by now-jailed former President Nawaz Sharif. The PTI chief has focused his campaign heavily on anti-corruption. Even after casting his vote, Imran spoke to media persons and asked Pakistanis to give change a chance by voting them in.
But while the former cricketer seems to be taking a leaf out of his glory days, will Imran's magic work again to win his party the numbers?
Read full article