In Viral Video Where BSP MP's Son Waves Gun, Female Companions Take Shot at #MeToo
While the man in pink pants brandished a pistol in his grotesque display of entitlement outside Delhi's Hyatt hotel, far more deadly was what his female companions weaponised: hate.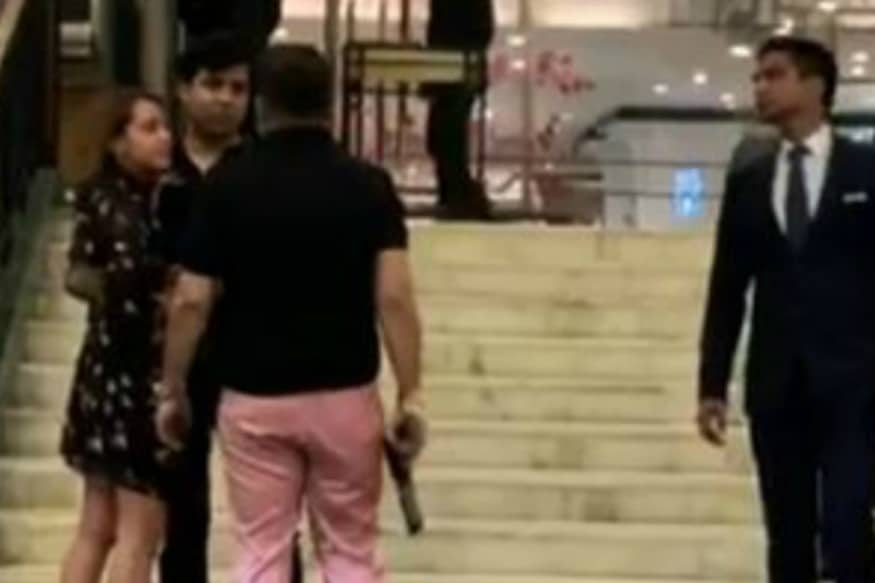 (Image: twitter)
What's worse? A man threatening a couple with his gun in broad daylight or his female companion asking another woman to "Shove MeToo up your a**"?
On Tuesday, a video of a man in pink pants, brandishing a gun in a Delhi hotel, flooded our social media timelines. This wasn't an ordinary video, a man pulled out a handgun at the entrance of a five-star hotel in South Delhi over an argument and threatened a couple. The accused was later identified as Ashish Pandey, brother of Bahujan Samaj Party MLA Ritesh Pandey and son of former BSP MP Rakesh Pandey.
The incident took place on Saturday when Ashish got into an argument with a couple after the woman reportedly disproved of him walking into the ladies washroom.
In the video that has gone viral, Pandey can be seen hurling abuses at a woman and her friend. The three women accompanying him, one recording the video and two others in the car, were also heard abusing the couple.
According to the police, this is how the events unfolded.
The accused and the victims were partying at a nightclub in the hotel. The victim's female friend was throwing up in the women's washroom and he had gone to look for her which is when Pandey's women friends also came there and started arguing with them. They came out and the fighting continued, following which Pandey fetched the gun from his car and threatened the other party.
The visuals of the said political brat acting like a film gangster outside a luxury hotel in the heart of the country's Capital is undoubtedly riveting, the audio of that one minute eleven seconds video (shot and shared by a lady in his car) is what you should be really paying attention to, specifically the comments of the lady with the questionable accent.
While her intent is hazy, the words she uses are clear, and while those may be on fleek, they are the exact opposite of woke. In her moment of rage, as she shoots the video, she first calls the girl, who her extremely entitled friend was showing a gun to, a 'transsexual' because she clearly thinks that's an abusive word.
Someone needs to tell the woman that 'a person who emotionally and psychologically feels that they belong to the opposite sex' is a real person, it cannot be used not a cuss word.
She doesn't end there. She proceeds to say, "Yeah, shove MeToo up your a**".
She then calls her a "skinny little b***h", to which, her friend turns and says, "Skinny? You're giving her a compliment." And, they burst into laughter, like what they just did was a prank!
There's no doubt that the man brandishing a pistol outside Delhi's Hyatt hotel was a grotesque display of entitlement, but far more deadly was what his female companions weaponised: hate.
This is a woman, misusing a movement critical to her gender's ongoing fight for equality in what is essentially a bar fight. One is at a loss of words. It's a pity that the girl wasn't.
Get the best of News18 delivered to your inbox - subscribe to News18 Daybreak. Follow News18.com on Twitter, Instagram, Facebook, Telegram, TikTok and on YouTube, and stay in the know with what's happening in the world around you – in real time.
Read full article