Kolkata-Born Scientist Wins Great British Bake Off, Celebrates with Call to Mum, Glass of Milk
Dr Rahul Mandal is a research scientist, now based out of Rotherham, who took up baking only two years ago.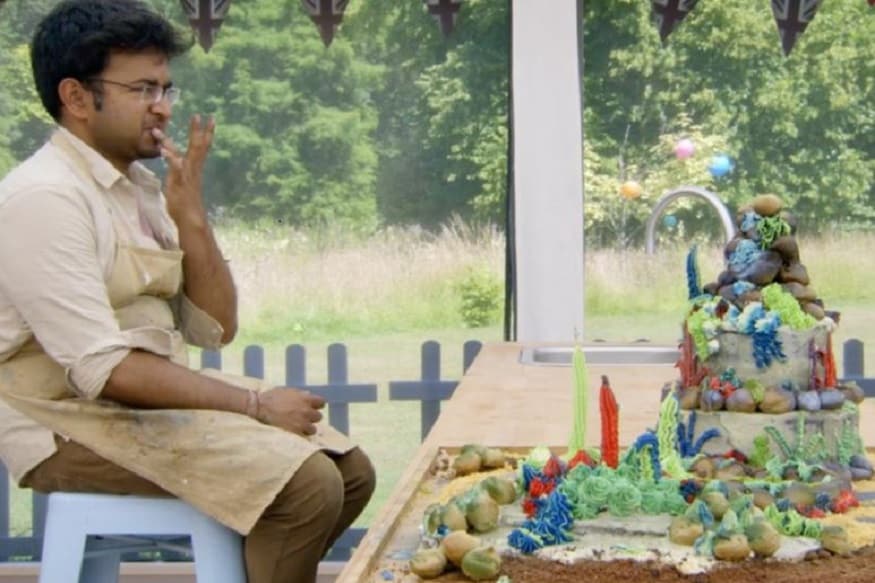 Image: Twitter handle of British Bake Off
If you're supposed to add half a teaspoon of salt to make the perfect croissant dough, but you add three quarters a teaspoon by mistake, you'll end up with something resembling a B-grade horror movie prop. It is this exacting nature of baking why many people say it is more art than science. Making a solid case for that argument then is the recent victory of an Indian scientist in the latest season of cult show, Great British Bake Off.
Dr Rahul Mandal is a research scientist, now based out of Rotherham, who took up baking only two years ago. Clearly, he's on a roll, pun totally intended. He beat the other two finalists, Ruby Bhogal and Kim-Joy, after being tasked with baking doughnuts, then bread on an open fire, and finally creating an "edible landscape".
The Guardian quoted Mandal saying, "Growing up in India we didn't ever eat doughnuts, so I have never had one let alone made one. I watched the final with my parents, who are over from India, and friends and colleagues. It was very emotional but it was lovely to have the people who have helped me throughout my Bake Off journey watch it with me."
What's interesting is that all three finalists of the stolid sounding Great British Bake Off were of Asian ethnicities: two Indians and a Korean. It says much about Britain having becoming a truly multicultural society, despite its current political climate of isolation a la Brexit.
This was something picked up by several viewers of the show, who took to social media to celebrate the significance of the win as well as, of course, the whole unity in diversity thang.
An Indian engineering researcher living in Sheffield with an English couple and winning a British baking show by making mango-filed doughnuts. Nice to be reminded that despite our stupid politics, this is Britain in 2018. #gbbofinal #rahul

— Sathnam Sanghera (@Sathnam) October 30, 2018
And now I'm crying. Three lovely finalists. More niceness on television please. #gbbo

— Jojo Moyes (@jojomoyes) October 30, 2018
We must protect him at all costs. #GBBO #GBBOFinal pic.twitter.com/7Q4dj40CEx

— JTOh (@CupOfTeaVee) October 30, 2018
Rahul, who gained major brownie points over the course of the show, due to his mama's boy nature and aww habits like having a glass of milk every morning, celebrated his victory with, what else, a glass of milk and a call to his mother. Score for Sanskar.
A milky toast to our winner, Rahul! #GBBOFinal pic.twitter.com/piu9AUr5ZB

— British Bake Off (@BritishBakeOff) October 30, 2018
Laugh, Rahul. Cry, Rahul. But above all - believe in yourself, Rahul! You've earned this. #GBBOFinal pic.twitter.com/Pw40NdRxz5

— British Bake Off (@BritishBakeOff) October 30, 2018
Read full article
Countdown To
Elections Results
To Assembly Elections 2018 Results