GET Stock

Quotes


Indians are Solving Love vs Arranged Marriage Debate and More With These Desi Venn Diagrams
Everyone wants to be a part of this viral meme fest.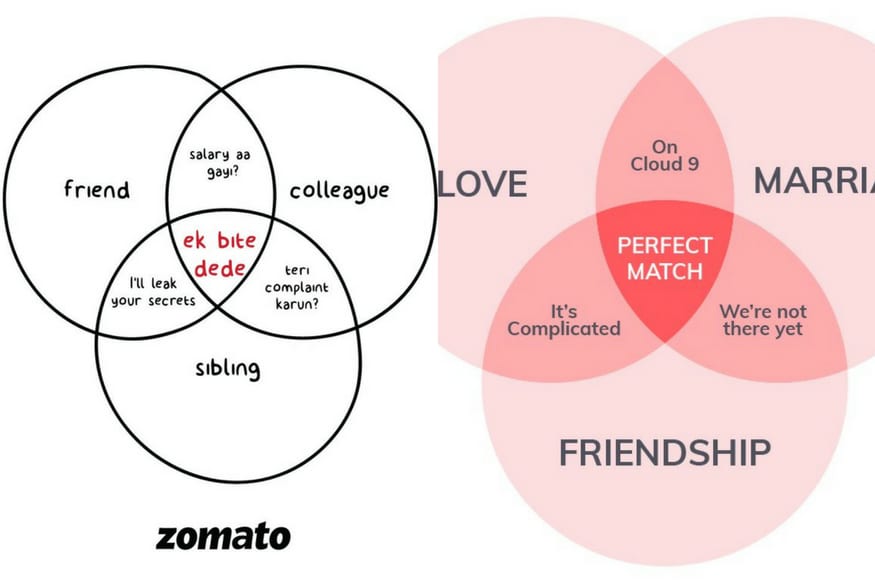 (Image: Twitter)
Remember Sets? The first chapter in the NCERT 11th-grade Mathematics book, that was also perhaps the EASIEST chapter in the entire book. Well, do you remember studying about Venn diagrams in that chapter? Yes, the same ones that represented some mathematical or logical sets pictorially as circles within a universal set.
Well, Maths (never thought of saying this out loud) is about to get more fun because Venn diagrams are now a trending meme on Twitter.
Starting out as a "Oh, my brother sent this to me because he thought it was really funny" meme, it quickly picked up on the Internet, with users coming up with their own hilarious renditions of the original meme. And Indians, not wanting to be left behind, came up with their own
desi
renditions of the meme.
THE ORIGINAL MEME THAT STARTED IT ALL



why is this so funny to me pic.twitter.com/fUDik7CTF5


— CHELO (@chelllssseeea) August 21, 2018
AND NOW THE DESI VERSIONS OF THE VENN DIAGRAM
This movie can fit in literally every meme. pic.twitter.com/8VpTcqLmxM — urban nixhil (@niquotein) August 28, 2018













Venn the math of dating is solved!
#humour #venndiagram pic.twitter.com/cHvTnQzV08


— Shaadi.com (@ShaadiDotCom) August 29, 2018


I've never seen a better use of a Venn Diagram in this life. pic.twitter.com/4KUTcloVoi

— Rishi Bagree (@rishibagree) August 24, 2018








EVEN TRAFFIC POLICE IN CANADA CAME UP WITH THEIR OWN VERSION
Those that choose to make bad driving decisions can either think the cops are out to get them, or realize that a ticket may just be saving them from something a lot worse. #TrafficTues #noexcuses #rcmpmb #venndiagram pic.twitter.com/szCMxjhvoy — RCMP Manitoba (@rcmpmb) August 29, 2018



Venn are we eating next? pic.twitter.com/pbAXYcwTuZ


— Zomato India (@ZomatoIN) August 28, 2018
The When Diagram#venndiagram pic.twitter.com/mhLwS0nq7B — Ashwin Nair (@ashwinskn) August 29, 2018





Presenting An Old Riddle In Venn Diagram Format... pic.twitter.com/itKvwnRceS


— Babu Bhaiya (@Shahrcasm) August 29, 2018



Life of an Autowala. pic.twitter.com/oq5hPguL0v


— Godman Chikna (@Madan_Chikna) August 28, 2018



One venn diagram everyone remembers. pic.twitter.com/pZta6gkYoW


— East India Comedy (@EastIndiaComedy) August 29, 2018
Perfect Venn Diagram does exist pic.twitter.com/uUP9NFuYA0 — Vaibhav... (@lamevaibhav) August 24, 2018



Girls who are your sisters. A Venn Diagram. pic.twitter.com/wrUeoP7zvy


— Pakchikpak Raja Babu (@HaramiParindey) August 26, 2018
Read full article