India's Former Prime Minister HD Deve Gowda's Yoga on Bed Has Left Twitter Amused
'Me on a Monday morning.'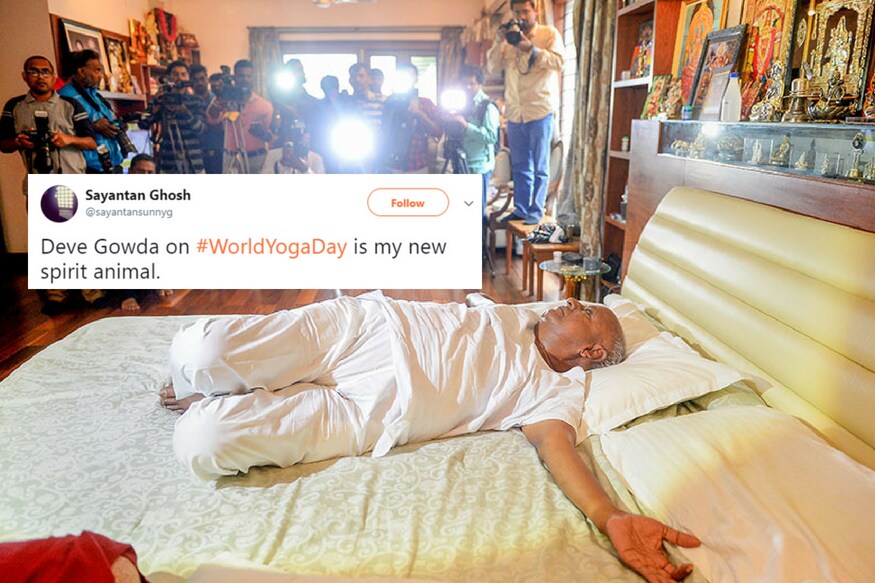 Image credits: PTI
The 86-year-old former PM, seven-time MLA, and seven-time MP-- HD Deve Gowda is one fit man.
When it comes to fitness, Gowda can put even anyone to shame. Not only does Gowda have a fitness trainer but he also does some really tough exercises every day. Early in the morning, he spends more than an hour on treadmill, weightlifting, dumbbells and other gym equipment.
So it hardly comes as a surprise that Gowda celebrated the fourth International Yoga Day at his residence doing several asanas.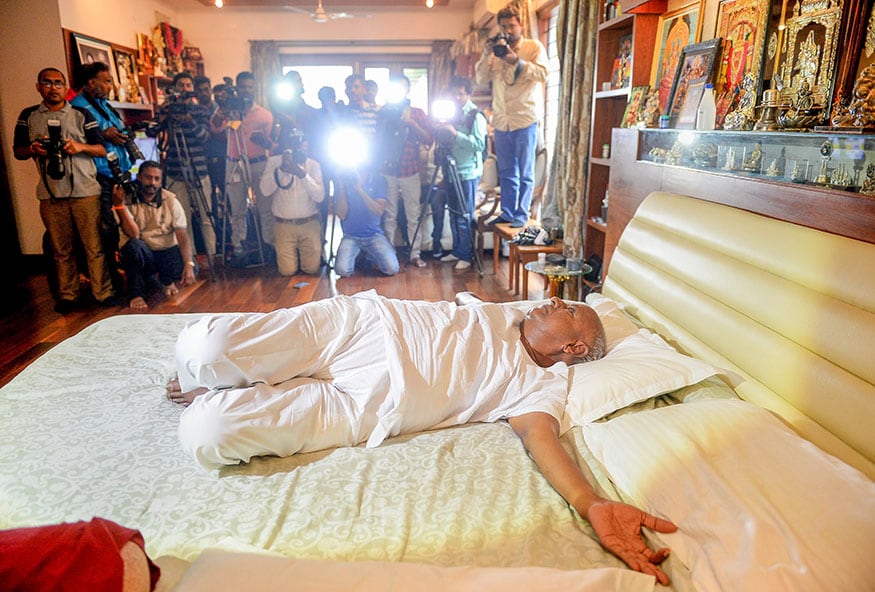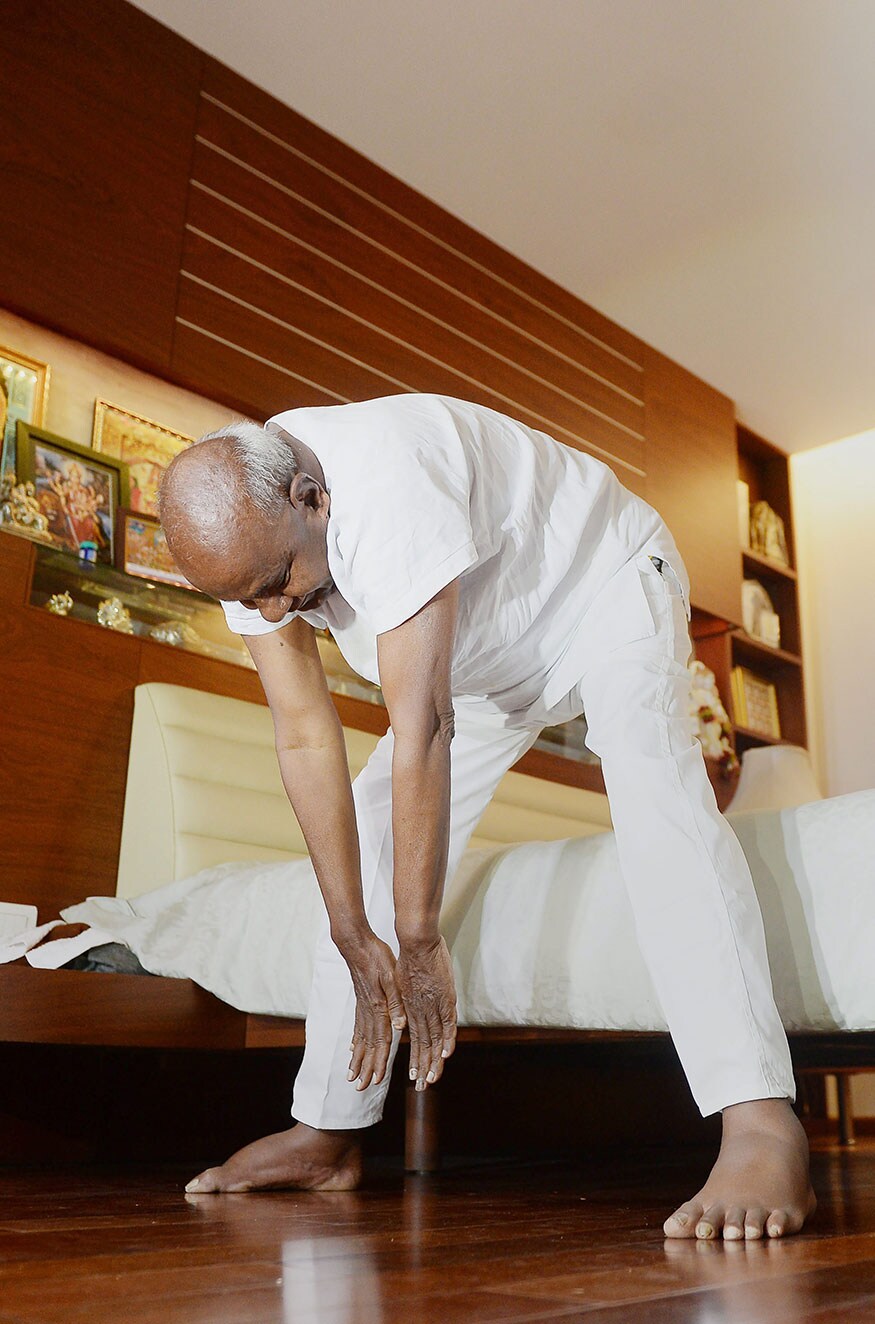 Gowda was snapped by shutterbugs and photos of him doing yoga in his bed soon started floating in the Twitterverse.
Deve Gowda on #WorldYogaDay is my new spirit animal. pic.twitter.com/7L0ZQN4kJn

— Sayantan Ghosh (@sayantansunnyg) June 21, 2018
When you win only 37 seats in the polls, but life still comes up trumps....#InternationalDayofYoga2018 #HDDeveGowda pic.twitter.com/WH4WFBc3M0 — Nistula Hebbar (@nistula) June 21, 2018
#India's former prime minister HD Deve Gowda with some of the moves on #WorldYogaDay in his bedroom. (h/t @nistula) pic.twitter.com/B8pFoLBVo0

— Bhuvan Bagga (@Bhuvanbagga) June 21, 2018
Former Prime Minister of India, H.D. Devegowda, 85, alliance partner of @INCIndia, in throes of International Yoga Day in his bedroom in Bengaluru. NDA alliance partner Nitish Kumar did not celebrate International Yoga Day in Patna. pic.twitter.com/W9YgBl9QQs — Shivam Vij (@DilliDurAst) June 21, 2018
Devegowda and Yoga ‍♂️ ! pic.twitter.com/zbW6fWSTdc

— Vishweshwar Bhat (@VishweshwarBhat) June 21, 2018
Deve Gowda on #WorldYogaDay is a mood. pic.twitter.com/5cw74k1JKT

— ¯_(ツ)_/¯ (@karishmau) June 21, 2018
The photos, however, left Twitterati very, very confused. "What is happening?" was a question several people asked.
Confusion > Either he is doing yoga or Sleeping ???More Confusion > What Media people are shooting ???

— AmAr K ChAndrA (@iamAKC7432) June 21, 2018
what media is doing in his bedroom?

— Anant (@TooMuchToSay_) June 21, 2018
Looks like he's singing 'Pehla Nasha' 😂

— Harsha (@harsha_rama) June 21, 2018
Good heavens what is this

— Sudeshna (@SudeshnaShome) June 21, 2018
Jab mujhe school jaane ka man nahi hota tha, This was my yoga pose.

— Puneet (@PuneetVuneet) June 21, 2018
You can check Gowda in action here.
Get the best of News18 delivered to your inbox - subscribe to News18 Daybreak. Follow News18.com on Twitter, Instagram, Facebook, Telegram, TikTok and on YouTube, and stay in the know with what's happening in the world around you – in real time.
Read full article