Instagram Has a New Question Feature But the Internet Doesn't Want the Answer
Insta-gram, or Insta-answer-my-question, now?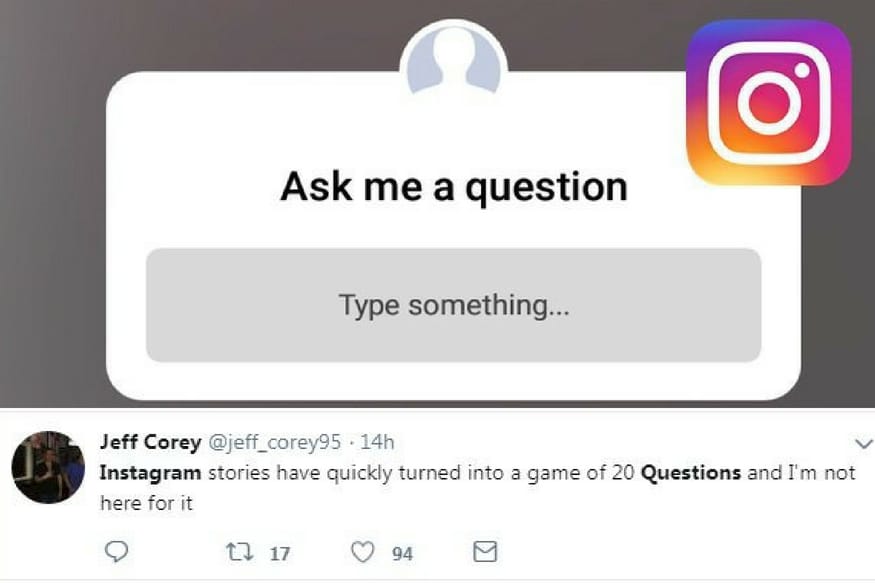 Insta-gram, or Insta-answer-my-question, now?
Those who have updated their Instagram app in the last 24 hours may have noticed a new feature - the option to allow other users to ask a question and get real time responses.
After apps like Formspring, Sarahaha and Askfm, Instagram decided to add the new feature where users could ask other users questions. But unlike its predecessors who kept the identity of the questioner anonymous, Instagram lets users see who has asked them the question.
However, users may not be too impressed with the latest roll-out.
Many took to Twitter to express how the ask-a-question feature is more of an infuriating impediment rather than a useful tool.
Thank god Instagram released a Q&A feature because I love watching 50 frame stories of random people answering questions like what's your favorite food

— Justin Escalona (@JustinEscalona) July 12, 2018
If juxtaposed with reality, some of them are really funny and even reflective. 
How many replies you do when your parents ask you a question? Aur Instagram pe 106 questions oe reply 😂😂😂 — Gaitonde Chikna (@Madan_Chikna) July 12, 2018
please stop asking for questions on instagram you are not interesting enough for 15 stories in a row

— Josh Haigh (@joshcharles_21) July 11, 2018
But most people were confused about the basic purpose of the feature itself. 
the last thing we need in this hellish world is an excuse for anybody on instagram to think i want to ask them a fuckin question — Matt Bellassai (@MattBellassai) July 11, 2018
if the heat doesn't kill me the "ask me a question" posts on Instagram sure will

— Skye Wellman (@skye_nicolee) July 11, 2018
Oh my god this new Instagram questions thing is a nightmare. Girl's stories are like 25 minutes long. — Kmarko (@Kmarkobarstool) July 11, 2018
Instagram stories have quickly turned into a game of 20 Questions and I'm not here for it

— Jeff Corey (@jeff_corey95) July 11, 2018
Controversy began when people started wondering if the feature in fact was anonymous or not. Turned out most people had assumed it was based on their experience on other apps and websites.  I wonder how many people thought these Instagram questions were anonymous and asked some reckless shit
— Ryan Perlman (@PerlmanNot) July 11, 2018
SOMEONE SHOULD HAVE TOLD ME THAT THE INSTAGRAM QUESTIONS ARENT ANONYMOUS 💀💀

— Emiliano🇲🇽 (@Emiliobarrow) July 11, 2018
So the Instagram questions thing ain't anonymous? pic.twitter.com/n0sooptdgC — B⚡️ (@YungPheba) July 12, 2018
How can my boy think the Instagram question thing is anonymous so he told his own girl she needs to lose weight 😭

— S4IF 🐺 (@S4IFF) July 11, 2018
But Instagrammers who haven't used the feature yet must surely be living under a rock if this confident Twitterati is to be believed.
$20 to anyone who hasn't posted "Ask me a question" on their Instagram story — Kaylin Hillegeist (@kay_hill5) July 11, 2018
Read full article