Internet Comes to Rescue After No One Shows Up at 6-Year-Old's Birthday Party
How a kid's birthday turned into a dream from a nightmare.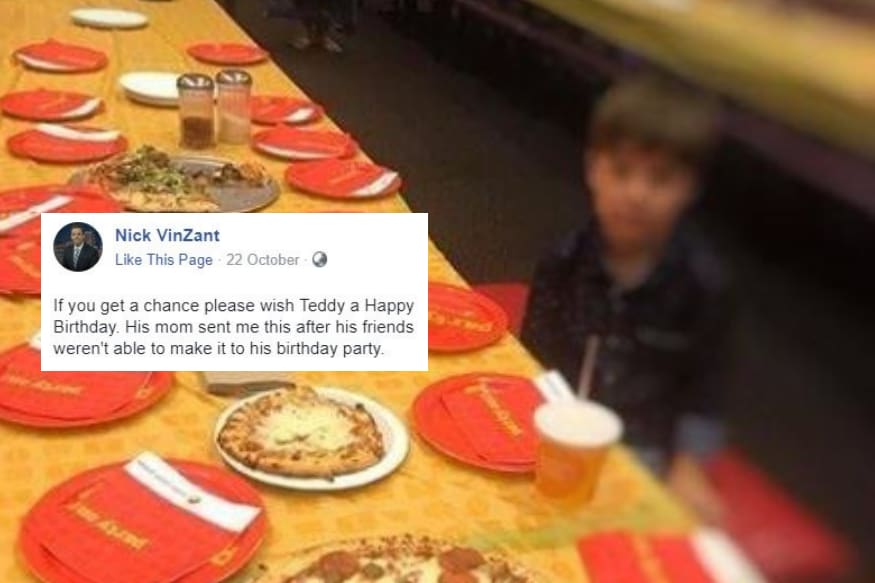 Image credits: Nick VinZant / Facebook
There's a lot of hate and trolling on the web but once in a while, it throws up stories that make you want to be a part of it.
Remember when grandpa 'Papaw' made 12 burgers for his 6 grandkids but only one showed up? The story resonated with people around the world and they didn't shy away from showing support and love to the grandkid and her Papaw.
Something similar happened with a six-year-old boy in Tucson, Arizona and the good people of the Internet decided to join hands to make the little boy's birthday special.
Teddy had invited 32 of his classmates to a pizza party for his birthday but things didn't go as he had planned. Teddy's mom, Sil Mazzini, told ABC15 that 32 invitations were sent out, inviting the kindergartner's classmates and their parents to join him for celebrations at the restaurant. She added that a few people did respond that they were unable to make it, but no one showed up.
Mazzini, who was the only one at the pizza party with her son decided to make up for it by sending Teddy's photo to a journalist Nick VinZant, who then shared the birthday boy's photo on his Facebook account.
VinZant wrote, "If you get a chance please wish Teddy a Happy Birthday. His mom sent me this after his friends weren't able to make it to his birthday party."
His post was soon flooded with birthday wishes and support messages poured in with many even willing to send gifts to the birthday boy.
Overwhemled by the responses, mommy Mazzini took to Facebook to thank the Internet family.
"Thanks you guys. I am showing him these messages and he is already smiling!" she wrote. Teddy, whose day went from gloomy to an exciting one also recorded a video to show his gratitude.
Teddy's story became the talk of the town and he was soon offered tickets by the Suns against the Los Angeles Lakers in Phoenix. The 6-year-old boy took up the offer and stole the show even before the match started. He even got a personalised Suns jersery!
TEDDY IS IN THE BUILDING! 👑 pic.twitter.com/jiht7INcgU

— Phoenix Suns (@Suns) October 25, 2018
The most popular person in our building tonight! #ThisIsWhyWePlay pic.twitter.com/jENQTi5tec

— Casey Taggatz (@caseytaggatz) October 25, 2018
Josh x Teddy! pic.twitter.com/96UTRlwk3l

— Phoenix Suns (@Suns) October 25, 2018
It was Teddy's first NBA game!
Did we mention it's Teddy's first NBA game!?! #ThisIsWhyWePlay x @nbacares pic.twitter.com/lNt6sXeTno

— Phoenix Suns (@Suns) October 25, 2018
Get the best of News18 delivered to your inbox - subscribe to News18 Daybreak. Follow News18.com on Twitter, Instagram, Facebook, Telegram, TikTok and on YouTube, and stay in the know with what's happening in the world around you – in real time.
Read full article