Internet is Feeling Bad For the Zomato Delivery Man Sacked For Eating Customer's Food
The viral video showed the delivery man wearing a red Zomato t-shirt pulling out a food box from his bag, taking a couple of bites and resealing it before leaving for his delivery location.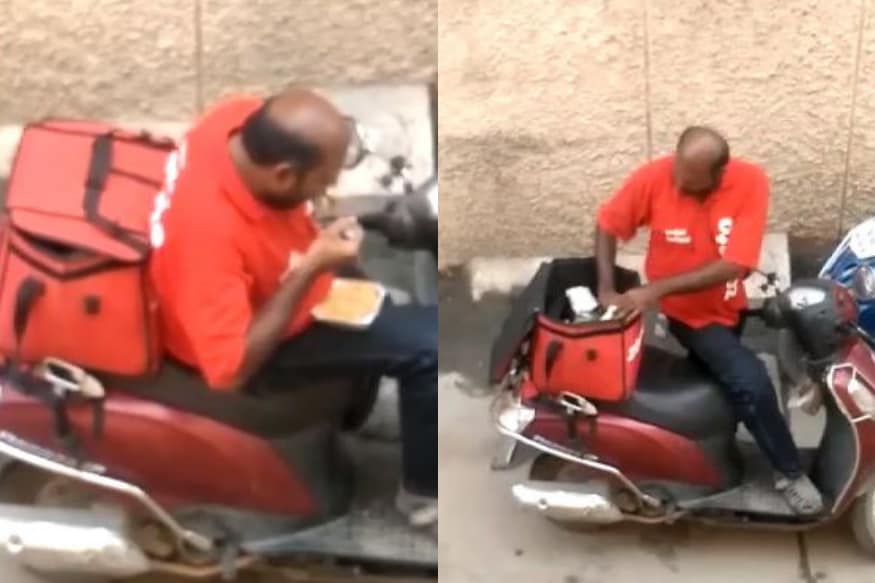 Image credits: Venkatesh / Facebook
A Zomato delivery man was sacked by the restaurant aggregator after he was caught hogging on a customer's order and the Internet is unhappy about it.
The two-and-half minute video first surfaced on Facebook, and showed the man wearing a red Zomato t-shirt pulling out a food package from his bag, taking a couple of bites and resealing it before leaving for his delivery location.
There was a lot of hue and cry over the video and the "act" was viewed more than 4 million times on the platform.
Taking cognizance of this, Zomato launched an investigation and affirmed the authenticity of the video. In a blog post published on Monday, the company revealed that the video was shot in Madurai and the delivery man was promptly sacked from his job.
We take food tampering very seriously. For more details: https://t.co/hBApiTzmcI

— Zomato (@Zomato) December 10, 2018
"We take these kinds of reports extremely seriously and upon thorough investigation, we've found that the video was shot in Madurai. The person in the video happened to be a delivery partner on our fleet. We have spoken to him at length – and while we understand that this was a human error in judgement, we have taken him off our platform."
Zomato further added that it'll educate its delivery against such incidents while also urging the customers to report the smallest of anamolies.
"We take this very seriously and will soon introduce tamper-proof tapes, and other precautionary measures to ensure we add an extra layer of safeguard against such behaviour. Additionally, we will educate our delivery fleet of over 1.5 lakh partners to highlight or escalate any such deviations to us, while also encouraging our users — the custodians of our platform — to highlight the smallest of anomalies to us."
However, Internet users felt that the punishment was on the harsh side and even pointed out several possibilities that may have led him to eat from the package.
They've removed him. Feel very bad for this @ZomatoIN delivery guy :( pic.twitter.com/c3vDBri7wJ

— Zoo Bear (@zoo_bear) December 11, 2018
If people have to steal food, there is some problem with our society. I feel sorry for him.

— Nfuel (@nfuel900) December 11, 2018
For some reason my heart breaks every time I see the video and this man. I hope n pray he gets a job somewhere n leave this stigma behind him.

— Aysha Suzana (@AyshaSuzana) December 11, 2018
Though he ve done a bad thing, I somehow feel he ate because he was hungry.. Poor man

— Schiffskapitän 🎭 (@damn_barbarian) December 11, 2018
Users on Facebook weren't happy either.
"This is a cancelled order before returning to the shop or to the zomato hub he eats that's all hotel might check or zomato hub will check if the parcel is open they will put fine for the delivery guy so he is packing with zomato label maximum the hotels won't accept the return parcel we want to return to the hub in swiggy the want to return the food to their hub but in uber eats the cancelled food will be given to road side beggars uber eats r doing good work,[sic]."
"You should not blame delivery persons for this....As per Swiggy/Zomato rules if the order is got cancelled after picking it up from restaurant or if the customer doesn't lifts the call or if the customer was unable to pay the bill on COD,then Delivery person can have it or he can submit at office.....Here this delivery person ate it," wrote another user.
"Not necessarily he is consuming the food ordered by some Zomato customer. He might have bought food as well."
Meanwhile, there were many who defended company's decision to sack him.
"It's his job to deliver the food to the customer, that's what he is getting paid for.. This is such a disaster, you can't defend this act. If he was hungry he could have bought something to eat with his money. It's unhygienic & a big question on professionalism of delivery guys. I never thought about it, seriously. After seeing this video, I guess it would be very common," wrote one Facebook user.
Thats no excuse. Mumbai Dabba walas have been delivering for decades without a single case of breach of trust. Yes salaries of delivery guys shud increase with bettwr working hours that allow them not to go hungry

— Rita Tornad (@Ritatornad) December 11, 2018
Zomato and Swiggy pays their delivery people pretty well. His salary was more than what average people earn.

— Prashant Shahi (@coolboi567) December 11, 2018
Get the best of News18 delivered to your inbox - subscribe to News18 Daybreak. Follow News18.com on Twitter, Instagram, Facebook, Telegram, TikTok and on YouTube, and stay in the know with what's happening in the world around you – in real time.
Read full article