GET Stock

Quotes


Internet Is Lauding This Pune Girl For Going Out of Her Way To Help An ATM Guard
Your dose of hope for the day.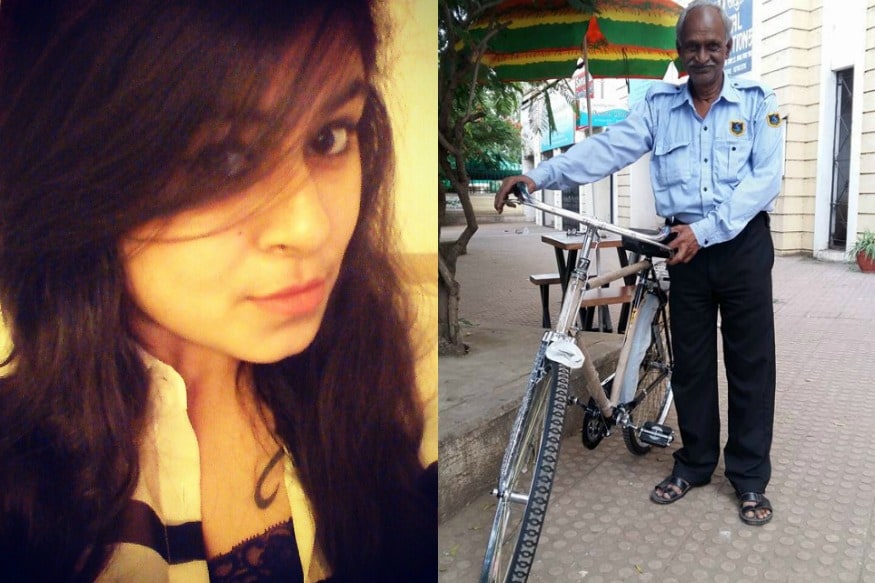 (Photo: Facebook/Tanvi Jain)
A smile is perhaps the best thing to gift someone. And Tanvi Jain did exactly that when she bought a bicycle for ATM security guard Shivaji Bhosle.
Bhosle, 62, who works as an ATM security guard near Nyati Estate in Pune, was shattered when he found out that his bicycle was stolen. "He was almost in tears and kept opening his wallet only to be reminded again and again that he had no money to buy himself a new one," Jain told News18.
Jain, who lives in the neighbourhood, said she would often greet the guard when she visited the nearby cafe, Cafe with a Twist, and he would reply with a smile. But that day, she recalls, when she was headed to the cafe, she saw Bhosle running around distressed. On asking, he told her that he had lost his bicycle and expressed his helplessness in getting a new one.
"I had decided that I would buy him a new bicycle but it would take a few days. So, I thought of writing a post on Facebook asking if someone had a spare cycle that we could give Bhosle till the new one arrived," Jain told News18.
Jain wrote on Facebook, "Pune People, If anyone from NIBM /Nyati/Wanowrie or Kondwa has a spare cycle to donate, please get in touch. This old man, an ATM security guard's cycle was stolen today morning, right outside my colony (Nyati estate). I saw him tensed and almost in tears, running around trying to find it. If anyone has a spare cycle to give, or if you know anyone who does, please let me know. You'll be doing this man a huge favor! Thanks (sic)."
Jain's post received tremendous response. People appreciated her efforts to help an old man and some even messaged her, wanting to contribute money to buy Bhosle a new bicycle.
"I didn't expect such a huge response. I thought only a few of my friends would either like or comment on the post, but, yes, I did receive a lot of messages from perfect strangers who wanted to contribute money to buy a new bicycle," said Jain.
Some negative comments followed as well, but she chose to ignore most, except one.
The following day, Jain wrote on Facebook about one particular person who advised her to get used to people losing their things in India and not get sentimental about it. Here's what she wrote.
Finally, after a few days, Jain bought a new bicycle for Bhosle, who was all this while hitching a ride with others and travelling home. Both Shawn Edward, owner of the cafe and Jain contributed equal shares to get a new bicycle for Bhosle.
"He was so happy, he constantly kept touching the new bicycle, he had tears in his eyes but he couldn't stop smiling. I was teary-eyed too, but I didn't cry. It was really overwhelming," Jain said. She added, "I just think that if something as simple this can touch so many people's heart then probably one good deed a day by people can change the world."
Also Watch

Beatles Drummer Ringo Starr Knighted For Services To Music
| Edited by: Mugdha Kapoor Safaya
Read full article