GET Stock

Quotes


Internet is Sympathising With Steve Smith After He Breaks Down During Press Conference
'I hope in time I can earn back respect and forgiveness. Cricket is the greatest sport in the world. It's been my life and I hope it can be again. I'm sorry and I'm absolutely devastated, a teary-eyed Smith said.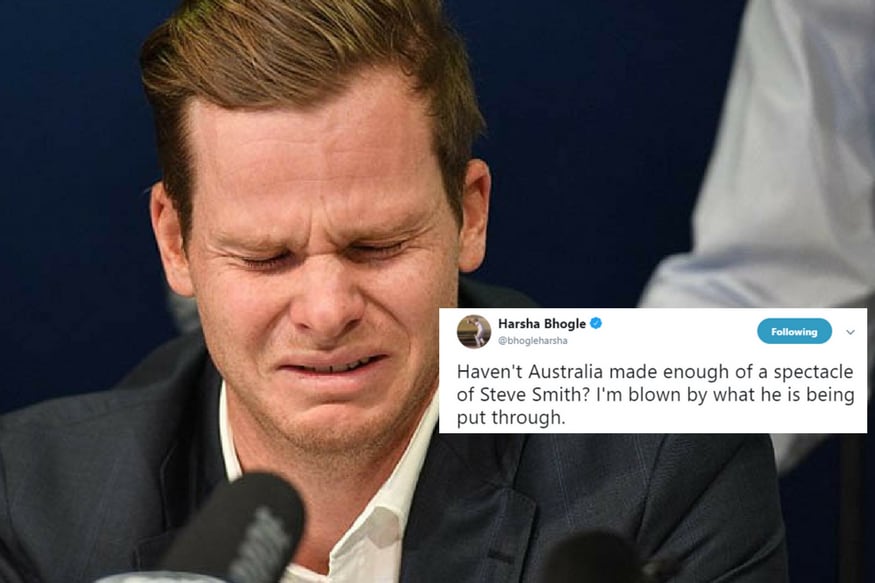 Steve Smith break down during conference. (AFP Image)
Suspended skipper Steve Smith broke down in tears after arriving back in Sydney, as he apologised during a press conference for his role in the ball-tampering controversy that has rattled the cricket world.
"To all of my teammates, to fans of cricket all over the world and to all Australians who are disappointed and angry. I'm sorry. I take full responsibility ... There was a failure of leadership, of my leadership. I'll do everything I can to make up for my mistake and the damage it's caused," a teary-eyed Smith told to media persons.
Steve Smith and vice-captain David Warner have been banned by Cricket Australia from playing cricket for the country for 12 months for ball-tampering scandal. While their partner-in-crime Cameron Bancroft has been suspended for nine months by the Australian cricket body.
Watch LIVE: Steve Smith addresses the media after returning home to Sydney https://t.co/ljh0A32bMh

— cricket.com.au (@CricketAus) March 29, 2018
A gutted Smith further said, "If any good can come of this, if there can be a lesson to others then I hope I can be a force for change. I know I'll regret this for the rest of my life. I'm absolutely gutted. I hope in time I can earn back respect and forgiveness. Cricket is the greatest sport in the world. It's been my life and I hope it can be again. I'm sorry and I'm absolutely devastated."
"I'm sorry for the pain that I've brought to Australia and the fans and the public, it's devastating and I'm truly sorry."

Steve Smith has apologised for his 'failure of leadership' in emotional press conference in Sydney.https://t.co/rrDWQZdYt2 pic.twitter.com/3wBdXWTbha

— ICC (@ICC) March 29, 2018
Smith, who was accompanied by his father Peter, said he was shattered by the hurt he has caused his family.
"To see the way my old man's been and my mum, it hurts," he added.
Soon cricketers, commentators, and fans from all over the world sympathised with Smith calling the treatment "inhumane" and "harsh" that he has been put through in the past few days.
My heart is breaking for Steve Smith right now. I know he stuffed up but this is tough to watch.

— Neroli Meadows (@Neroli_M_FOX) March 29, 2018
Me, while watching ball tampering video : These Australian cheats should be banned from playing cricket

Me, while watching Smith's Press Conference : Cricket Australia has been too harsh. Smith is a nice guy.

— SAGAR (@sagarcasm) March 29, 2018
By breaking down @stevesmith49 has shown he's human...he's asking for forgiveness and hopes to earn back respect.

— Vikrant Gupta (@vikrantgupta73) March 29, 2018
Sympathizing Steven Smith making me a hypocrite then I am a hypocrite, I can't see a cricketer crying.😢

— Sunil- The Cricketer (@1sInto2s) March 29, 2018
Steve Smith made a mistake and accepted it. Fans are angry. Media is angry, too.

But don't you think the punishment given by Cricket Australia is too harsh?

— Madhav Sharma (@HashTagCricket) March 29, 2018
Just seen @stevesmith49's press conference. As a parent, I'm gutted for him & his family!

Shout me down if you want, but I'm speaking as a parent!

It will get better mate!

— Kevin Pietersen (@KP24) March 29, 2018
One of Australia's greatest ever cricketers who made a shocking error in judgement now being ushered through an airport like a convicted drug mule.

Regardless of your opinion of him, you can't look at this image and say you don't feel slightly bad for Steve Smith. I know I do. pic.twitter.com/FWyZK6XIjk

— Theo Doropoulos (@TheoDrop) March 28, 2018
'Good people make mistakes' .. I honestly think Steve Smith & Cam Bancroft are decent guys who had a moment of madness .. they deserve a 2nd chance and hopefully get the right support around them now .. Takes a lot guts to do what they did today ..

— Michael Vaughan (@MichaelVaughan) March 29, 2018
Oi Oi Oi! It's not my business but it's done and dusted!
I think 1 year is harsh! But to the 3 youngsters, y'all gonna have to live with this - reflect quickly and know there's a lot of life ahead so don't stop here! Feel free to come see me in Jamaica 🇯🇲 anytime! #JustSaying

— Chris Gayle (@henrygayle) March 29, 2018
Haven't Australia made enough of a spectacle of Steve Smith? I'm blown by what he is being put through.

— Harsha Bhogle (@bhogleharsha) March 29, 2018
I feel so sad after watching this. The man made a mistake and accepted it. Broke down into tears took all the blame and apologised whole heartedly. Is ashamed and regrets what happened.

A real man. https://t.co/UanfiNlKIV

— Rana Talha Asfar (@RTAluvzAfridi) March 29, 2018
We are not the sum total of our greatest mistakes. My heart goes out to @stevesmith49 who has given me so much cricketing joy over the years. He is also a thoroughly decent human being. I stand by him and will be here upon his return. #SteveSmith

— Peter Helliar 🌈🌥☘️ (@pjhelliar) March 29, 2018
No one's perfect. A terrible lapse in judgement but good people make mistakes. Credit to Steve Smith for fronting up. Now let's give him some time and space.

— Bill Shorten (@billshortenmp) March 29, 2018
Steve Smith has made a mistake. But in trying to catch a plane in South Africa he's treated like a mass murderer. Surrounded by 12 security guards... people baying for his blood and calling him a cheat. This is too much for any 28 year old to handle. #CricketAustralia

— Alan Jones (@AlanJones) March 28, 2018
Earlier in the day, Bancroft also apologized and asked for forgiveness from the fans after returning to Australia from South Africa. The 25-year-old said, "I want to say that I am very sorry."
"I love the game of cricket and playing for my nation and my state there is no greater pride for me. I am extremely disappointed and regret my actions. I am sorry to the people who have looked up to me around the world, especially the kids. I know I'm a role model and haven't acted like one in this instance," he added.
Taking to his Twitter page, David Warner accepted responsibility for his role in team's attempt to tamper with the ball.
He wrote,
"To cricket fans in Australia and all over the world: I am currently on my way back to Sydney."
"Mistakes have been made which have damaged cricket. I apologise for my part and take responsibility for it. I understand the distress this has caused the sport and its fans. It's a stain on the game we all love and have loved since I was a boy."
He further wrote, "I need to take a deep breath and spend time with my family, friends and trusted advisers. You will hear from me in a few days."
March 29, 2018
Read full article