GET Stock

Quotes


Is Sachin Tendulkar Hugging Son Arjun Tendulkar or Justin Bieber? You decide
What do you think?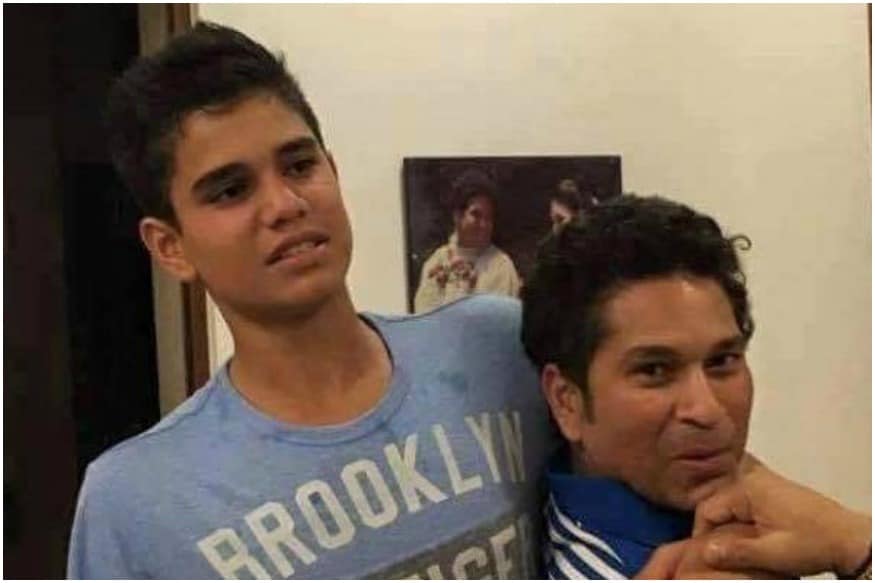 (Photo: Facebook/Circle of India)
Apart from being cricket legend Sachin Tendulkar's son, Arjun Tendulkar has another celebrity connection to boast of — his resemblance to pop sensation Justin Bieber. Yes, you read that right.
On September 24, Arjun celebrated his 17th birthday and many wished him on social media in their own special way.
A Facebook page titled Circle of Cricket wished the teenager by sharing a photo of him with his dad and wrote, "Happy 17th Birthday, Arjun Tendulkar!"
Soon after the image was shared, netizens were quick to notice Arjun's uncanny resemblance to Canadian singing sensation Justin Bieber. In fact, the two look so similar that some even called Arjun the 'Indian Justin Bieber' and others wondered if they were twins!
Bieber made it big in the music industry after he was discovered by a talent manager through his YouTube videos in 2008. Bieber released his debut EP, My World in 2009. There was no looking back for him after that. His fan base, dubbed "Beliebers", largely consists of teenaged girls.
Arjun Tendulkar, too, has a huge fan following in India and after seeing his images none can deny that there is a slight resemblance between the two.
"Before reading that caption I was like why is Justin Bieber holding Sachin Tendulakar like that ....wait okay (sic)," Prakruti Nitin Sure commented on the Facebook post.
"Is it only me who before seeing d full pic n caption, thought that Arjun Tendulkar is JUSTIN BIEBER? I thought why is Sachin clicking pics with #JB?" said Poushali Palit.
Arjun's resemblance to the 'Sorry' hitmaker has been noticed on social media earlier as well.
Arjun tendulkar - justin bieber 😝#sameguy pic.twitter.com/yb6ox6pXCr

— saba😎 (@Mayavi_) June 20, 2016
Arjun Tendulkar looks like Justin Bieber..... pic.twitter.com/EJuBvQPr0R

— Fahim Farooq (@fahim_parekh) September 24, 2016
Arjun tendulkar , son of sachin tendulkar hai ya Justin Beiber 😇@Sadafawanvk @psspank pic.twitter.com/NtLjNN5D0J

— ツ Sayak Rhett (@SayakTweeting) April 19, 2016
Man @sachin_rt sir's son Arjun Tendulkar looks exact like @justinbieber :O GABBARs Wait Killing Us pic.twitter.com/pShboO7ePJ

— 2.0 Crack JollyLLB2❤ (@GurmeetSingh42) April 24, 2015
@justinbieber I'm totally confused were you in this photo ? #JustinBieber #Arjun pic.twitter.com/c23fBAp5IK

— Nandan (@GOKUL_NANDAN) September 28, 2016
OMG!! 😱😱😱😱LOOK WHAT I JUST FOUND @sachin_rt 's son #arjun is look alike to @justinbieber 😍😍😲🙌🙌 pic.twitter.com/gjksyPVfq9

— Belieber/Thanks JB (@vjbworld) July 14, 2016
why the hell is Arjun Tendulkar looking like Justin Bieber wth pic.twitter.com/U0P7Z399iF

— preksha (@iKohliGirl) June 11, 2014
A Tabloid had even dedicated an article titled 'Spot the difference - Arjun Belieber?' to the two young celebrities.
Interestingly, Arjun's sister Sara is a huge fan of Bieber. She even got herself clicked with the star during a concert in the US.
You be the judge now. Do they really look alike?
Also Watch
Read full article