'Is That From Toy Story?' Twitter Has Ideas for Trump and His 'Space Force' Logo
Space Force! Wait - Is that...just the NASA Logo, but in red?
Space Force! Wait - Is that...just the NASA Logo, but in red?
US President Donald Trump has been in the talks of starting a '
Space Force'
for a long time, but yesterday, after Mike Pence
outlined the plan for Space Force
, the Trump campaign sent out an email asking people to pick a logo for it.
'Space Force' has been advertised as the sixth branch of the US armed forces, with Pence going as far as saying, that Space force "is needed to ensure America's dominance in space amid heightened completion and threats from China and Russia."
Now, with the plan in place, the Trump government, instead of answering questions on why there's a need for 'Space Force' and how much of taxpayers' money will be used to fund the project, have asked American citizens to pick a logo.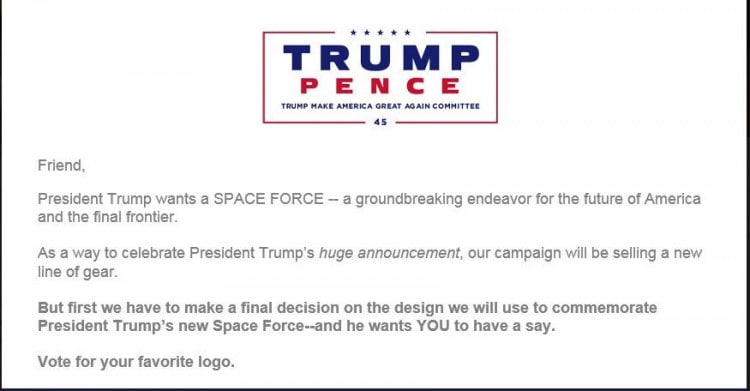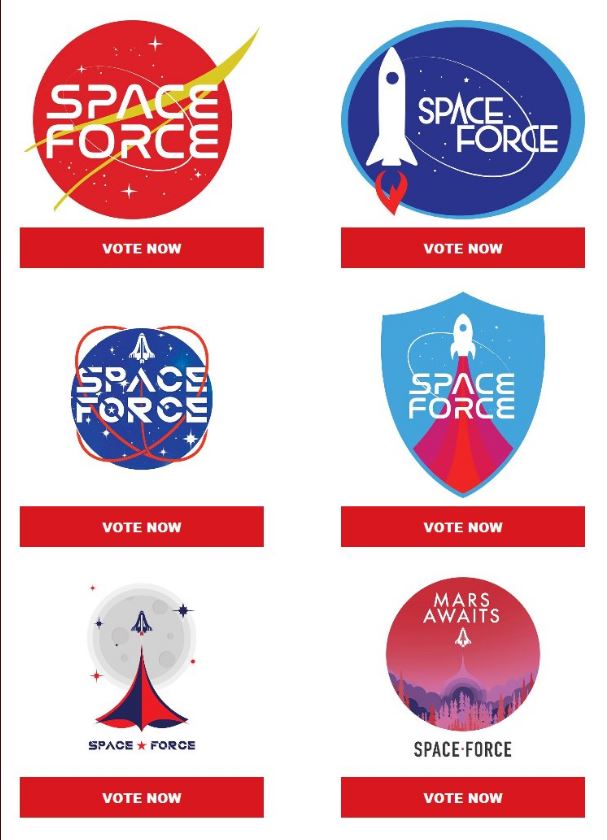 And while the campaign called on supporters to vote on their favorite logo which would become the official logo - Twitter found the idea absurd, and highly comical.



These are all very cute, and that's stupid. Let's review:
1. Red Nasa?
2. That's gotta be from Toy Story.
3. Rocket lasers wrap around the world and hit the ship?
4. Wait, no, maybe this one is from Toy Story.
5. The circus tent looks weird.
6. Is that the No Man's Sky logo?


— Corey the Editor (@CoreyHolland) August 10, 2018
Cute, but like... The Space Force would have literally nothing to do with Mars? Unless... I guess we could go to war with Martians, then this this logo might be relevant. pic.twitter.com/LnoiVjnqfp — Miriam Kramer (@mirikramer) August 9, 2018
Me, leaving this circus tent of a planet. pic.twitter.com/sllJUKrGZV — Lisa Tozzi (@lisatozzi) August 9, 2018
All of Trump's 'Space Force' logos look like icons for a Disney ride. — Jonathan Cohn (@JonathanCohn) August 9, 2018
Really digging these Space Force logos pic.twitter.com/osedU66iMp

— Randy Renstrom (@RandyRenstrom) August 9, 2018
How can this not be the Space Force badge? pic.twitter.com/5LiXmNKLSR — David Frum (@davidfrum) August 9, 2018
The lack of originality was also pointed out.



If the Trump campaign's design for a Space Force logo looks familiar, that's because it is. pic.twitter.com/ZI6WnyqJm3


— Christina Wilkie (@christinawilkie) August 9, 2018
Some of them went so far as to mirror the absurdness of the logos and the entire point behind it - and came up with their own ideas for the logo.
Make this the space force logo pic.twitter.com/D9z4PRmPkR — de bleck penta (@fivefifths) August 9, 2018



I like the Space Force idea but this slogan is a little troubling pic.twitter.com/bmjCCDdRCX


— beloved comedy institution "the pixelated boat" (@pixelatedboat) August 9, 2018
Please vote for my Space Force logo pic.twitter.com/FHBvwvPfSe — Christa Mrgan (@antichrista) August 9, 2018



additional suggestions for Space Force logo pic.twitter.com/0sb1udpepd


— Megan (@MeganApper) August 9, 2018
noting but respect for MY space force logo pic.twitter.com/IhhvHjLMd0 — zeddy (@Zeddary) August 9, 2018
And while Twitter made fun of the absurd logo ideas - some pointed out the entire idea of the Space Force in itself, was absurd and the need for a space force, much less a logo, was unnecessary.



I'm old enough to remember when the military's already existing space force used this logo, which it still does because it already exists pic.twitter.com/4ih7i3jRqY


— Aaron Sankin (@ASankin) August 9, 2018
Honestly though I like some of these in a "cool decal for a model spaceship/logo for a space-centric video game" sort of way? It's too bad that they're actually intended for a BRANCH OF THE U.S. ARMED FORCES https://t.co/gR5BKQ5itg — Andrew Cunningham (@AndrewWrites) August 9, 2018



Will somebody in the Pentagon please tell @realDonaldTrump that DoD already has a Space Force, it's called @AFSpace.


Thanks, that'd be super.

— John Schindler (@20committee) August 9, 2018
However, the entire logo idea, and perhaps Trump's campaign ideas can be summed up in this one tweet:
I find it surprising that none of them are written in crayon. — Seamus (@Wisqerbisqit) August 10, 2018
Read full article
Countdown To
Elections Results
To Assembly Elections 2018 Results