'It was love at first sight!' Conjoined twins Ganga and Jamuna have fallen for the same man and hope for a fairy tale romance
The conjoined twins Ganga and Jamuna Mondal have finally found love in the same man.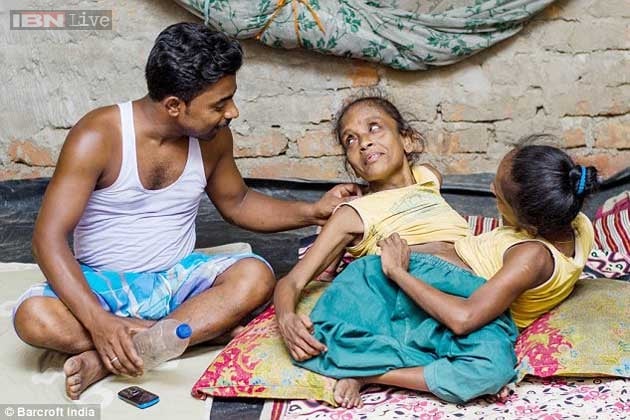 The conjoined twins Ganga and Jamuna Mondal have finally found love in the same man.
Ganga and Jamuna Mondal, professionally known as the 'Spider Girls' or 'Spider Sisters' have been working at a travelling circus for a long time now. With no proper education and an unusual appearance, the 45-year-old twins who are joined at the abdomen and pelvis and have four arms and three legs, were forced to make a living out of the way they looked. Little did they know that they would find the love of their lives at the circus!
Jasimuddin Ahmad is a 36-year-old part-time sound engineer with the circus is the man the twins have set their eyes on. The twins say it was 'love at first sight' and Ahmad loves them 'straight from the heart.'
"We have been very happy since he came into our lives. We have suffered in the past but we don't want to suffer anymore. We really hope to spend the rest of our lives with him," says Jamuna.
Ahmad says he considers the sisters' pain as his own and sits with them for a meal every night. They have become 4 am friends too! 'Sometimes we listen to music and sit up talking late into the night,' says Ahmad. The sisters fondly call him Mr. India.
Ahmad works at a local school in the day and drives the sisters to work in the evenings. Like most love stories in rural India, they too fear their communities will not accept their relationship as they belong to different religions.
"We hope he stays with us, it will be a great support," said Jamuna.
For now the twins are enjoying the companionship and love they had missed out on for so many years.
Get the best of News18 delivered to your inbox - subscribe to News18 Daybreak. Follow News18.com on Twitter, Instagram, Facebook, Telegram, TikTok and on YouTube, and stay in the know with what's happening in the world around you – in real time.
Read full article