'It's A Really Scary Time For Men Right Now': This Song Reminds You It's ALWAYS Been A Scary Time For Women
It has ALWAYS been a scary time for women.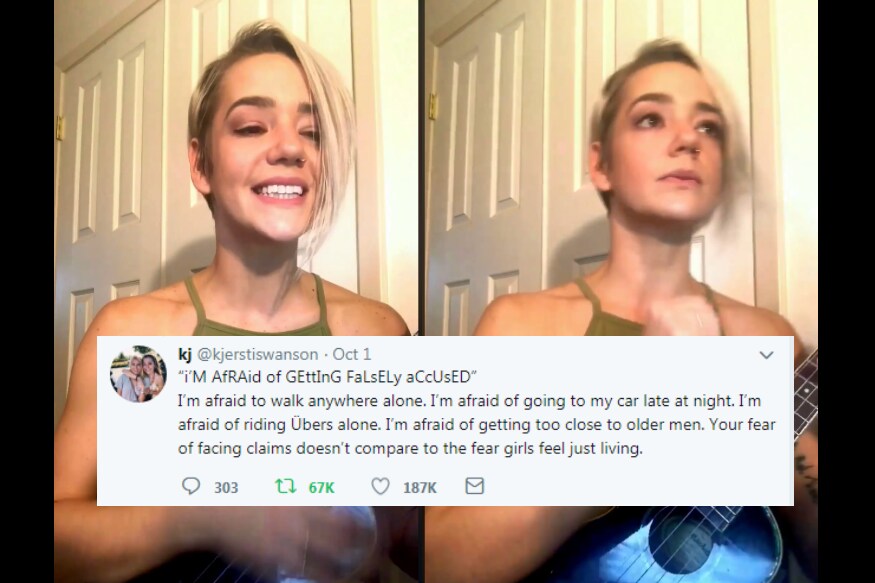 It has ALWAYS been a scary time for women.
Don't go out late at night. Don't dress in short clothes. Don't walk down deserted roads. Don't go into dark corners. Keep your keys in your hand. Look over your shoulder if you think someone is following you. Call someone instantly, know where the exit points are at all times.
These are not rules to survive in a prison. These are rules to survive as a woman every day. This is a reality for most of us.
In the current wake of the #MeToo movement in India, women have started to share their horror stories. Meanwhile, on the other side of the world the likes of Brett Kavanaugh are being called out. In the middle of all this, several men feel threatened, fearing they will be 'falsely' accused. Sometimes, the basic principle of "if you're not guilty, you shouldn't be scared" doesn't apply. Men always find a way to make things about themselves.
Pantsuit Nation has a song to explain this very situation. Lynzy Lab Stewart, sings 'A Scary Time,' listing the things woman are always terrified of doing. And they are basic. everyday. things.
"I can't walk to my car late at night while on the phone
I can't open up my windows when I'm home alone
I can't go to the bar without a chaperone
I can't wear a mini skirt if it's the only one I own
I can't use public transportation after 7 PM
I can't be brutally honest when you slide into my dms
I can't go to the club just to dance with my friends
And I can never leave my drink unattended."
The song lists things woman are consonantly afraid to do on a regular basis. But men being scared of "falsely accused" sure tops feeling like a prisoner simply by existing, right?
"But it sure is a scary time for boy, yeah Gentleman band together make some noise
It's really tough when your reputations on the line
And any woman you've assaulted could show up any time."
The song re-hashed how men are more scared of women they've assaulted at some point outing them, more than they are of being "falsely accused."
"It sure is a scary time for dudes
Can't text a girl repeatedly asking for nudes
Can't make a girl have sex when she's not in the mood
And what gives her the right to give you attitude"
The song further lists all the inappropriate things which are normalized for men but they do not realize is a gross violation of privacy and also wrong.
The song ends with stating how it isn't a scary time for boys at all. And women can change the narrative of men always having the upper hand by going out and voting.
"It's not such a scary time for boys
They've always had the upper hand, they've always had a choice
It's time for women to rise up use our collective voice
The day to vote is Nov 6th so let's go make some noise."
Watch the full song below.
The crux of the story is, it may appear to men that it's a scary time for them, but it has ALWAYS been a scary time for women for simply, living.
"i'M AfRAid of GEttInG FaLsELy aCcUsED"

I'm afraid to walk anywhere alone. I'm afraid of going to my car late at night. I'm afraid of riding Übers alone. I'm afraid of getting too close to older men. Your fear of facing claims doesn't compare to the fear girls feel just living.

— kj (@kjerstiswanson) September 30, 2018
Get the best of News18 delivered to your inbox - subscribe to News18 Daybreak. Follow News18.com on Twitter, Instagram, Facebook, TikTok and on YouTube, and stay in the know with what's happening in the world around you – in real time.
Read full article