JK Rowling Just Ripped Apart Donald Trump's Tweet, Yet Again
Savage queen strikes again.
J. K Rowling is back with another Trump snub
It's common knowledge that Harry Potter author J. K. Rowling has a magical way with words, not just in her novels but in the exciting realm of Twitterverse too.
By now you're probably more than aware that JK Rowling has a serious Twitter game and no one is safe.
The British novelist is often seen to be vocal about her political views, especially her support for the LGBTQ community and well, her absolute disdain for Donald Trump.
This might have riveted negative attention to her Twitter page, but she instantly summons brutal wit-smacking responses every time. After all, she knows a "load of cobblers" when she sees it.
However, her number one target is always president Donald Trump, who she has humiliated in a number of ways in the past.
The Harry Potter author has put the president on blast numerous times, and she was back at it again this week.
This happened when President Trump earlier today in a tweet tried asserting his literary prowess, claiming to "have written
many best-selling books" against the torrential grammar Nazism on his tweets.
Annnnnd,to much of Rowling's amusement he messed that up too.
hahahahahahahahahahahahahahahahahahahahahahahahahahahahahahahahahahahahahahahahahahahahahahahahahahahahahahahahahahahaha

someone told him how to spell 'pore'

hahahahahahahahahahahahahahahahahahahahahahahahahahahahahahahahahahahahahahahahahahahahahahahahahahahahahahahahahahahaha pic.twitter.com/Gf2xxKyFlp

— J.K. Rowling (@jk_rowling) July 3, 2018
Yes, rollicking Rowling at her best isn't it. However, this obviously isn't the first time that Rowling publicly took Trump's case. In fact, a close look at her twitter reveals an entire scurrilous agenda in the workings to target Trump for his pigheadedness. Today seems like the right day to do a recap of some of the most searing Rowling twitter comebacks on Donald Trump.
As the Shrunken Head from Harry Potter would say, "Fasten your seat belts, it's gonna be a bumpy ride, man."
1. Her re-working of his infamous quotes about women.
'It's your fault I didn't pay taxes, Hillary. Women let you do anything when you're a star.'

— J.K. Rowling (@jk_rowling) October 10, 2016
2.And her response to his defense
Trump says 'just words, folks.' It's his accusation and his defence. Words don't matter. Facts don't matter. If they don't, we're all lost.

— J.K. Rowling (@jk_rowling) October 10, 2016
3.The time she compared Trump to Voldemort.
How horrible. Voldemort was nowhere near as bad. https://t.co/hFO0XmOpPH

— J.K. Rowling (@jk_rowling) December 8, 2015
4.The time she compared him to a Twitter egg.
Well, there you have it. A highly intelligent, experienced woman just debated a giant orange Twitter egg. Your move, America. #debate

— J.K. Rowling (@jk_rowling) October 20, 2016
5. The time she made her Trump-bashing stance clear
When a pleasure becomes a duty. https://t.co/TZSpmbrtc2

— J.K. Rowling (@jk_rowling) January 9, 2017
6.The time when less than a sentence was enough.
Must be telling the truth. He used caps. https://t.co/KtLD1x7nwQ

— J.K. Rowling (@jk_rowling) January 11, 2017
7. And then this.
Keep having flashbacks to a little girl in my class at primary school, whose go-to insults were YOU'VE GOT FLEAS and YOU SMELL. https://t.co/Ej4lSCDg1L

— J.K. Rowling (@jk_rowling) January 12, 2017
8. The time she joined forces with Stephen King.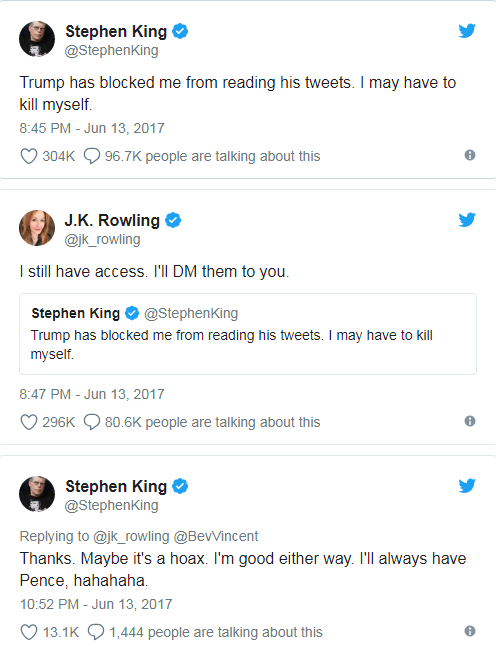 9. And again.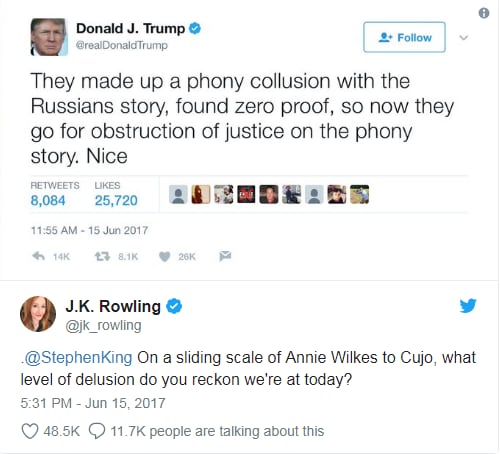 10. Making another classic Harry Potter reference.
Warning: there is a Boggart on the loose in Times Square. pic.twitter.com/9rmzeVeudx

— J.K. Rowling (@jk_rowling) April 20, 2018
11. When she mocked the president with the words of one of his predecessors.
'Nearly all men can stand adversity, but if you want to test a man's character, give him power.' Abraham Lincoln pic.twitter.com/vkJnlXbnXg

— J.K. Rowling (@jk_rowling) June 29, 2017
12. Recently, when she compared his spectacle to the Royal Wedding. And thrashed of course.
Love > Hate pic.twitter.com/iDzjmJ9qSt

— J.K. Rowling (@jk_rowling) May 19, 2018
13. When she didn't even spare Trump's signature.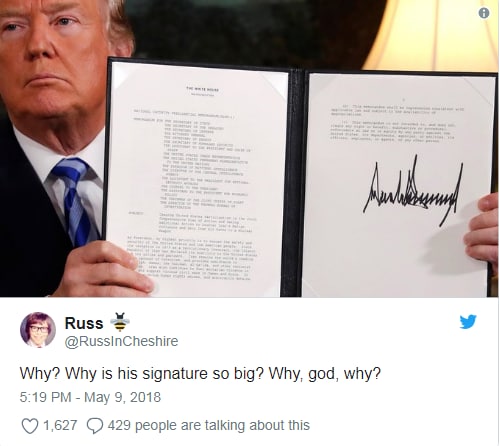 .@RJonesUX I didn't believe in graphology until about three minutes ago.https://t.co/29IjYYNjoF pic.twitter.com/GaN9L6oRVv

— J.K. Rowling (@jk_rowling) May 9, 2018
14. Finally, when she trolled 'chicken' Donald Trump for cancelling UK trip, rather simply.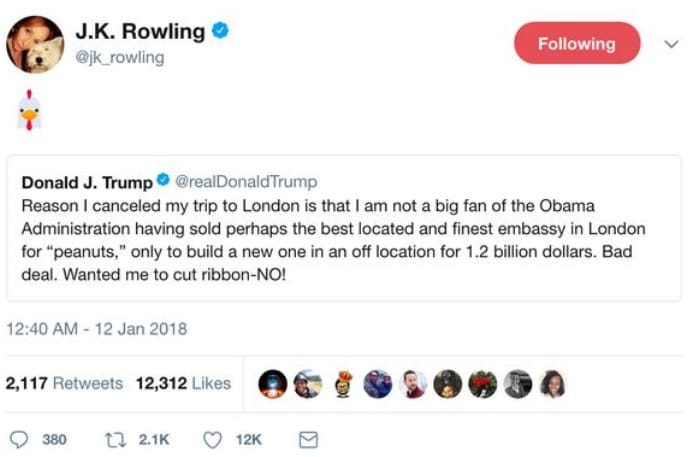 Savage queen Rowling is, well, savage.
Get the best of News18 delivered to your inbox - subscribe to News18 Daybreak. Follow News18.com on Twitter, Instagram, Facebook, Telegram, TikTok and on YouTube, and stay in the know with what's happening in the world around you – in real time.
Read full article