Jacqueline Fernandez's Version Of 'Ek Do Teen' Is Making Twitterati Shout Out 'Blasphemous'
'Legit think Jacqueline can't count beyond 13 in Hindi.'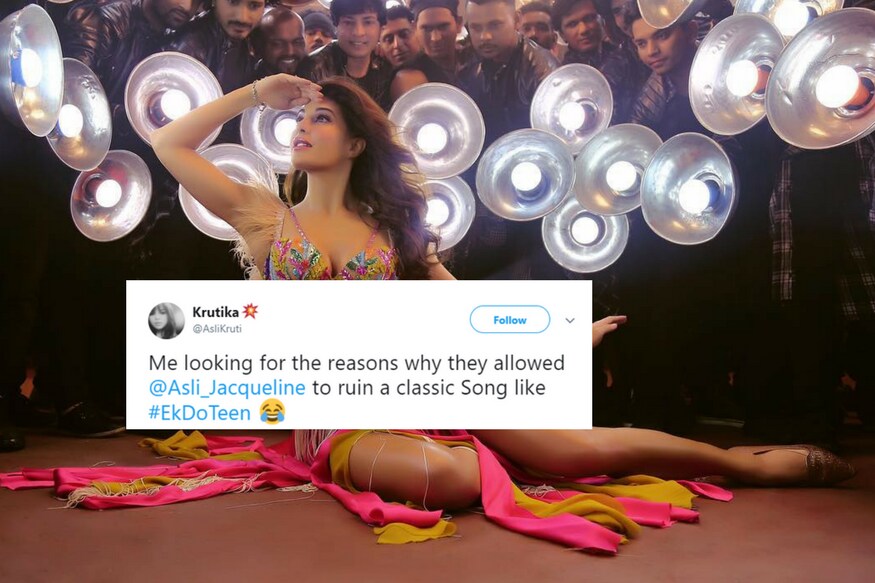 T-Series
The first thing that comes to your mind when you think of Madhuri Dixit is her legendary dance numbers-- "Ek Do Teen", "Chane Ke Khet", "Mera Piya Ghar Aaya", "Maar Daala", "Aaja Nachle", "Dhak Dhak Karne Laga" and countless others.
But when you think of remaking Madhuri's iconic song, you better match the charisma and charm of the actor.
The makers of
Baaghi 2
are clearly very brave. They decided to bring Madhuri Dixit's Mohini alive on-screen with Jacqueline Fernandez stepping into her shoes. While the remix version of the song "Ek Do Teen" from N Chandra's hit 1987 film
Tezaab
is trending at #2 spot in India with over 10 million views on YouTube, social media users are unhappy that "Bollywood has ruined another classic".
"Dear Bollywood, If you can't create anything new then please don't recreate and ruin old songs too. I beg," read one YouTube comment. As soon as the "tribute" version was out, Twitterati too had something to say.
Me looking for the reasons why they allowed @Asli_Jacqueline to ruin a classic Song like #EkDoTeen 😂 pic.twitter.com/t6eHw8vWjX

— Krutika💥 (@AsIiKruti) March 19, 2018
Man the new #EkDoTeen is so bad, it doesn't even sound properly mastered. — Sucharita Tyagi (@Su4ita) March 19, 2018
We should praise the hideous new #EkDoTeen remix 'dance' video, since it is grotesque (and blasphemous) enough to kill the Bollywood remix trend altogether.

— Raja Sen (@RajaSen) March 19, 2018
Madhuri... Madhuri and Only Madhuri #EkDoTeen @MadhuriDixit No one else can create that magic except Madhuri ♥️ pic.twitter.com/e5AEPm6Dhc — Neelima Kulkarni (@starneelima) March 19, 2018
As a die-hard Madhuri Dixit fan, I find this #EkDoTeen remix blasphemous and highly offensive. DO. NOT. TOUCH. THE. CLASSICS. I repeat, DO FUCKIN NOT!

— Shuchi Singh Kalra (@shuchikalra) March 19, 2018
#EkDoTeen Remake... pic.twitter.com/HKnoygSneX — ˢᴬᴺᴶᵁ|Translation Boy😍🍵|ᴮᴿᴬᴴᴹÁˢᵀᴿᴬ (@SanbirKapoor) March 19, 2018
Good morning. The new #EkDoTeen is so bad, even Shreya sounds like a worn out vaccum cleaner.

— (@ohheysalman) March 19, 2018
Jacqueline Fernandez should be sent back to Sri Lanka with immediate effect for disrespecting Madhuri Dixit in Ek do teen song.

— Sunil- The Cricketer (@1sInto2s) March 19, 2018
If were to explain Jacqueline Fernandez's remake of Madhuri Dixit's Ek Do Teen in one word: Horror. Do not touch the legends. — Sonam Mahajan (@AsYouNotWish) March 19, 2018
Madhuri Dixit's 'Ek-Do-Teen' was epitome of elegance, Her flawless dancing skills & unmatchable expressions were the soul of that song. There was no need of giving that song to Jacqueline Fernandez, it is totally unfair to her skills & our sense organs.

— Bhaiyyaji (@bhaiyyajispeaks) March 19, 2018
Madhuri dixit after watching Ek Do Teen #EkDoTeen pic.twitter.com/LUJLxDpZDZ — pramod bagade (@pramodbagade1) March 16, 2018
Jacqueline Fernandez doing @MadhuriDixit 's #EkDoTeen remake is like Salman Bhai is doing biopic of Dilip Kumar.

— Shah Rukh Khan (@DynamicSRK) March 16, 2018
My only real takeaway from this entire enterprise is that even Jacqueline's ribs have abs... pic.twitter.com/NYLmP9po3B — Sahil Rizwan (@SahilRiz) March 19, 2018
In case you need the dose of the original.
Not less than a week ago, when Indian film critic Taran Adarsh tweeted a photo of
Baaghi 2
merchandise that showed a chiseled Ramboesque Tiger Shroff (unrecognisable), it was bound to get memed.



Baaghi 2 official merchandise is the stuff of nightmares. Traumatizing. 😫 pic.twitter.com/t4uCmnCW8e


— Od (@odshek) March 15, 2018
And now, with this,
Baaghi 2
is clearly becoming quite a joke even before its release.
Read full article
Countdown To
Elections Results
To Assembly Elections 2018 Results