Jasprit Bumrah's Face While Team India Played PUBG at Mumbai Airport is All of Us
Hang in there, Bumrah.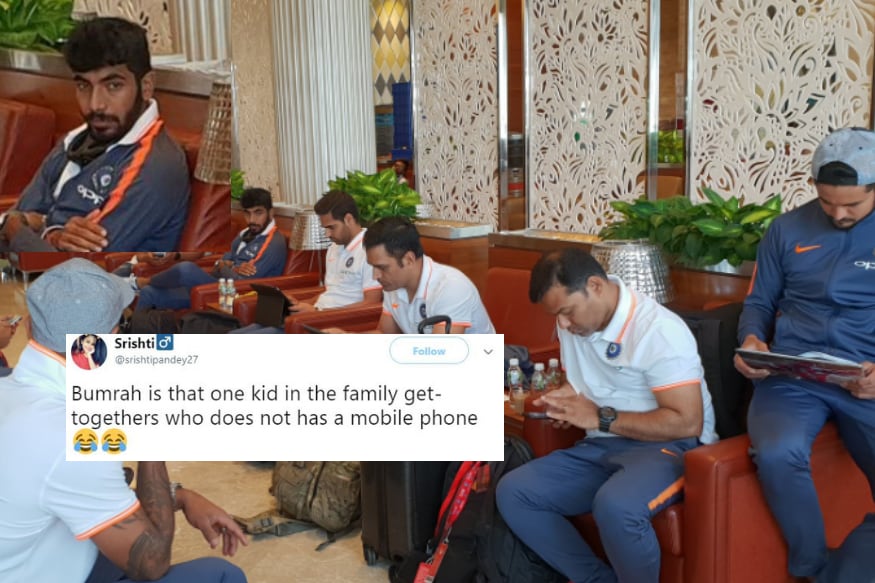 Image credits: BCCI / Twitter
Indian pacer Jasprit Bumrah isn't a gamer and thanks to BCCI the entire world has gotten the whiff of it.
Massively popular multiplayer game PUBG (PlayerUnknown's Battlegrounds) has become a rage in the gaming community. There's even a cafe themed on the viral game in Jaipur.
So it doesn't come as a surprise that the members of the Indian team are hooked to it and were snapped at the Mumbai airport while playing the multiplayer game.
The Board of Control for Cricket in India (BCCI) shared the photo of Team India on Tuesday and asked, "As we wait for the departure announcement from Mumbai, some of them are playing a very popular multiplayer game. #TeamIndia. Any guesses?"
As we wait for the departure announcement from Mumbai, some of them are playing a very popular multiplayer game. #TeamIndia

Any guesses? pic.twitter.com/Y1n8AdHxhn

— BCCI (@BCCI) October 30, 2018
The responses poured in and PUBG came out a clear winner. However, as with all things, the image soon started going viral on Twitter and people had eyes on one player. Jasprit Bumhrah was the only one who was seen without his phone and his "bored" facial expression was enough fodder for Twitterati to have a blast.
When you forgot to charge your phone & not even carry a Power bank ~ bumrah pic.twitter.com/eaJBzPC3ZR

— MRIGANKISM 🔥 (@mrigank_gupta_) October 30, 2018
Me when I'm out to dinner with people on their phone https://t.co/OrLBjPV8L8

— Frantic Fox (@Franticfox) October 30, 2018
Puzzled, disconcerted, bored Bumrah is how I look when I go to dinner and find everyone at my table on phones between courses, during theatre intervals, on trains and at a meeting before it starts.

Go Bumrah. 😍

— Yasmin A. Choudhury (@yasminisyasmin) October 31, 2018
I can totally relate to @Jaspritbumrah93 here pic.twitter.com/PM784Xo4u7

— Annanya (@annanyajohari) October 30, 2018
Bumrah is that one kid in the family get-togethers who does not has a mobile phone😂😂 https://t.co/IL7jmRsHMt

— Srishti♂ (@srishtipandey27) October 30, 2018
Bumrah be like it's better to spend time at PUB then playing an extra G 😂

— Mahi Virat (@Mahivirat8) October 30, 2018
That Boring Moment! pic.twitter.com/f0xBsCFTmR

— CricFit (@CricFit) October 30, 2018
Everyone's playing games but legend Bumrah making tactics for next game #selfless #simplicity #unselfish #self-sacrificing #self-denying #makeBumrahIndianCaptain pic.twitter.com/S6wBIwWFEs

— kourageous ✨✨🇮🇳 (@imnotpari1337) October 31, 2018
Bumrah looks as if he is above all these petty things....😂

— Debodipta Paul (@debodipta_paul) October 30, 2018
On the cricket front, India met Windies at Greenfield International Stadium, Thiruvananthapuram on Thursday for the fifth and final ODI. Winning the toss, the visitors decided to bat first. Disaster struck and West Indies were reduced to 104/10 under 32 overs. Despite facing an early hiccup, the home team thrashed Jason Holder's side by 9 wickets, registering their 8th consecutive series win over the Windies.
Get the best of News18 delivered to your inbox - subscribe to News18 Daybreak. Follow News18.com on Twitter, Instagram, Facebook, Telegram, TikTok and on YouTube, and stay in the know with what's happening in the world around you – in real time.
Read full article