John Cena's Appearance at WWE Super Show Down With a New Hairdo Has Fans Flipping Over
Hair we are.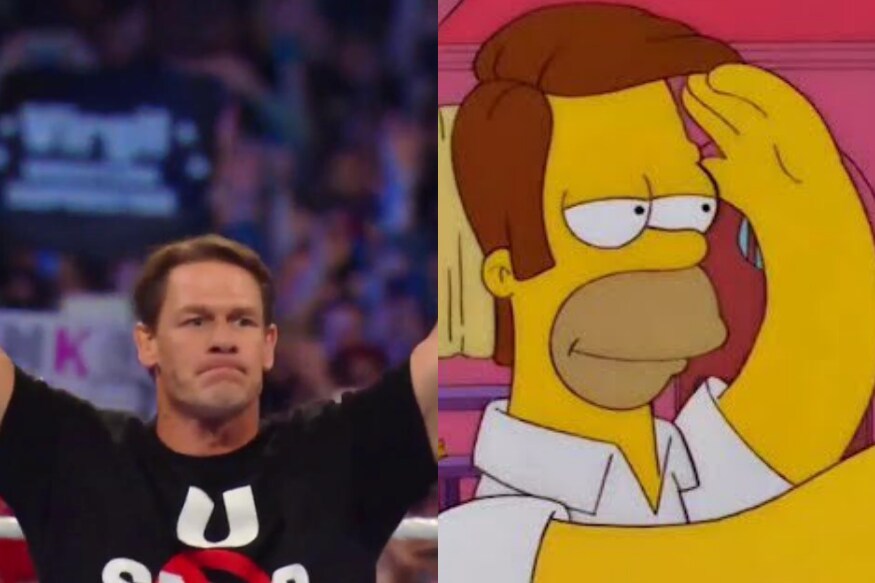 Image credits: @romeandrains / Twitter
The 16-time WWE world champion John Cena has a habit of making the news. Cena, who is popular for his
cryptic Instagram posts
debuted with a new hairstyle at the WWE Super Show-Down 2018 in Australia. Naturally, WWE fans across the globe were flipping over... with memes.
The wrestling champ teamed up with Bobby Lashley to defeat Kevin Owens and Elias in a thrilling contest but it was his new hairdo that got everyone talking.
The official Twitter account of WWE Universe was appreciative of Cena's brand new look.



👀 Lookin' good, @JohnCena! #WWESSD pic.twitter.com/n8p1WqqEg4


— WWE Universe (@WWEUniverse) October 6, 2018
The retired wrestling champion John Bradshaw Layfield (JBL) too was on Cena's side.

I personally think @JohnCena 's new haircut is awesome! Only real good looking dudes have hair that cool. pic.twitter.com/K55VrBZOeD

— John Layfield (@JCLayfield) October 6, 2018

Fans, on the other hand, were stunned.



John Cena with hair is looking like Johnny Cage 😂 pic.twitter.com/HmSOBI4fYy


— Kompetitor (@TheKompetitor) October 6, 2018

Why is John Cena wearing Homer's Killer Toupée from Treehouse of Horror IX? #WWESSD pic.twitter.com/hZO1iCslrI

— Scary West (@flailingkermit) October 6, 2018




Good to see John Cena and his totally not a midlife crisis hair at Wwe super showdown #wwessd pic.twitter.com/thBSHglCJl


— Rome And Rains (@romeandrains) October 6, 2018

John Cena looks like Mark Wahlberg with hair, Wtf. #WWESSD

— Ákshay (@Akmathurx) October 6, 2018




John Cena flicked his hair, he knows we're talking about his hair. #WWESSD


— Ofi! (@Ofizilla) October 6, 2018

John Cena's gone into the barber with a photo of JBL #WWESSD pic.twitter.com/lbUtDfVp2O

— Adam Clery (@AdamClery) October 6, 2018




John Cena's got hair, HBK is bald...

What's happening? #WWESSD


— Riz. (@johncenaAm) October 6, 2018

John Cena with hair looks like 'Cool Guy Political Candidate' trying to connect with the young vote#WWESSD pic.twitter.com/4KCaAGV91n

— The New Age Insiders (@NewAgeInsiders) October 6, 2018




JBL's hair > Cena's hair #WWESSD pic.twitter.com/VFjebhMCmf


— Conner (@ConnerAJoseph) October 6, 2018

The real highlight of #WWESSD? John Cena's hair. pic.twitter.com/vPd6PLkOPe

— richard cumiskey (@ricky9537) October 6, 2018




Um....john Cena is starting to look like someone.... #WWESSD pic.twitter.com/c5bSkWVzaW


— CM Smiley (@smileybabiboo) October 6, 2018
Read full article
Countdown To
Elections Results
To Assembly Elections 2018 Results