Jürgen Klopp's 'Bottle Celebration' After Firmino's Goal For Liverpool is 'Shaking' the Internet
'Find someone who loves and holds you the way that Jürgen Klopp loves and holds this bottle.'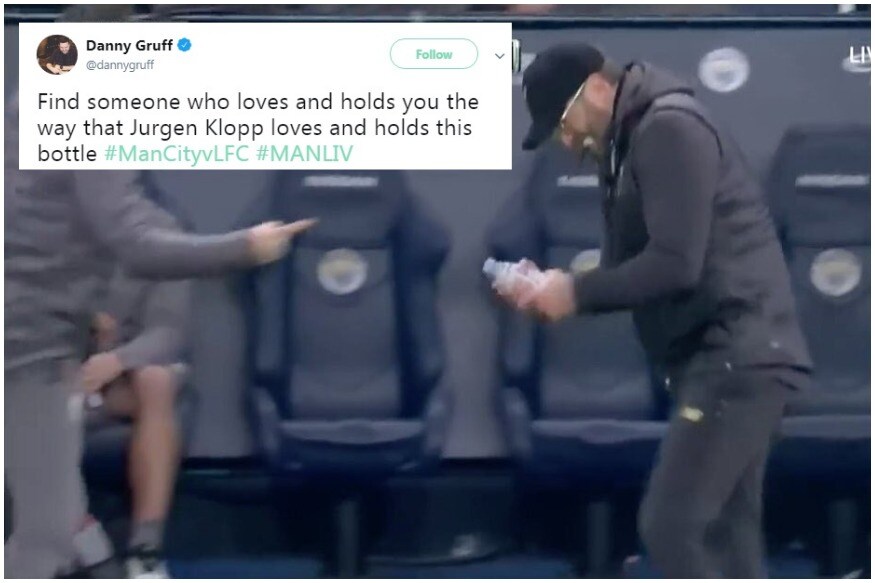 Liverpool lost to Man City 2-1 in Thursday's Premier League title clash (Credit: Twitter)
Football can be a very intense game, not just for those playing but also those watching. And if the Liverpool FC manager Jürgen Klopp's reaction to a recent Liverpool - Man City match is anything to go by, it can be absolutely 'bottle-wrenching'.
In a eventful match on Thursday, Manchester city beat Liverpool 2-1, taking away the Reds' lead in the Premier League and reignited the race with Liverpool and Tottenham in the mix.
And while there were several fine moments of play on field, one of the best moments of the match came from the sidelines after Liverpool's first goal.
After Man City's Sergio Aguero opened the scoreboard with a goal for the Reds, Liverpool's Roberto Firmino levelled the score with a fantastic goal.
But more than the goal itself, it was Liverpool's manager Jürgen Klopp who caught eyeballs with his unusual 'bottle celebrations'.
After the goal, the tensely watching manager broke into celebration by immediately pulling out his water bottle from his pocket and aggressively squeezing it like a stress ball.
The moment was caught on tape and expresses the immense pressure Klopp must have been in at that moment and the release Firmino's goal provided, albeit temporarily.
Clips of the incident were widely shared on social media.
And weirdest celebration of the season goes to... Jurgen Klopp.



Watch live on Sky Sports PL & Main Event or follow here: https://t.co/AlaCpCXy8J pic.twitter.com/5vQavPRxrh

— Sky Sports Premier League (@SkySportsPL) January 3, 2019
Jurgen Klopp was so excited after Roberto Firmino's equaliser he has to pull out his stress b̶a̶l̶l̶ water bottle pic.twitter.com/rJSm2R7DDc

— Soccer AM (@SoccerAM) January 3, 2019
What was Klopp doing to that water bottle #MCILFC

— Tim Gatt (@TimGatt) January 3, 2019
Why is Klopp pulling the water bottle out of his pocket and strangling it? You're level! #MCILIV

— Khushbu Shah (@KhushbuOShea) January 3, 2019
What did the water bottle do to be strangled like that by Klopp? pic.twitter.com/AXtEn628qn

— A Bluebirdlegend (@bluebirdlegend) January 3, 2019
There's got to be a PHD out there who'd do us all a favor and study and explain Klopp's hilarious hand/grip/fist goal celebrations. This variant debuts a prop! https://t.co/5iSLF0gTj6

— Peter Welpton (@peet2) January 3, 2019
Steward behind Klopp thinking he was gonna throw that water bottle ‍♂️

— Craig Fagan (@Craigfagan7) January 3, 2019
Steward behind Klopp thinking he was gonna throw that water bottle ‍♂️

— Craig Fagan (@Craigfagan7) January 3, 2019
Wtf was that water bottle celebration? #Klopp #Liverpool #MANLIV

— LTono (@LJC_85) January 3, 2019
Dear Jurgen Klopp,

Please, please, please stop celebrating with water bottles.

Sincerely,

Every person on earth

— Roger Gonzalez (@RGonzalezCBS) January 3, 2019
Dear Jurgen Klopp,

Please, please, please stop celebrating with water bottles.

Sincerely,

Every person on earth

— Roger Gonzalez (@RGonzalezCBS) January 3, 2019
Find someone who loves and holds you the way that Jurgen Klopp loves and holds this bottle #ManCityvLFC #MANLIV pic.twitter.com/kkmKZJxCpB

— Danny Gruff (@dannygruff) January 3, 2019
That is one way to celebrate, Jurgen Klopp... #MCFC 1-1 #LFC #MCILIV #PLonNBC pic.twitter.com/U5CyQ6JKxM

— Joe Prince-Wright (@JPW_NBCSports) January 3, 2019
Read full article
Next Story
Next Story
Also Watch

India's Drying Rivers: How can we Save our Rivers from Drying Up feat. Sunderlal Bahuguna
Countdown To
Elections Results
To Assembly Elections 2018 Results