GET Stock

Quotes


Malala To Mahira Khan, People In Pakistan Are Demanding #JusticeForZainab
People have come out on roads in Pakistan demanding justice for the 7-year-old Zainab Ansari.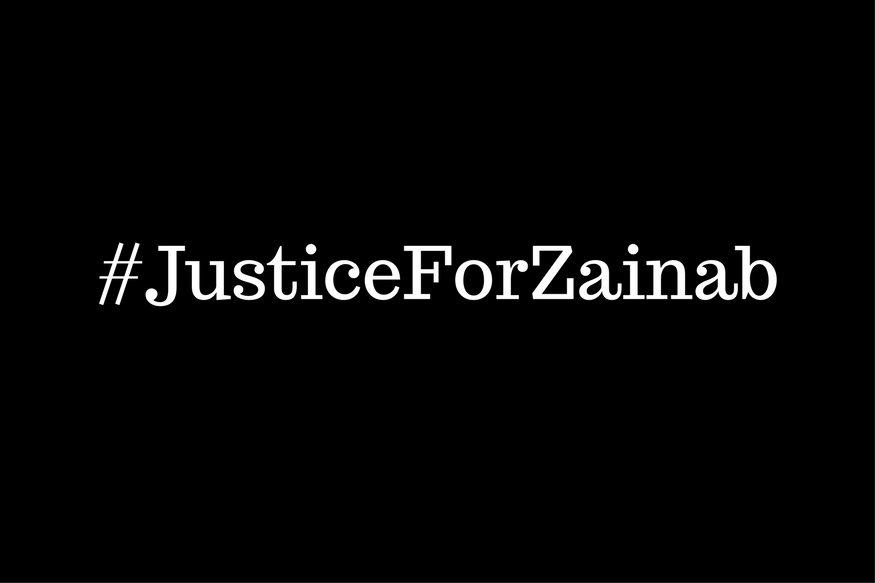 People have come out on roads in Pakistan demanding justice for the 7-year-old Zainab Ansari.
Two days after the body of 7-year-old Zainab Khan was discovered from a rubbish bag in Pakistan's Kasur district, people from every corner of the country have come out demanding justice for her. The 7-year-old was reportedly abducted, raped and brutally murdered.
The news sent the country into a state of shock. And, there's palpitating anger. The common public is out on the streets, protesting and demanding that the rapist be punished.
A heartbroken Malala Yousafzai took to Twitter to demand a "stop" on such incidents.



Heartbroken to hear about Zainab - a 7 year old child abused and brutally killed in Kasur, Pakistan. This has to stop. Gov and the concerned authorities must take action. #JusticeForZainab


— Malala (@Malala) January 10, 2018
Film actor Mahira Khan also showed her support for Zainab. She tweeted, "This will not stop till we don't make examples out of these evil butchers!" Here are some other tweets from the actress:
Find him!!! Do what it takes to find him and make an example out of him for Gods sake !! An example which scares anyone to even think about doing something like this again. @pid_gov @GovtOfPunjab #JusticeForZainab https://t.co/t0GTUo9AjT — Mahira Khan (@TheMahiraKhan) January 10, 2018



We fail as a nation every time we witness a crime as heinous as this. We fail even more when we aren't able to bring these evil butchers to the gallows. And we fail the most when we sit in our homes instead of getting out on the roads. Press club, Karachi. 2 pm. #Justice4Zainab


— Mahira Khan (@TheMahiraKhan) January 10, 2018
During a protest, two civilians were killed when officers fired live rounds to disburse the crowd. Reacting to that, former cricketer and politician Imran Khan criticised the move. Through a video, he demanded justice for the 7-year-old.   
My message on the horrific Kasur tragedy and the police brutality that ensued. #JusticeForZainab pic.twitter.com/3c7WMmLF0f — Imran Khan (@ImranKhanPTI) January 10, 2018
Twitter is flooded with #JusticeForZainab messages.



"Talk about sexual abuse - Break the taboo" Students, teachers, media persons and activists all gathered today at Karachi Press Club demanding protection for children through awareness and strict implementation of laws. #JusticeForZainab #JusticeForFaizan#JusticeForAllChildren pic.twitter.com/DCRBhn7HDB


— M. Jibran Nasir (@MJibranNasir) January 11, 2018
Shabaz Sharif Is tweeting #JusticeForZainab Imran khan is tweeting #JusticeForZainab Bilawal is tweeting #JusticeForZainab Maryam Nawaz Is tweeting #JusticeForZainab We are demanding Justice from them as our Leaders, Who they are demanding Justice from having power? — Ihtisham ul Haq (@iihtishamm) January 11, 2018



We Want #JusticeforZainab
12th such tragedy where girls like zainab were raped & then murdered in Kasur Bt Justice is always denied & we will have to suffer more because BEASTS are ruling us.
And don't dare to shout 4 justice Punjab Police will kill U.
pic.twitter.com/7ieUFKE5CH


— #JusticeForZainab (@faizanyacin) January 11, 2018
In a sign of protest, Pakistani news anchor Kiran Naz hosted her show with her little daughter sitting on her lap demanding justice from the concerned authorities.
Also Watch
| Edited by: Adrija Bose
Read full article