Justin Bieber Trolled Mercilessly for Eating a Burrito Wrong, Turns Out it Wasn't Him
Is it too late now to say sorry, Justin?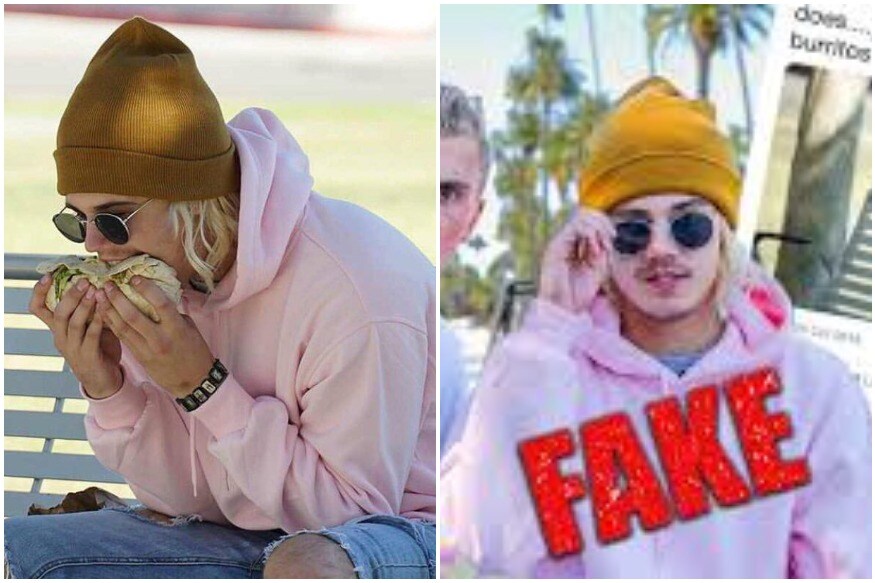 Is it too late now to say sorry, Justin?
Last week, a photo of Justin Bieber eating a burrito wrong went viral on news and the Internet. The entire world including the news media laughed at Bieber's expense and accused him of not knowing how to eat a burrito - from the end and not from the middle.
The incriminating photograph had Bieber in a loose pink t-shirt with a hair pulled over his face and topped with a cap. Though some people raised questions about whether the boy in the pink shirt really was Bieber, most were convinced. The photo, in turn, gave rise to a lot of debates, including the most important question - can a burrito be eaten sideways?
Most on Twitter didn't seem to think so.
does....justin bieber not know how... burritos work ? pic.twitter.com/WWKP2ttARe

— Ryan Bassil (@ryanbassil) October 25, 2018
justin bieber eating a burrito sideways is why im angry today pic.twitter.com/0dow6LNO02

— cool ghoul (@satansayswassup) October 25, 2018
This Justin Bieber burrito method is the new George Costanza Snickers with knife and fork. pic.twitter.com/uaz1DUnlUv

— Ryan Carver (@CarverInTheRy) October 25, 2018
The saddest part about Justin Bieber's burrito eating technique is that he's alone pic.twitter.com/gedbjqL0s8 — Johnny Novak (@JohnnyNovak) October 26, 2018
A photo that recently surfaced online showing Justin Bieber (or someone who looks a lot like him) has sparked a debate: Is it OK to eat a #burrito sideways? https://t.co/yiTeZJvKIf pic.twitter.com/jwALsQo7y6

— San Francisco Chronicle (@sfchronicle) October 25, 2018
Whether this is Justin Bieber or not, the way he's eating that burrito is making us highly uncomfortable. https://t.co/gsa2r7fNDq pic.twitter.com/Hb1Jz1Bxvp — E! News (@enews) October 25, 2018
All those years of loving Justin Bieber and then you find out this is how he eats a burrito ‍♀️ pic.twitter.com/rgr36GbvlM

— Caz. (@cazmadge) October 26, 2018
Someone tell Justin Bieber that a burrito is not a harmonica. pic.twitter.com/yIqnSjqWMA — Eden Dranger (@Eden_Eats) October 26, 2018
If you switch the way Justin Bieber eats burritos and how Michael Bublé eats corn, you have a normal human person pic.twitter.com/I7N5XW7NKO

— E'Twaun Paramoore (@Marco_Romo) October 25, 2018
you know what i really defended justin bieber through all the drug rumors but i truly cannot come up with any explanation for why he's eating a burrito this way pic.twitter.com/87t84ipSyJ

— Natasha Dye (@natashadye) October 25, 2018
The memes and jokes were endless. But wait, the story didn't end there. Recently, a lesser-known group of YouTubers called 'Yes Theory' came forward to Bieber's rescue and revealed that that the 24-years-old pop star did not actually eat the burrito wrong - it was a prank all through.
'Yes Theory' posted a fresh video on YouTube, taking responsibility for the act. Turns out they had hired a Bieber lookalike to pose as the singer and eat the burrito sideways. The photo was then quietly posted on Reddit. As the group had anticipated, the photo caught on to people's fancies and soon turned into a universal truth everyone was aware of. In the 12-minute video captioned 'We fooled the Internet', Bieber's doppleganger Brad Sousa and the others explain with pride how the prank was carried out and even included behind the scene footage of Sousa putting on a wig and posing as Bieber.
We Fooled the Internet w/ Fake Justin Bieber Burrito Photo: https://t.co/CPlffuxKSl via @YouTube

— Yes Theory (@YesTheory) October 28, 2018
So viral was the video that Bieber manager Scooter Braun also acknowledged the pranksters.
. @YesTheory but let's be clear.. you can never prank a prankster... as for everyone else... ‍♂️ pic.twitter.com/RXtaF9f2gX — Scooter Braun (@scooterbraun) October 28, 2018
However, the news came as a shock to Redditors, Twitterrati and certain journalists alike. While fans were relieved with their faith in humanity and pop music was restored, cynics were quick to notice how dangerously fake news like the photo spread across popular media. Many pointed out the fact that even prominent news media outlets and known journalists failed to practice discretion before joining the burrito-debate.
honestly, can't believe that justin bieber eating a burrito pic was a youtube prank. i feel personally attacked.

— Ryan Mitchell (@TheSlayGawd) October 28, 2018
This is actually really great and really instructive of how quickly invented garbage can spread with just a little bit of effort.

No joke, should be first-day lesson for media literacy classes kids should eventually have. Then show how it can go wrong.https://t.co/ebkUUQaeVQ

— Ben Collins (@oneunderscore__) October 28, 2018
So the photo that made a storm online and received tons of news coverage (Justin Bieber eating a burrito sideways) turned out to be a hoax pulled off by @YesTheory. An urgent reminder to question everything that you stumble upon https://t.co/FzG0XiSjnC pic.twitter.com/f9Nhiew9fQ

— Hany Anber (@HanyAnber) October 28, 2018
Moral of the story? Don't believe everything you see on the Internet.
Get the best of News18 delivered to your inbox - subscribe to News18 Daybreak. Follow News18.com on Twitter, Instagram, Facebook, TikTok and on YouTube, and stay in the know with what's happening in the world around you – in real time.
Subscribe to Moneycontrol Pro and gain access to curated markets data, trading recommendations, equity analysis, investment ideas, insights from market gurus and much more. Get Moneycontrol PRO for 1 year at price of 3 months. Use code FREEDOM.
Read full article