GET Stock

Quotes


Kamal Haasan Expresses Grief Over Video Of Young Boy Stabbing His Poster
Kamal Haasan took to Twitter to express grief over a 4-year-old boy stabbing and tearing star's poster.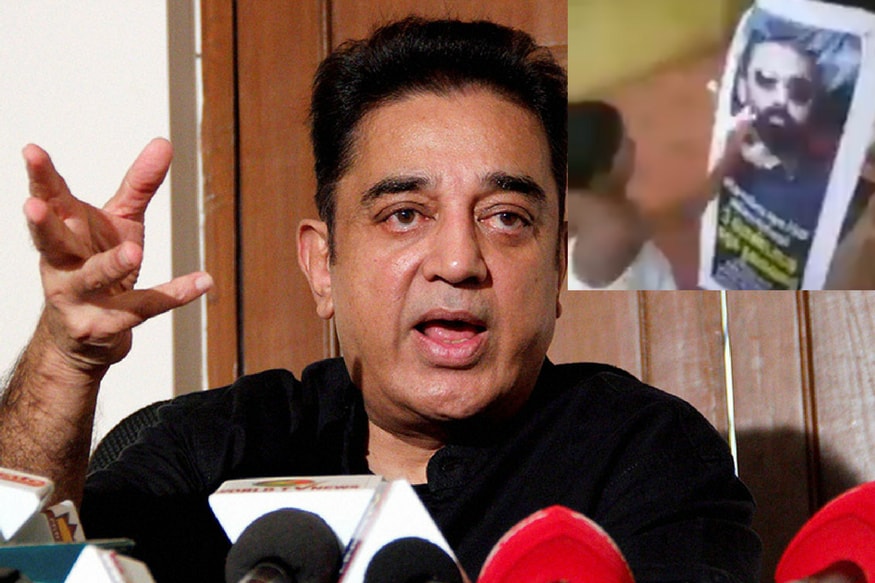 Photo credits: PTI
Earlier this month, Tamil superstar Kamal Haasan revived the controversy over the phrase "saffron terror," saying in his weekly column that the right wing no longer can deny the presence of extremist elements among its ranks.
In his column in the weekly Ananda Vikatan, Haasan said that where Hindu extremists earlier believed in holding a dialogue to push their point, they now indulged in violence.
Responding to this, a senior leader of a Hindu outfit - Akhil Bharatiya Hindu Mahasabha - slammed veteran Tamil actor and said people like him should be "shot dead". Haasan hit back by saying those who cannot stand criticism now want to kill him.
And now, a video of a young boy stabbing and tearing a poster of Kamal Haasan tied to a pole was shared on Twitter. A voice in the background encouraging the kid to stab the poster stating that Kamal Haasan is anti-Hindu can also be heard.
இந்து தீவிரவாதம் குழந்தைகள் கையில் கத்தியை திணிக்கிறது. மனம் பதறுகிறது. 😔 @ikamalhaasan நீங்கள் சொன்னதை சரியென்று நிறுவுகின்றனர். pic.twitter.com/ihSESJEXQI

— இசை (@isai_) November 13, 2017
Distressed over the video, Haasan tweeted, "My children, oh my! It is better for me to die by the stabbing of a child. The Tamil race will not put up with my grown-up brother committing a crime by whilst speaking Tamil. Nature will take joy in killing me. You have the right to become joyous even before that. Why don't you try killing me? I shall triumph no matter what."
புரியாதவர்க்கு புரியும்படியாய்https://t.co/E1GviHPDnF

— Kamal Haasan (@ikamalhaasan) November 14, 2017
என் பிள்ளைகள். அய்யகோ! ஒரு பிள்ளை எனை குத்திச்சாவதே மேல். என் வளர்ந்த சகோதரன் குற்றவாளியாய் தமிழ் பேசிக் குற்றம் ஏற்பதை தமிழ்இனம் சகியாது. இயற்க்கை எனைக் கொன்றே மகிழும் . அதன் முன் மகிழ உமக்கும் உரிமை உண்டு. கொன்றுதான் பாரும். வென்றே தீர்வேன்.

— Kamal Haasan (@ikamalhaasan) November 14, 2017
Also Watch
Read full article