Kamal Haasan Not Reporting His Daughters' Caste May Not Solve India's Casteism
Haasan is an Iyengar Brahmin and his daughter Shruti Haasan has been known to assert caste pride in various previous instances.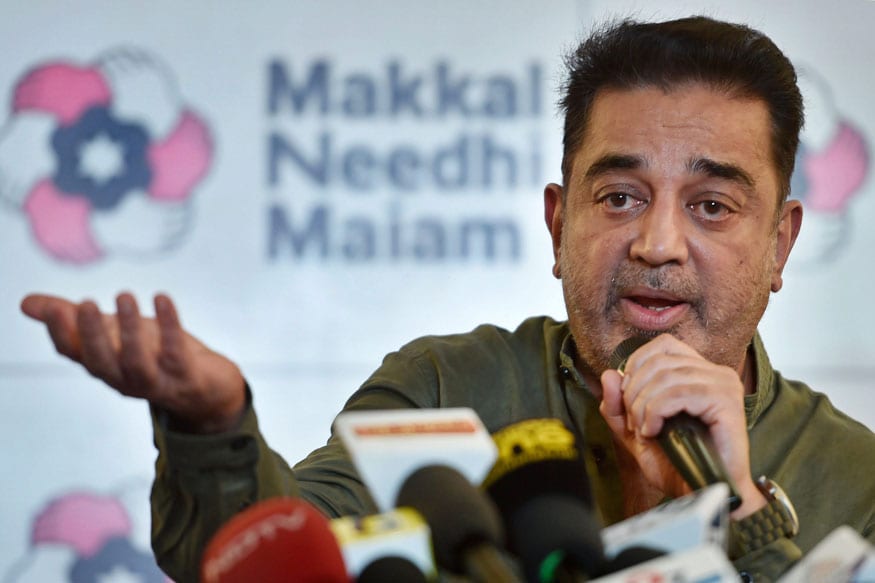 File image of actor-politician Kamal Haasan at a press conference. (File photo: PTI)
Caste is one of the most potent issues in Indian politics and politicians time and again have tried to use it as a go-to talking point for political traction. Testimony to the fact is Kamal Haasan, who was recently bashed on Twitter for proclaiming that the way to annihilate caste was to not report it.
And how did the actor-turned-politician do so? By not putting down his daughters' caste and religion in his daughters' school admission certificates.
I refused to fill in the caste&religion column in both my daughters' school admission certificate.That's the only way,it will pass on to the next generation.Every individual shld start contributing fr progress.Kerala started implementing the same.Those who do shld be celebrated https://t.co/DLdTubcfW1

— Kamal Haasan (@ikamalhaasan) June 30, 2018
The tweet came in response to a question Haasan was asked on the microblogging site as part of his #AskKamalHaasan Twitter campaign – "How to take caste to the next generation? Will it be optional for school and college admissions?"
According to Haasan, the only way to do so was by not reporting one's caste in school certificates for children. He said that Kerala had already "started implementing" it.
The Kerala reference denotes reports released in March where it was noted  that 124,000 school students from the state did not report their caste on admission forms.
Needless to say, Haasan was immediately critiqued for his problematic stand which many claimed was delineating caste as a personal belief rather than a historic system of social oppression entrenched in the social fabric of our country.
"The government provides various forms of affirmative action like reservations for the SC/ST community. To get any of them, the applicant has to specify their caste. How is Mr Haasan proposing these Dalits get those benefits if they leave out their caste from forms?" Dalit rights activist Beena Pallical, who is the National Coordinator at the National Campaign on Dalit Human Rights, said.
"Our identity is not some kind of baggage that we can drop. Maybe to those who are privileged, it may come easily. An upper caste not practising caste is very simple. But even Dalit IAS officers need to specify their caste," Pallical further added.
Haasan's woes became worse as, following his tweets, netizens dredged up footages of his daughter, actress Shruti Haasan, who has been known on various occasions to assert her caste identity and caste pride as an Iyengar woman.
Shruti Haasan, who allegedly grew up without the awareness of her caste (as it was not put down on her school certificate), once told an interviewer that Iyengar girls are known to be beautiful. Her Iyengaar identity was also a talking point in another interview where she identified her caste as one of the three things common between her and the interviewer.
As is evident, Shruti is quite aware of her caste. What then was the flaw in Kamal Haasan's technique to raise his daughters as seemingly casteless?
"It is not that simple. Caste is so deeply entrenched in our identity as a person that it often becomes impossible to separate caste from the rest of one's personality," said Nilesh, a young student professional from Tata Institute of Social Sciences.
"And as far as the Dalit community is concerned, even if we want to forget our caste, we are not allowed to. The caste society around us doesn't let us forget," he added.
Nilesh is an SC/ST activist and a member of Dalit Camera, an online news and views platform. According to him, caste is still very much a part of urban lives.
"Be it workspaces or academic spaces, we are constantly reminded of our caste. In Delhi University, application forms for students have different colours for different castes. The selection list of students is also put up according to caste categories," Nilesh told News18.com.
He went on to add that several teachers across colleges and states continue to make blatant derogatory remarks in classrooms and point out students who are from lower caste communities.
"If Haasan really wanted to take the discussion of caste annihilation to the youth, he should read BR Ambedkar's Annihilation of Caste before giving these confused statements. In fact why just him, everyone should read it if you want to take caste to the next generation. That text is self-explanatory," Nilesh asserted.
Critics also brought up Kamal Haasan's recently started political career as the reason for his sudden entry into caste discussions.
"These neo politicians only want a chance to exploit the issue of caste as a vote bank. Haasan has recently started a party. I think he is just trying to consolidate a Dalit voter base in Tamil Nadu, which has a large SC/ST community," Dr Ramesh Nathan, General Secretary of the National Dalit Movement For Justice, told News18.
In February this year, Haasan launched his new party 'Makkal Needhi Maiam'. Though no official announcements have yet been made, the former actor had said at the time that his party will aim to contest local body elections and work for the people of Tamil Nadu.
"It is easy for Mr Haasan to say that he can forget his caste identity. He is an uppercaste. But for us, it is not the same as atrocities against Dalits continue to rage in the country. In the year 2015-16, over 7,000 atrocities against Dalits were reported. Every hour, six Dalit and three Adivasi women are raped. Why can he, as a politician, not address that?" Nathan asked.
Get the best of News18 delivered to your inbox - subscribe to News18 Daybreak. Follow News18.com on Twitter, Instagram, Facebook, Telegram, TikTok and on YouTube, and stay in the know with what's happening in the world around you – in real time.
Read full article