Kangana Ranaut's Manikarnika Teaser is Being Loved by Fans for All The 'Meme' Reasons
Queen of Jhansi and queen of memes too.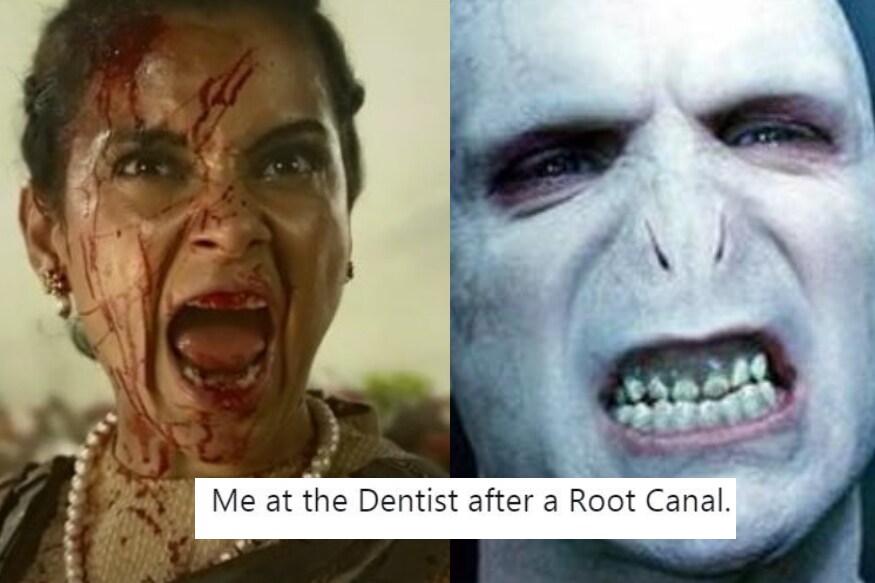 (Image: Twitter)
The teaser of Kangana Ranaut's highly-anticipated film Manikarnika — The Queen of Jhansi was released on Tuesday.
With the 'queen of Jhansi' finally here, fans even compared the teaser with the likes of a Sanjay Leela Bhansali film as the stills included plenty shots of grand palatial sets, elaborate war sequences and ornate period costumes.
However, a particular still of the teaser where a bloodied Kangana is shown growling at her enemies has gone viral for all the 'meme' reasons, with many comparing it with the likes of "getting a root canal at the dentist".
Me at the Dentist after a Root Canal. #manikarnikateaser pic.twitter.com/XYlw9Cd4CN

— Anid (@annoyinglyanid) October 2, 2018
I don't encourage trolling but this one's too obvious and too funny. #KanganaRanaut resemblrs #Voldemort in #ManikarnikaTeaser. @HrithikRules @Pranaywaaa @Hrithikdbest @HrithikWeb @iHrithikFan @iHrithiksSniper pic.twitter.com/nf5a1QvQZa — Honest Opinions (@myhonop) October 2, 2018
*this is how a soldier fight in kanpur*#ManikarnikaTeaser pic.twitter.com/Dt9e8LW9aT

— Tweetera (@DoctorrSays) October 2, 2018
When you apply everest ka teekha laal powder on your teeth instead of dabur laal dannt manjan....#ManikarnikaTeaser @KanganaDaily #jhansikirani #Bollywood #Trending pic.twitter.com/qQCm2z71l6 — Raghav gupta (@Ragstargupta3) October 2, 2018
Who wore it better? #ManikarnikaTeaser pic.twitter.com/6NT1xaXbzD

— Ray (@BeingAntiHero) October 2, 2018
When mom breaks that glass and gets mads at you for using phone 24*7#ManikarnikaTeaser pic.twitter.com/7KGX4JCmrT

— S O N A L I (@NotYourWitch__) October 2, 2018
When you go to the dentist & he says, "Beta open your mouth nahi toh injection laga dunga" #ManikarnikaTeaser pic.twitter.com/akdVCNmc6C

— Bhagoda Canadian Deshbhakt (@FlopKhiladi) October 2, 2018
#ManikarnikaTeaser This is #Manikarnika pic.twitter.com/NiNpccEMIo

— Half Talk (@half_talk) October 2, 2018
When dentist checks mouth vs when he removes a teeth. pic.twitter.com/y8Khh22yIn

— Saumik Dey (@5th_ventricle) October 2, 2018
After eating JAMUN#Manikarnika #ManikarnikaTeaser pic.twitter.com/KfxxrKhP48

— jai nair (@NairJai123) October 2, 2018
Me, after having a face to face conversation with a Kanpuria#ManikarnikaTeaser #Manikarnika pic.twitter.com/Kc5hBTlEMl

— S O N A L I (@NotYourWitch__) October 2, 2018
Me after I forgot my wife birthday #ManikarnikaTeaser pic.twitter.com/cNXGeG0Wki

— Jits (@jitheshbabu_) October 2, 2018
close enough #ManikarnikaTeaser pic.twitter.com/gXxfq4Mblu

— Kunal #Kick (@iKunnu_Kick) October 2, 2018
#ManikarnikaTeaser Your mom when you forget to buy dhania pic.twitter.com/ZSSLkIlOZp

— Saumik Dey (@5th_ventricle) October 2, 2018
#ManikarnikaTeaser

What a Bad Choice For The Legend Queen Of Jhaansi ' ! pic.twitter.com/W7qvpnQVm3

— BeingFaizaN (@BeingFaizanN) October 2, 2018
Read full article
Countdown To
Elections Results
To Assembly Elections 2018 Results