'Kanpur as Pan Parag Raj?' Allahabad Will Now be Called Prayagraj and Twitter Cannot Believe it
What's in a name?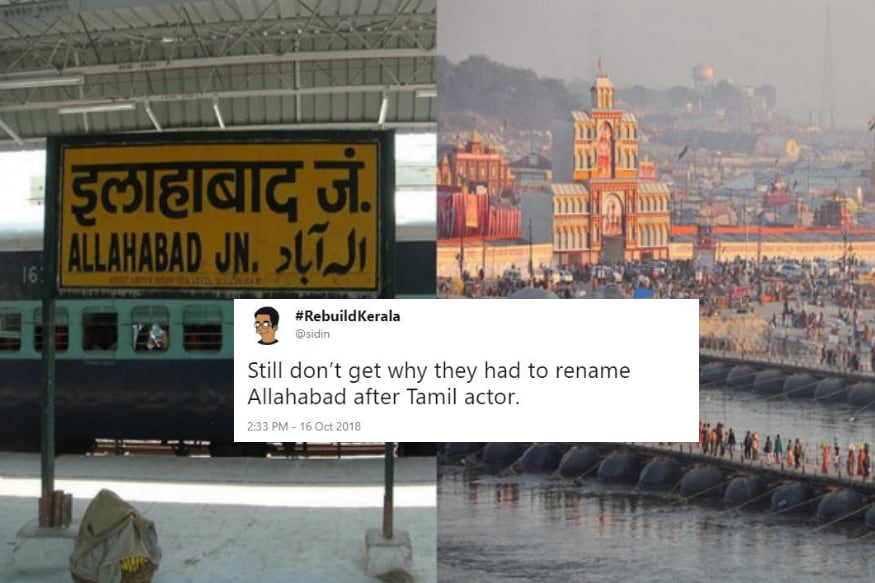 Bangla News18
Allahabad officially became 'Prayagraj' on Tuesday, making it the third big name change that the Yogi Adityanath-led government has brought about in Uttar Pradesh since coming to power one-and-half years ago.
The BJP government had earlier renamed two railway stations - one near Agra which was called Farah Town to Deendayal Dham Railway Station and another that used to be known as Mughalsarai junction to Deen Dayal Upadhyay Junction - after the party ideologue Pandit Deen Dayal Upadhyaya.
"Prayagraj was named Allahabad during the Mughal era, around 500 years ago. The place is a confluence of three Holy rivers namely the Saraswati, Yamuna, and Ganga, hence the name Prayagraj.People who have zero understanding of our history and traditions would question the move," UP CM Yogi Adityanath was quoted by ANI.
Prayagraj, which was previously called Allahabad for 443 years, gave enough fodder for Twitterati to crack jokes and make memes.
So Allahabad bank will become Prayagraj bank ?

— Bad Hindu (@ExSecular) October 16, 2018
Now that Allahabad is going to be renamed Prayagraj, Yogiji might also want to consider renaming Kanpur as Pan Parag Raj.

— Punster® (@Pun_Starr) October 15, 2018
Still don't get why they had to rename Allahabad after Tamil actor.

— #RebuildKerala (@sidin) October 16, 2018
#Allahabad name changed to #Prayagraj

Ahmedabad & Hyderabad very worried.

— Atul Khatri (@one_by_two) October 16, 2018
Pic 1 - Allahabad

Pic 2 - Prayagraj pic.twitter.com/c736tkmqWN

— Roshan Rai (@RoshanKrRai) October 16, 2018
Prayag Raj wrote Ponga Pandit, Chacha Bhatija, Desh Premee and Mard, amongst others, and directed Coolie, Geraftaar, Hifazat and Gair Kaanooni. And he yelled the famous 'YAHOO!' cry in Chaahe Koi Mujhe Junglee Kahe.

What has Allahabad done? pic.twitter.com/e4P9kNWXVE

— Vaibhav Vishal (@ofnosurnamefame) October 16, 2018
After Allahabad's name changed to#Prayagraj pic.twitter.com/7z8Ciap8wG

— ASHUTOSH MISHRA (@ashu3page) October 16, 2018
When are we making Delhi into Indraprastha?

We need a world class capital QUICK #Prayagraj

— Akash Banerjee (@akashbanerjee) October 17, 2018
Pic 1 : Allahabad Bank before renamed to #Prayagraj.

Pic 2 : Allahabad Bank after renamed to #Prayagraj. pic.twitter.com/SlmqrPGGjn

— Anit Ghosh (@Indianit07) October 16, 2018
Allahabad after changing its name to #Prayagraj

Follow @Mushroom_Ka_Dad for more VIKAS! pic.twitter.com/UImZKnyKyj

— MA in Entire Pol. Science (@Mushroom_Ka_Dad) October 16, 2018
Get the best of News18 delivered to your inbox - subscribe to News18 Daybreak. Follow News18.com on Twitter, Instagram, Facebook, Telegram, TikTok and on YouTube, and stay in the know with what's happening in the world around you – in real time.
Read full article