'Eyes Wide Open': Kanye West Denounces Politics in Twitter Rant, Says He Was 'Used'
Ye took to Twitter to announce the end of his 'political career', adding he had been used to say things he did not believe in but now his eyes had been opened.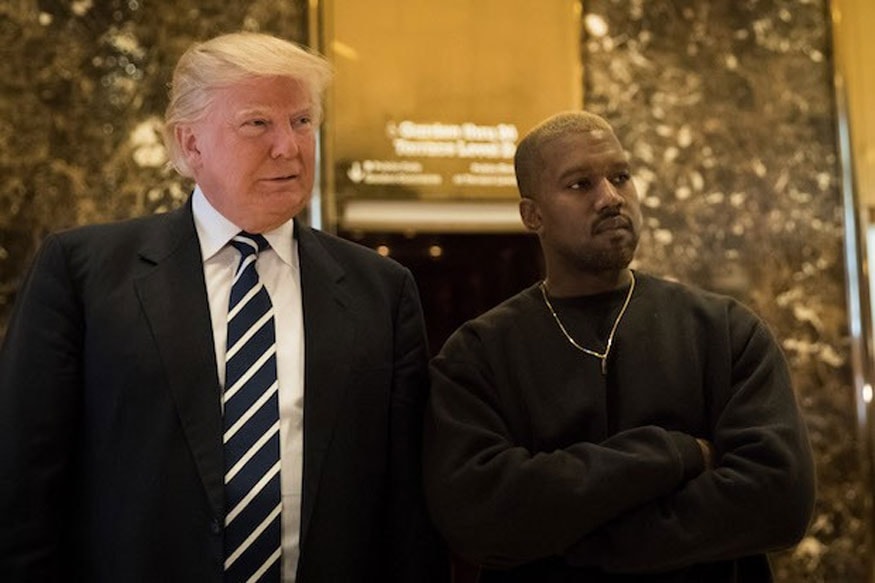 Image: Reuters
Controversial Grammy winning rapper Kanye West came out with a bizarre rant on Tuesday, announcing he is set to 'quit' politics after being 'used'.
The formerly ferocious Trump supporter who has shown his allegiance to MAGA (make America great again) on various occasions before, announced on Tuesday that his eyes had been opened and that he realised he had been "used" to say thing he did not believe in. He went on to add that he was going to quit politics and focus on his creativity instead.
My eyes are now wide open and now realize I've been used to spread messages I don't believe in. I am distancing myself from politics and completely focusing on being creative !!!

— ye (@kanyewest) October 30, 2018
He further clarified that he had nothing to do with the 'Blexit' controversy that he had recently been embroiled in, accusing pro-Trump conservative commentator Candace Owens of dragging his name, unwarranted, into the campaign. 'Blexit' is a campaign started by Owens to convince black Democrat voters to leave the party and she recently claimed Kanye West had lent his name and support to the campaign. In the tweet rant, Kanye added tried to clear the air by saying he had nothing to do with the campaign.
I introduced Candace to the person who made the logo and they didn't want their name on it so she used mine. I never wanted any association with Blexit. I have nothing to do with it. — ye (@kanyewest) October 30, 2018
He then went on to thank his family and friends and outline his 'actual beliefs'.
I would like to thank my family, loved ones, and community for supporting my ACTUAL beliefs and my vision for a better world.

— ye (@kanyewest) October 30, 2018
I support those who risk their lives to serve and protect us and I support holding people who misuse their power accountable. I believe in love and compassion for people seeking asylum and parents who are fighting to protect their children from violence and war. — ye (@kanyewest) October 30, 2018
I support creating jobs and opportunities for people who need them the most, I support prison reform, I support common-sense gun laws that will make our world safer.

— ye (@kanyewest) October 30, 2018
The rant has left fans, critics, Democrats and Republics puzzled alike. Even as recently as October 11, Kanye was seen buddying up with the President inside the White House. In a bizarre Oval Office interaction that left even the usually garrulous Trump unchracteristically speechless, Kanye expressed his support for Trump's policies, hugged him and claimed "I love that guy (Trump)". Last month, the rapper had appeared on Saturday Night Live in a MAGA hat and was booed and jeered ofater the show when he launched into an impromptu, unscripted rant off the record about his support for Trump. What changed to make Ye go from 'whoo'-ing for the President to booing the President, we wonder? Meanwhile, Twitter was ripe with speculation and general amusement at the grave announcement.
Kanye West: I've been used for political gain Us: pic.twitter.com/6S9rfltf37 — Hi, I'm Amir, and you're watching Disney Channel (@ambo__) October 31, 2018
Kanye West: "My eyes are wide open, I now realize I made a mista-" pic.twitter.com/CSsZ1LWyyd

— Coreleone (@HipboneJonez) October 31, 2018
To be clear, Kanye West is in his 40s, he wasn't fooled, he wasn't used, he wasn't tricked, he wasn't bamboozled into supporting hate, he made a choice. Pretending to distance himself just makes him a coward as well. — Ricky Davila (@TheRickyDavila) October 31, 2018
Ummm, huh? You mean that visit with Trump was propaganda?

Kanye West says he's distancing himself from politics: 'I've been used to spread messages I don't believe in' https://t.co/NTCKREWOtH

— Michael Steele (@MichaelSteele) October 31, 2018
Alexa, play Hot n Cold by Katy Perry — Audrey Nix (@AudreyOwiti1) October 31, 2018
I guess his shoes ain't selling and he may be getting worried that his album will not sell or stream as well. Time to backpedal! pic.twitter.com/Zza7ykhFJB

— Zaydes (@LadyZady) October 31, 2018
Donald Glover is psychic pic.twitter.com/acpvhOJ3Ja — Rev Up Those Fryers (@Heisenberg_1999) October 31, 2018
We told u so pic.twitter.com/3GsXovlvOi

— jenny (@JENNYTHEARTISTT) October 31, 2018
Read full article
Countdown To
Elections Results
To Assembly Elections 2018 Results