Kapil Sharma Has the Choicest Abuse For Media All Because Salman is a 'Good Man'
On Friday, comedian Kapil Sharma defended Salman Khan in a series of tweets and lashed out at Indian judiciary system and media.
Image credits: Kapil Sharma / Facebook
When a Jodhpur court sentenced Bollywood superstar Salman Khan to a five-year jail term in the 1998 blackbuck poaching case on Thursday, a bunch of Bollywood celebrities came out in support of Bhai.
Members of the film fraternity believed that the sentence was too harsh and he has "already suffered enough." While others cited his humanitarian work.
The newest member to join Khan's defense is comedian and actor Kapil Sharma.
Sharma who returned to the small screen a week ago with his show Family Time with Kapil Sharma on Sony TV took to his Twitter page and lashed out at the Indian Judiciary for convicting Salman Khan while overlooking his "good deeds."
He wrote, "मैंने बहुत सारे ऐसे महाराजा टाइप लोग देखे हैं जो बड़े फ़ख़्र से बताते हैं की हमने शेरकाशिकार किया .. मैं मिला हु उनसे. सलमान बहुत लोगों की मदद करता है.. अच्छा आदमी है..I don't know if he did it or not .. but see his best sides.. ghatiya system .. let me do good work .."
("I've seen a lot of influential people who proudly boast about hunting lions.. I've met Salman Khan. He helps a lot of people. He is a kind man. I don't know if he did it or not .. but see his best sides.. Appalling system .. let me do good work")
Laden with expletives, Sharma's next tweet was directed at media for spreading "fake and negative" news.
"N a request to media.. pls don't make it negative news just to sell ur paper ... he is a nice man n he will come@ out of it soon.इतने बड़े बड़े घोटाले हो हुए.. तब तो तुम बोले नहीं..कितना लेते हो negative न्यूज़ स्प्रेड करने के liye.u f****** paid media ..specially @Spotboye u mc," he tweeted.
A furious Sharma further tweeted, "According to sources this is the news .. u m*********** why don't u tell who r ur sources"
"Maa ch*** Gaya yahan ka system.. Saale ghatiya log .. Agar main prime minister hota to fake news banane walo ko faansi laga deta.. saale ghatiya"
("F*** the Indian judiciary, disgusting people... if I were the prime minister, I would have hung the fake news' producers.")
Sharma, however, deleted all his tweets later.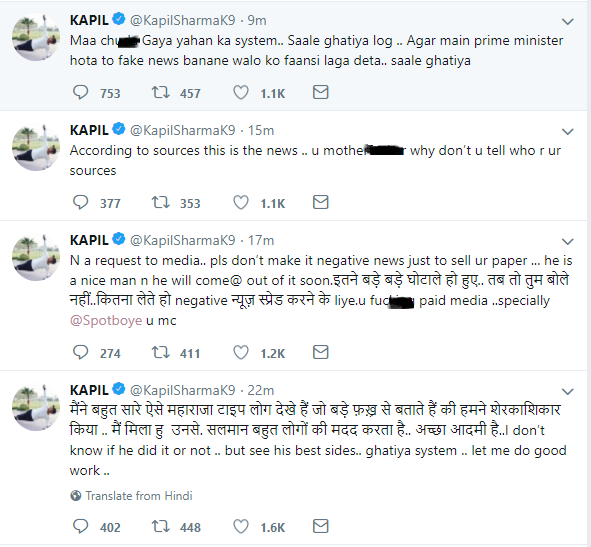 But kept hurling abuses...
Kapil Sharma is in some sorta mood... pic.twitter.com/ud6qb3NEvm

— Sahil Rizwan (@SahilRiz) April 6, 2018
...And didn't know where to stop.
Bhai @KapilSharmaK9 tere tweets tere naye show se jyada funny hain. 😂😂 pic.twitter.com/XiClPvhBXn

— PhD in Bakchodi (@Atheist_Krishna) April 6, 2018
Sharma later posted an apology tweet and informed his 12M followers that his account was hacked.
And later deleted that tweet for reasons unknown.

Yesterday, while defending Salman, Rajya Sabha MP Jaya Bachchan said, "I feel bad. He should be given relief. He has done a lot of humanitarian work."
While the director Subhash Ghai was "extremely shocked" by Khan's conviction.
"I am extremely shocked to hear @BeingSalmanKhan being convicted by session court but also having full trust in indian judiciary which has many other doors to appeal for final justice whatsoever. Since He is most loved person by industry N people for his human reasons too," Ghai tweeted.
Arjun Rampal and Simi Garewal too had something to say in Bhai's defense.
The law takes its course. Can't argue it. But at this point in time I just feel helpless and my heart goes out to @BeingSalmanKhan and his family. Reason, cause the last thing @BeingSalmanKhan is, is a criminal.I feel this is too harsh. I do hope he gets the relief he deserves.

— arjun rampal (@rampalarjun) April 5, 2018
Of one thing I am dead sure..@BeingSalmanKhan would NEVER EVER harm any animal. He loves them too much. The real culprit should be exposed. 20 years is too long to bear someone else's cross..

— Simi Garewal (@Simi_Garewal) April 5, 2018
Read full article